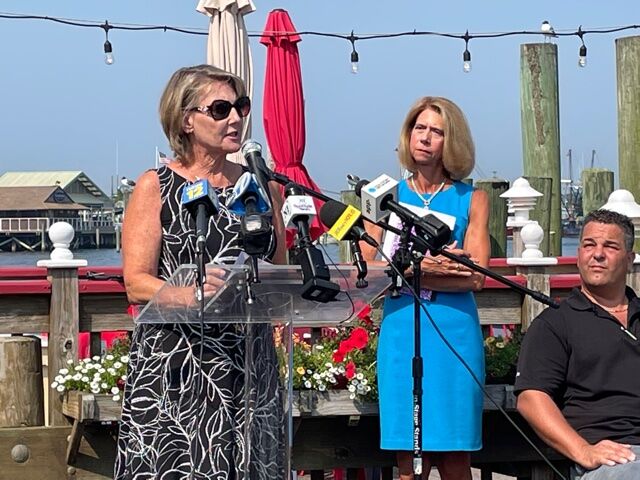 This year at the Jersey Shore really is the best of times and the worst of times.
Pent-up demand for vacations by the sea from last year's pandemic lockdowns, restrictions and general COVID caution have unleashed what must be record numbers of visitors this year. Some weekends it seems half the state's roads are bumper to bumper headed this way.
Summer tourism businesses are booming and judging by the crowds in supermarkets and department stores, the entire regional economy is at an unprecedented high after last year's deep viral slump.
But some, maybe much, of this unique opportunity to make millions of visitors happy and a lot of money is being wasted. Lingering pandemic policies have deprived businesses of the workforce needed to provide all of the services and products the region's guests want.
The federal foreign worker program that shut last year technically reopened in March — but the U.S. blocking of travel from many nations and its embassies not processing applications have stymied all but a tiny fraction of the usual 300,000 so-called J-1 workers crucial to seasonal businesses.
The federal government has continued to pay a supplement — currently $300 a week — on top of state unemployment benefits, making it more lucrative to remain unemployed than take many seasonal and entry-level jobs. That's not due to expire until Sept. 4, the traditional end of the season.
Pandemic restrictions remain on child-care providers, reducing the hours of care and the number of children they can accommodate. That keeps parents and caregivers from working and getting a share of this summer's bonanza.
The worst of times are just ahead.
"The problem is only getting worse every day with students and teachers working summer jobs preparing to return to sports teams and classrooms beginning in August," said Vicki Clark, chair of the board of the New Jersey Tourism Industry Association and president of the Cape May County Chamber of Commerce.
Morey's Piers & Beachfront Water Parks in Wildwood estimates its staffing will fall below half of August 2019 levels unless something is done to get people off unemployment and onto payrolls. The landmark operator of three piers, two waterparks and four restaurants already had to close rides and reduces hours and services this summer.
Michele Siekerka, president and CEO of the New Jersey Business and Industry Association, said businesses would put up the money themselves to give employees a $1,000 return-to-work bonus if New Jersey would promise reimbursement from its more than $2 billion in unused federal COVID funds.
The failure of federal and state governments to sensibly remove impediments after crushing businesses with shutdowns and restrictions is sad. Given that they have left businesses hobbled in this summer of recovery, though, one of their failures may turn out for the best.
Canada will open its border to entry by vaccinated U.S. visitors on Monday. But the U.S. government still won't let Canadians drive across the border (they have to fly), despite 58% of Canadians being fully vaccinated compared with 49% of Americans.
In a typical year, up to a quarter of visitors to Cape May County campgrounds are Canadians. But thanks to this summer's surge in American visitors, its campgrounds are still filling up.
Surely the U.S. government will have to open the Canadian border by the end of summer. Surveys have found many Canadians are planning to take fall vacations to make up for pandemic restrictions. We're hoping for a record shoulder season to match the summer, and for government policies that allow the labor market to do its normal work to everyone's advantage.