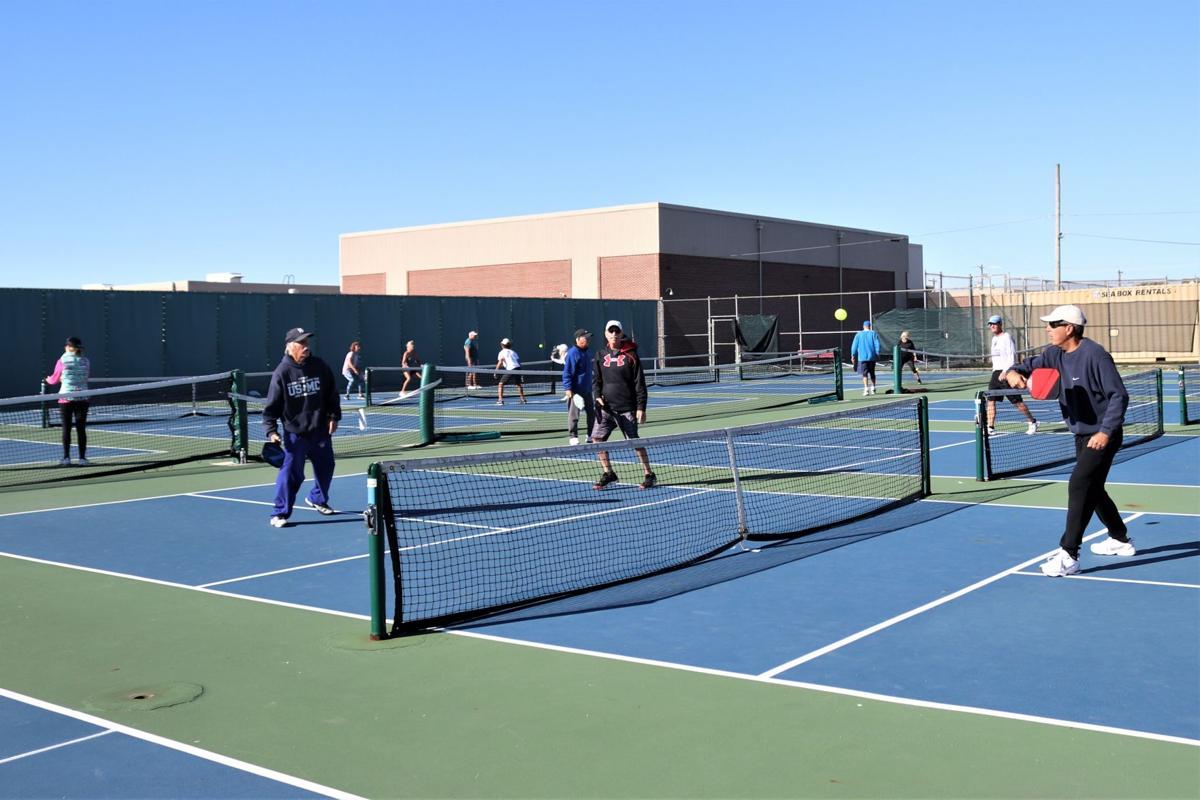 In an editorial at the end of last year, we welcomed the growth in pickleball play at the Jersey Shore as a healthful form of recreation, one especially well-suited to seniors.
Pickleball promotes fitness with its quick pace, and socializing with less distance between participants. It's played on a tennis-like court but less than half the size, with a hollow plastic ball with holes. Competitors aren't allowed to approach the net and must serve underhand. Many say all this prevents men from dominating the sport.
Pickleball is more senior-friendly than tennis and Harvard Medical School sees lots of benefits — improved balance, strength, sharper minds and supportive socializing.
The pandemic encouraged more outdoor activity of all kinds, so we looked forward to a new pickleball peak in the region this year. The burgeoning number of players has prompted South Jersey towns to add many pickleball courts.
Players in Ocean City are pressing officials to add to the many courts at 18th Street and Haven Avenue. City officials want to accommodate them and are appropriately considering the possibilities and the views of other residents (including neighbors not fond of the pickleball noise) before rushing to a solution that might cause problems.
That's not good enough for some of the pickleball advocates, who don't seem much interested in the views of others. They said at last month's council meeting that they "will not tolerate any delays," and threatened to try to defeat in next spring's municipal elections any officials who don't give them what they want.
This angry, self-serving advocacy was criticized immediately by another resident, who pointed out there are several more important issues facing the city and deserving greater public attention.
Among the options before the city is putting pickleball courts at 34th Street, where there are numerous tennis courts. But, again, some pickleball advocates said no, the courts must all be in the same place at 18th Street for their social convenience. The parking lot surface that allows water to recharge into the ground also must go, they said, and a bathroom must be provided, too.
When a child gets angry every time it doesn't get its way, the appropriate tough-love response is not giving in and helping the child see itself and its wishes from a reasonable, considerate perspective.
But this situation is different. Ocean City officials already are performing their usual due diligence. They must continue to consider many factors and the views other residents — mindful that only about 1% of America plays pickleball — and avoid the temptation to teach threatening pickleball advocates a lesson.
By all means, accommodate more courts and facilities at 18th Street (but try not to add the pickleball parking lot to the island's excess of paved ground) if the neighbors can be accommodated with a sound barrier or hours of play restricted to when noise isn't an issue. And put courts at 34th Street too if a balance of pickleball and tennis is possible. Soon pickleball players would enjoy having another setting for play.
There was never a reason to think the city lacks the money for this or the will to serve its residents. City officials have handled many more difficult challenges, so we're confident of their performance here.
It's too bad some resorted to angry demands too quickly, which might suggest that pickleballers are too full of themselves. In this, as in all areas of life, though, the extremes shouldn't be allowed to define the less emotional middle — especially regarding a game so pleasantly enjoyable as pickleball.