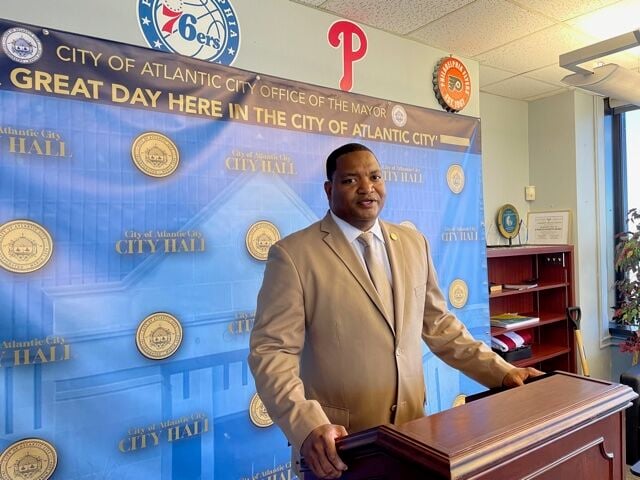 The deluge of federal borrowed money unleashed by the start of the COVID crisis a year and a half ago flowed through agencies, states and into counties and municipalities.
Nothing seems to calm the nerves of elected officials in a time of uncertainty like having large amounts to spend or distribute.
So great has been the funding flood that the little stream left from the American Rescue Plan part of it, when it reached Atlantic City, was still $33 million.
Atlantic City Mayor Marty Small Sr. is trying to share some of that COVID relief with city employees who worked during the height of the pandemic from March 20 to Sept. 28 last year. Their $3,500 bonuses would be what is popularly called "hazard pay" for the added risk of working in person. The mayor also wants to give city taxpayers $500 each, just to help them get through these troubled times.
Mayor Small hasn't gone about this the right way, so a lesson in better cooperation with the city's state partners is in order. The substance of what he's doing raises some questions for the public as to the proper use of its money.
The mayor announced these grants to city employees and taxpayers without telling the state of his intention, despite having been advised that the state Department of Community Affairs must approve the city's plans for the money and to keep it informed.
After Small made his intention public, the state Division of Local Government Services requested information on his plan. He then blamed the state for holding up the payments, saying, "The state did not say no," just "asked for backup documentation." He added that the state should have called him immediately after his premature announcement.
Instead of seeing the state officials who by law oversee all aspects of city finances as impediments or even foes of his desires, Small should remember how much they are his allies as the city continues its long recovery from near-bankruptcy.
The state Municipal Stabilization and Recovery Act requires the Department of Community Affairs to approve city financial actions, including this handout of COVID funds. The department also needs to make sure the city follows American Rescue Plan regulations and compliance guidelines -- otherwise the funds might have to be paid back.
"This is exactly why DCA has a partnership with the city under MSRA, so that we can work through solutions together and make sure the path forward ... meets federal requirements and is fair and equitable to any city staff affected," said DCA spokesperson Lisa Ryan.
The state has since said it expects to have a decision soon on the city's plan.
Its approval surely would raise legitimate questions for workers and taxpayers elsewhere.
Why should government employees, whose interaction with the potentially contagious public is limited, each get $3,500 bonuses when supermarket, nursing home, department store, health care and many other workers who were at much more COVID risk get nothing? Giving relief funds to less deserving government employees makes it seem like a crisis is an excuse for public servants to reward themselves.
And will other municipalities be getting sufficient America Rescue Plan funds to give their taxpayers $500 of relief? Probably not many. Metropolitan cities get 70% of the funds and all other municipalities must split the rest.
When public officials say they don't want to waste a crisis, they seem to mean that even the usual amount of accountability will be lacking. But just because they can and do become less careful with the public's resources during a crisis, that doesn't mean their actions are fair or admirable.