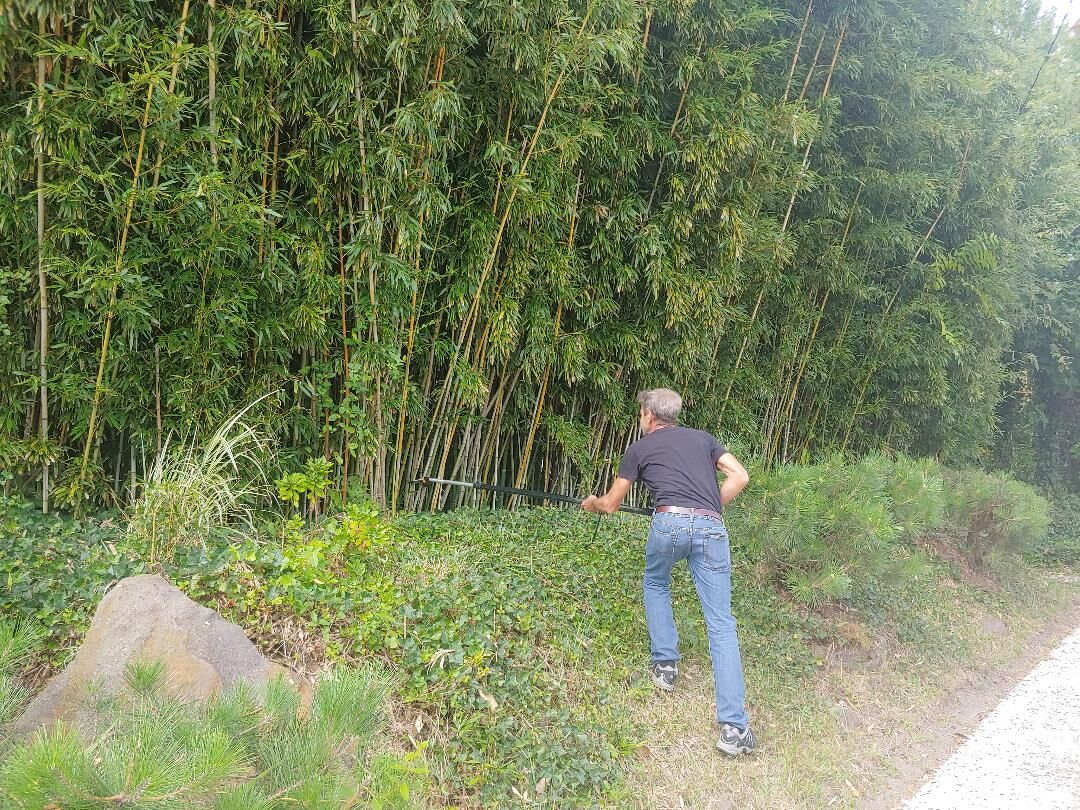 Hamilton Township recently proposed regulating bamboo to prevent it from harming neighboring properties or annoying their owners.
The state League of Municipalities has estimated that about a fourth of N.J. towns have enacted or considered requiring property owners to control their plantings of bamboo, a tall and strong Asian plant. Some of the thousand species are "clumping" types more easily controlled, but "running bamboo" is harder to restrain and can crack building foundations and in-ground pools.
Once bamboo gets established it's hard to get rid of. One of us dug it out of our property, shocked at having to go nearly 3 feet deep to get to the thick running roots that connect and spread it.
Back in 2014, Assemblyman Vince Mazzeo proposed the statewide regulation of running bamboo, including limits on where it can be planted and requiring real estate agents to disclose its presence on properties for sale.
According to the statement accompanying the bill, which wasn't enacted, it came at the behest of a woman who moved to Linwood after she lost her Atlantic City house to Superstorm Sandy. She soon discovered running bamboo from a neighboring yard had "caused thousands of dollars worth of damage to (her) property and threatened the foundation of her home."
The bill prohibited planting or maintaining running bamboo within 100 feet of a property boundary unless it was within a properly constructed barrier or above-ground container. A civil fine of just $100 was specified, but could be levied daily if a violation was allowed to continue.
Last month, Hamilton Township proposed prohibiting bamboo within 10 feet of a property line and from growing more than 8 feet tall. The exotic plant has its fans and some came out to protest the regulations.
Thick stands can make a barrier and add interest to landscaping. One man said his 20- to 25-foot tall bamboo screened his home from a nearby business and its bright lighting, while helping reduce water in his yard.
This month, Township Committee amended its ordinance before final approval. It got rid of the setback requirement completely, only requiring that bamboo not be allowed to spread across a property line.
The 8-foot height limit was increased to 20 feet, which committee members said was necessary because in some places taller bamboo screens might impair the view from a neighboring property.
The requirements can be enforced with fines from $500 to $2,000, or up to 90 days of community service or time in jail.
This is a good compromise by township officials. It will allow reasonable plantings of this potentially destructive non-native plant, while giving the township what it might need to settle disputes between neighbors.
Good fences make good neighbors, a poet said. Good bamboo ordinances should, too.
Those with bamboo growing on their property should be aware of the plant's negative potential as well as its advantages, and maintain sufficient control so that it doesn't afflict the neighbors.