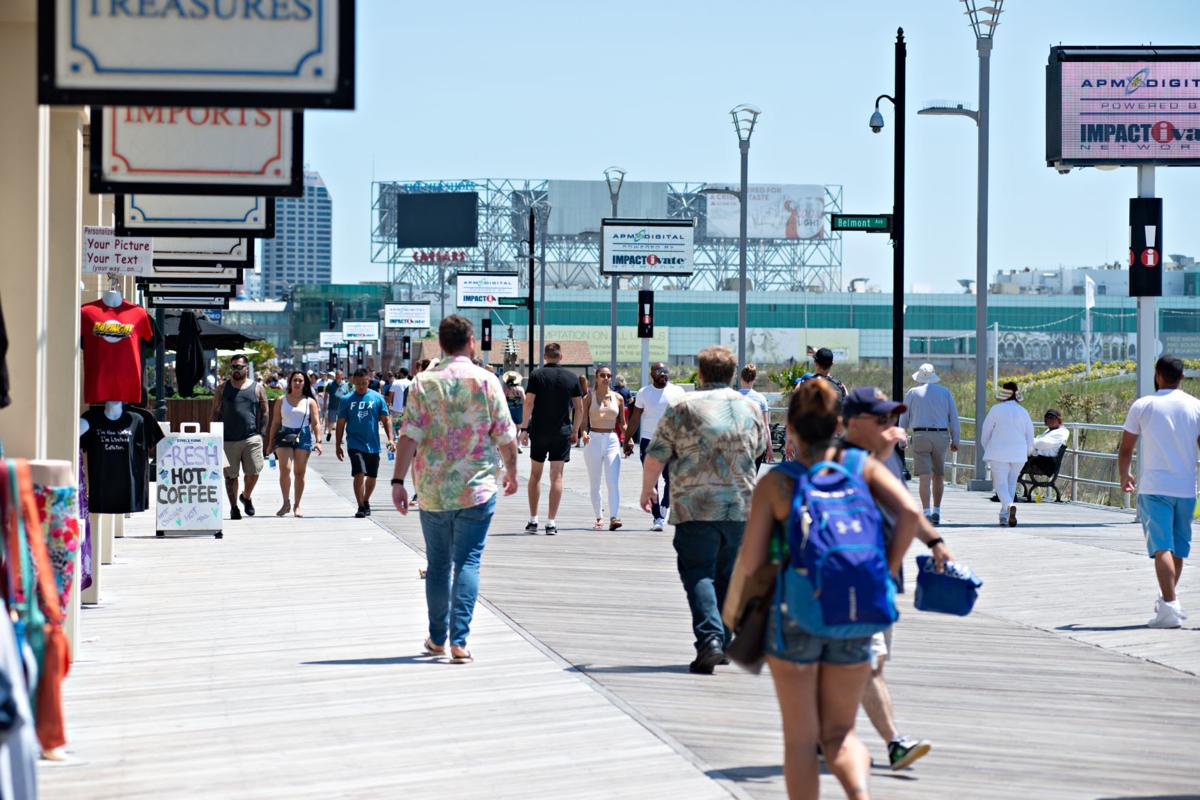 Once the coronavirus was determined to be a pandemic, government officials decided to close nearly the entire economy to avoid the virus affecting tens of millions of people. Instead of an initially projected potential of up to 2 million fatalities nationwide, the current estimate is about 60,000.
Gov. Phil Murphy signed Executive Order No. 107 on March 21 that directed all residents to stay at home until further notice. He did allow for exceptions for workers employed in essential goods and services businesses. At the time, New York City was experiencing a large number of coronavirus cases. The disease had also spread to northern New Jersey.
Nearly every other state issued a similar order. These orders appear to have slowed the growth of the disease. Today, in almost every part of the country, the number of new cases per day is declining. The New York, New Jersey and Connecticut area accounts for more than 40% of the cases nationwide.
Now that the state's economy has been shut for more than a month, the question is, when do we allow the economy to re-open?
Everyone wants the economy to open sooner rather than later. In New Jersey nearly 600,000 workers have become unemployed in the past three weeks. Stores, shopping malls, recreation and sporting events as well as schools and colleges have been shut down, causing tens of millions of dollars in lost revenue.
This hurts small businesses, their employees and the government itself. It is clear we need to get back to normal as soon as possible. According to some Rutgers University researchers, new and very efficient tests have been developed and will shortly be readily available. Still Gov. Murphy says the reopening of the state is weeks away.
That may be true for northern New Jersey, which because of high population density and the close proximity to New York City continues to see large numbers of new cases. But South Jersey is not North Jersey. That's particularly true of Atlantic and Cape May counties.
As of Friday there were fewer than 800 confirmed cases in those counties and less than 50 fatalities. Likely because of the lower population density and perhaps because of the climate, those numbers are probably going to stay lower than in the north. I think this means the shore area can and should reopen by May 15.
To be fair, Gov. Murphy has to make a very difficult decision. If he opens even part of the state's economy too late, the economic consequences would be devasting. If he opens too early, a resurgence of the disease could occur, which would increase fatalities and result in another shut down. President Trump said that decision was "the biggest of my life."
A May 15 opening for Atlantic and Cape May counties seems to be a reasonable compromise. By then, much more testing should be available to detect the virus and to detect antibodies in people who have had the virus, recovered and are now healthy. Some people may not have even known they had the virus.
Additionally, newly released information suggests that the virus in saliva droplets cannot live for more than a few minutes when the temperature is above 75 degrees, the humidity is above 80% and there is direct sunlight. That's a daily occurrence at the southern New Jersey shore after May 15.
Waiting past May 15 would mean the resort area misses the Memorial Day weekend, which comes very early this year. The weekend starts on Friday, May 22, and runs until Memorial Day on Monday, May 22. Opening on May 15 would give resort businesses, especially casinos, one week to ramp back up.
Waiting past that deadline would force some businesses to permanently close. The Memorial Day weekend is a big revenue generator for the southern New Jersey shore. Businesses have already missed the Easter weekend and they missed or will miss the increase in activity that is normally seen in April and May.
Waiting until June 1 to open would be devasting. It is possible that many small businesses would close permanently. Perhaps one or two casinos would close.
Gov. Murphy should open Atlantic and Cape May counties on May 15.
Michael Busler, of Ventnor, is professor of finance and finance program coordinator at Stockton University.
What is Gov. Murphy's 6-point plan to reopen New Jersey? 
1. Demonstrate Sustained Reductions in New COVID-19 Cases and Hospitalizations
• 14-day trend lines showing appreciable and sustained drop in new COVID-19 cases, hospitalizations, and other metrics reflecting decreasing burden of disease;
• Hospitals stepping down from functioning under crisis standards of care.
Gov. Phil Murphy on Tuesday, May 12, said that the number of positive cases of COVID-19 in New Jersey has increased by 898, bringing the total to 140,743.There have been 198 additional deaths, bringing the state total to 9,508.
"Getting New Jersey on the road back begins by reaching benchmarks and data milestones," Murphy said. "Most notably, within our healthcare sector, where the numbers are concrete and we can see in the numbers of real people the impacts our policies are having."
Positive tests results and fatalities are "clearly important," he said, but tests results and fatalities are lagging indicators, saying that the state is "not out of the woods yet."
The state is leading the nation for new cases, hospitalizations and new deaths per 100,000 people, Murphy said, with numbers greater than Connecticut, New York and Pennsylvania.
2. Expand Testing Capacity
• At least double current diagnostic testing capacity;
• Prioritize testing for health care workers, essential personnel, and vulnerable populations;
• Create a flexible testing plan accessible to all residents;
• Expand partnerships with institutions of higher education, private-sector labs, and the federal government;
• Ensure that those who test positive are linked to a health care provider.
Gov. Phil Murphy announced Tuesday, May 12, the state Department of Health will issue an order expanding access to COVID-19 testing without a prescription.
"We need a program that gives every New Jerseyan the confidence that they can be tested, as well — whether they're symptomatic or asymptomatic, or whether they work in the public or private sectors," Murphy said during his daily briefing with other state officials.
The order will be focused on those residents with possible exposure who fall in priority categories and lack access to a primary care practitioner, he said.
Murphy said that his goal is to provide at least 20,000 tests a day by the end of the month and to continue building out that capacity moving forward, with at least 25,000 tests a day by the end of June.
"More testing means more people will know their health status, and that means more peace of mind," Murphy said. "And more testing creates more data, and more data allows us to take more steps forward."
There are 135 testing site throughout the state, with CVS Pharmacy locations expected to have swab-and-send testing capabilities in place at 50 of its stores across the state by the end of the month, he said.
He also said that the state is directing $6 million in federal funding to Rutgers University to boost their test production capabilities from 10,000 tests per day to 50,000 within the next six to eight weeks.
3. Implement Robust Contact Tracing
• Recruit and deploy an army of personnel who will identify and follow-up with contacts;
• Leverage technological data and innovative solutions to increase efficiency;
• Coordinate the approach of local and state health officials, which will have a coordinated county/regional component.
During his daily briefing on Tuesday, May 12, Gov. Phil Murphy announced 
plans to build a Community Contact Tracing Corps to help tracers already working.
There are 800 to 900 tracers statewide, Murphy said, adding that the state will need at least 1,000.
"We're partnering with our state's colleges and universities to employ their public health, social work, and related students as our front-line workers," he said.
4. Secure Safe Places and Resources for Isolation and Quarantine
• To the greatest extent possible, provide individuals who do test positive in the future with a safe and free place to isolate and protect others from COVID-19;
• Ensure that quarantined contacts are provided supportive services, if needed.
5. Execute a Responsible Economic Restart
• Create the Governor's Restart and Recovery Commission to advise on the process and recommend responsible and equitable decisions;
• Plan for a methodical and strategic return to work based on level of disease transmission risk and essential classification;
• Continuation of social distancing measures, requirements for face coverings, and work-from-home directions where feasible and appropriate;
• Leverage any available federal funds and programs to support health care, individual, and small business recoveries.
6. Ensure New Jersey's Resiliency
• Learn from the lessons of COVID-19 and prepare for the possibility of a resurgence;
• Ensure hospitals, health care systems, and other health delivery facilities have inventories of personal protective equipment and ventilators;
• Build our own state personal protective equipment and ventilator stockpile;
• Create a playbook for future administrations for the next pandemic.
Catch the latest in Opinion
Get opinion pieces, letters and editorials sent directly to your inbox weekly!