Like a good story, you put the most important part first. So, here we go. 
The Something In the Air Newsletter will become a breaking weather newsletter. 
Think Tropical Storm Fay, for example, you would have seen an e-mail like on July 9, the day before it made landfall south of Long Beach Island. 

JOE MARTUCCI Press Meteorologist
(We'd make it look a little more fancy for your viewing pleasure)
From now on, before major weather events, I'll tell you what's going on, when the worst of it will be, website to find information and get through as well as my personal take on the situation. All of this, right to your inbox, without event having to click anywhere else. 
I know, losing out on my freshman year of Rutgers weather videos will be upsetting, but I believe this will better serve you. You'll have a quick way for local, South Jersey weather, right when the weather becomes most important to your day.
Hey, maybe I'll still throw one up on Facebook every now and then. 
So, yes, this will mean the end of the weekly newsletter. I want to say thank you for all of you who signed up, especially in the early weeks of doing so. I'm eager to get started on this new chapter of our weather adventure here at The Press.
Though I'm not too eager, we've had enough severe weather for one year. 
Get your local South Jersey video forecast from the green screen, or wherever I may be, 3 times a day. 
Answers to last newsletter's Meteorological Mastermind Trivia (in bold)
According to Colorado State University, the average risk of an Major Hurricane (Category 3 or greater) landfall on the East Coast is 45%?
The development of a weak La Nina led to a more active hurricane season forecast? 
The "M" hurricane name this year is? Marco 
Be a Meteorological Mastermind, not only in trivia, but on how this hurricane season will shape up, here.
So, how'd you do? 
Nothing right: Keep reading the newsletter, you'll get it, I promise.
1 right: The sun's rising, you're just not high in the sky yet.
2 right: Weather warrior.
3 right: Weather wizard.
More About Tropical Storm Fay 
Let's be honest, we've had many nor'easters with stronger winds than Fay. We've had many nor'easter with more coastal flooding than Fay (in fact, no tide gauge rose into flood stage). I was on the north end of Brigantine just as it made landfall and people were out and about. Heck, I even saw two people jet skiing under the Brigantine connector. 
Still, Fay did bring plenty of roadway and etched itself into history at the tenth tropical system to make landfall in South Jersey since 1900. Fay continued the Atlantic Hurricane Basin's record pace (records go back to 1851, too).
Cape May County saw the brunt of the rain, with torrential downpours yielding 4 to 6 inches of rain from Wildwood Crest to Erma. Margate saw 5.50 inches of rain. Even Cumberland County, reported 3 to 4 inches of rain. 
Did Tropical Storm Fay make the Brigantine to Holgate corridor hurricane alley? Possibly. Irene and Sandy *both* made landfall in Brigantine (though Superstorm Sandy was a "post tropical cyclone"). Fay was close, but made landfall just south of Holgate. That's three storms within 10 miles of each other!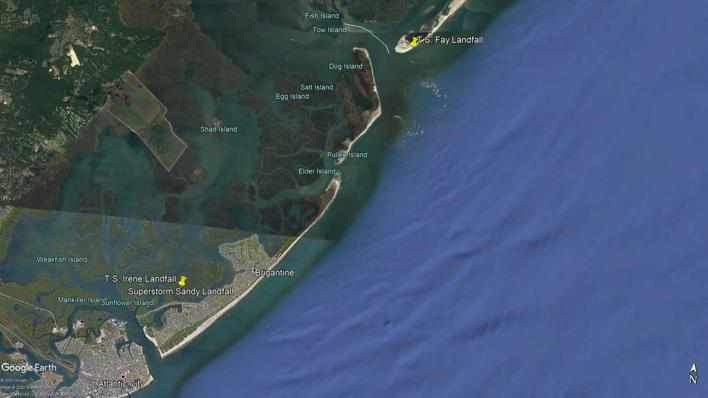 Tropical Storm Irene, Superstorm Sandy and Tropical Storm Fay, in a twist of Meteorological conciendence, all made landfall just miles apart. 
JOE MARTUCCI Press Meteorologist
Are you a Meteorological Mastermind? Let's see what you've learned this week.
Given that the next newsletter will come as the weather does, we're going to retire the Meteorological Mastermind.
So, everyone's a Meteorological Mastermind this week, a title we'll wear forever. Thanks for following along. 
Coming Up...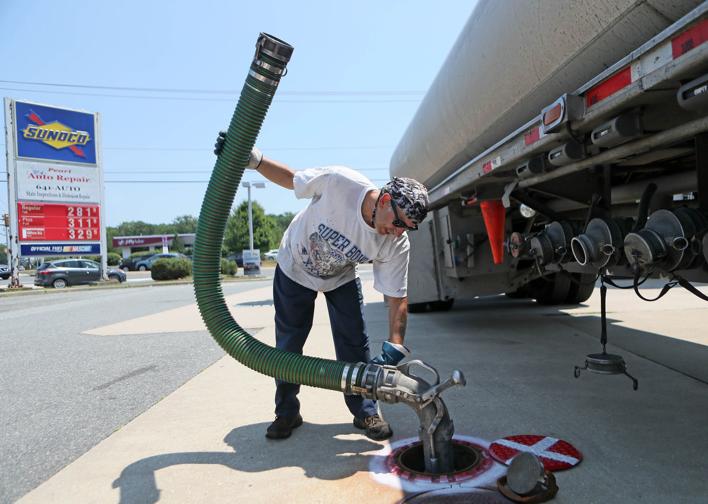 Joe March of Orbit Freight Line of West Deptford works in the mid-90's temperature, adding gas to the Sunoco station in Egg Harbor Township on Monday. July 2, 2018 (Craig Matthews / Staff Photographer)
Craig Matthews / Staff Photographer
Stay cool, shade in the shade, stay in the air conditioning, an excessive heat watch will be in effect from noon Sunday to 6 p.m. Tuesday. Heat wave number two looks to be on the way.  
Front Fact
Excessive heat isn't always about how hot it will get, but how warm it'll stay at night. That being said, July 23 holds the record for the warmest... er... hottest... overnight low temperature on record at Atlantic City International Airport. The thermometer only dropped to 84 degrees. 
Be a part of South Jersey weather
Talk to everyone here when the next big weather event happens. For all other weather, plus the latest podcasts, videos, articles and more, follow me on Facebook, Twitter and Instagram. Thank you again!