KUALA LUMPUR, Malaysia (AP) — A Malaysian student whose cellphone was stolen while he was sleeping has tracked down the culprit: a monkey who took photo and video selfies with the device before abandoning it.
Zackrydz Rodzi, 20, said Wednesday that his phone was missing from his bedroom when he woke up Saturday. He found the phone's casing under his bed but there was no sign of robbery in his house in southern Johor state.
When his father saw a monkey the next day, he launched a search in the jungle behind his house. Using his brother's phone to call the device, he found it covered in mud under a palm tree. But a bigger surprise came when he checked his phone and found a series of monkey selfies and videos recorded in the phone.
"My uncle was joking that maybe the monkey took some selfies with the phone. ... So when I checked my phone picture gallery, I was shocked. The suspect's face was plastered on the screen. It was hilarious," Zackrydz said.
He said he was curious why the monkey took the phone and not the camera or other things in his room. He said the primate must have thought it was food as it has a colorful casing.
Most of the images were blurry, but some showed the monkey's face. One of the videos taken from atop a tree showed glimpses of the monkey opening his mouth and appearing to try to eat the phone.
"My house is now in a total lockdown," Zackrydz said, laughing, adding that he didn't want a repeat of the incident.
Other news of the weird
Slow music: Chord change in Germany of 639-year organ piece
HALBERSTADT, Germany (AP) — Hundreds of fans attended a special kind of musical happening Saturday at a church in Germany: a chord change in an organ piece that is supposed to last for an entirety of 639 years.
The performance of the "ORGAN/ASLSP," or As Slow As Possible, composition began in September 2001 at the St. Burchardi Church in the eastern town of Halberstadt and is supposed to end in 2640 — if all goes well.
The music piece by the American composer John Cage is played on a special organ inside the medieval church. The last sound has been the same one for the last six years and 11 months, and therefore the chord change Saturday was a big event among fans of the John Cage Organ Project.
A chord change means that the sound of the organ pipes changes either because new sounds are added or existing sounds end. On Saturday, two new organ pipes were added.
Organizers say the performance is "one of the slowest realizations of an organ musical piece."
A compressor in the basement creates energy to blow air into the organ to create a continuous sound. When a chord change happens, it's done manually. On Saturday, soprano singer Johanna Vargas and organist Julian Lembke changed the chord.
The new sound reminded some listeners of the metallic buzz inside a big ships's engine room.
The next chord change is planned for Feb. 5, 2022, the German news agency dpa reported.
When the piece officially started on Sept. 5, 2001, it began without any sound. It was only on Feb. 5, 2003, the day of the first chord change, that the first organ pipe chords could actually be heard inside the church.
Cage was born in Los Angeles in 1912 and died in New York in 1992. He's known not only as a composer, but also as a music theorist, artist and philosopher.
The St. Burchardi church has a long, checkered history. It was built around 1050, and was used for more than 600 years as a Cistercian monastery. It was partially destroyed during the Thirty Years' War, later rebuilt, at some point secularized and over the centuries also served as a barn, a distillery and a pigsty, the John Cage Organ Project said on its website.
Chord changes usually draw several thousand visitors to Halberstadt, but because of the coronavirus pandemic, the number of guests allowed into the church was limited this year.
___
Kirsten Grieshaber reported from Berlin.
A World War II veteran will get his final wish to have Juicy Fruit-themed casket
A World War II veteran's wish to have his casket painted to resemble a pack of Juicy Fruit when he dies has been granted.
Suttie Economy, 94, told his friend Sammy Oakey, President of Oakey's Funeral Service, his last request is to have his casket painted like the iconic, yellow Wrigley's Juicy Fruit pack of gum when he passes.
A unique ask — Oakey told Economy he would do the best he could to honor the veteran's wish when he called.
A family friend for at least 45 years, Oakey told CNN that Economy is a unique and patriotic individual known famously throughout the Roanoke, Virginia, community for handing out Juicy Fruit gum to everyone he meets.
Economy was admitted to the Salem Veterans Affairs Medical Center in Virginia three weeks ago due to a heart condition. A week later, the veteran was moved to the Virginia Veterans Care Clinic, where he currently resides with his health improving.
"Suttie would come in here for visitation or just come in to visit and he would always bring a bunch of packs of Juicy Fruit chewing gum and put it out for the employees to enjoy," said Oakey.
"He didn't just do that here. He did it at restaurant and doctor's offices wherever he went."
During World War II, Wrigley supported US troops by taking Wrigley's Spearmint, Doublemint and Juicy Fruit off the civilian market and dedicating the entire output of these brands to the US Armed Forces, according to Mars.
Economy became fond of Juicy Fruit during the war and had been giving it away to his community ever since he came home, according to his brother, John Economy.
"It served as a symbol for his mission to talk to people about the World War II memorial and to honor the deceased veterans that died for our freedom," his brother said.
Oakey's first request to use Wrigley's Juicy Fruit logo and trademark on the casket was denied by the Mars Wrigley company. With the help of social media, the veteran's wish to use the branding gained widespread traction.
Oakey received a contact to the company's president from a community member and within a few days he received a call from the vice president granting permission to use the logo. The company's president also reached out a week later saying he would not only be proud to have the Juicy Fruit logo on casket, but that he would also send some products to the Economy family, Oakey said.
Economy was excited to hear the good news. The funeral service thanked the community for their support with a post on their Facebook page.
Last Friday, 250 packs of Juicy Fruit gum were delivered to the funeral home for the family, who has since picked it up.
For now, the family is not certain when the casket will be painted, but plans to find an artist soon, Economy's brother said.
You've goat to be kidding: Farm animal eats up police papers
DOUGLASVILLE, Ga. (AP) — A Georgia sheriff's deputy delivering civil papers returned to her patrol vehicle to find an eager — and hungry — new driver.
The Douglas County deputy was serving the documents near Douglasville last week when she heard something in her patrol car and was met by a goat climbing into the open driver's side.
The animal clamored around, munched on some paperwork and knocked over a drink before managing to bump the deputy to the ground.
The sheriff's office explained in a Facebook post on Friday that the deputy often leaves the door open on such calls in case she has to make a quick escape from aggressive dogs — but she never considered having to retreat from an agitated goat.
Officials said the deputy was not physically harmed during the encounter — and she managed to retrieve the soggy paperwork before the animal scampered off.
Contraband-laden drone snags in prison net; 2 arrested
JACKSON, Miss. (AP) — A drone carrying marijuana, cigarette lighters and cellphones got caught in a net above a Mississippi prison fence, resulting in the arrest of two men, state corrections officials said Wednesday.
John Travis Ross, 33, of Vicksburg and Joshua Ray Corban, 18, of Utica, made initial court appearances Tuesday in Rankin County on charges of conspiracy and attempting to smuggle contraband into the Central Mississippi Correctional Facility in Pearl, the Mississippi Department of Corrections said in a news release.
The two were identified after Rankin County sheriff's investigators traced the drone's flights — and then investigators turned up security video of them launching the drone, officials said. Corrections Commissioner Burl Cain said the two confessed. It was not clear whether they had attorneys who could speak for them.
The drone, caught Aug. 26, carried 2 ounces of marijuana buds, a cellphone, phone chargers, headphones, and several cigarette lighters, the corrections department said.
"They tried to use the drone to help their friends — now it's going to help us," Cain said, adding that officials plan to reprogram it to use at the state's maximum-security prison in Parchman, about 115 miles (185 kilometers) north of Pearl. "We're reprogramming their drone now ... so it's working for the law instead of against it," he said.
The drone is the third intercepted at a state prison in recent years, said John Hunt, the department's director of Investigations.
The search is on for a tiger spotted in Knoxville, Tennessee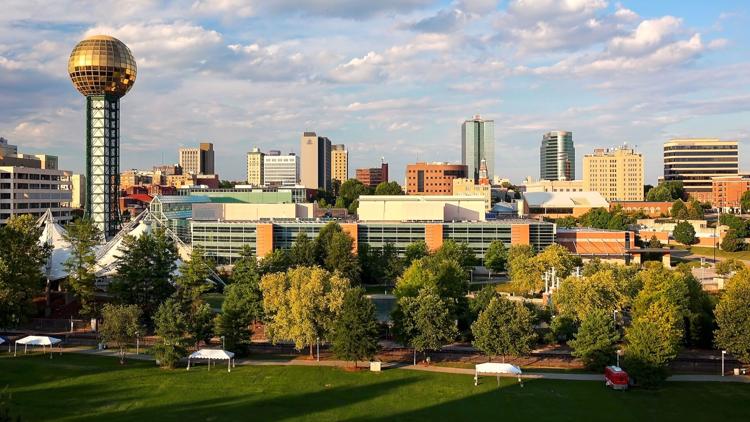 Authorities in Knoxville, Tennessee, are still searching for a tiger that was spotted on Wednesday night in an industrial park.
A Knox County Sheriff's Office deputy saw the animal at the Forks of the River Industrial Park on the east side of the city, according to a news release.
Another sighting was reported on Thursday morning, a few miles away, according to the Tennessee Wildlife Resources Agency (TWRA).
A wildlife officer is patrolling the area, but there have been no further sightings or signs of the animal, TWRA spokesman Matt Cameron told CNN.
The TWRA set a trap to try to catch the tiger, but removed it at about noon on Thursday because there wasn't any activity, Cameron said.
The agency is asking residents in the area to check the footage from their security cameras to see if they caught a glimpse of the big cat, the spokesman said.
Sheriff's patrol units and AirWatch searched for the tiger along with the Knoxville Police Department's Animal Control, the sheriff's office said.
Representatives from Tiger Haven, a no-kill tiger sanctuary in Kingston, Tennessee, are helping with the search, according to the sheriff's office. Tiger Haven is about 50 miles southwest of where the tiger was spotted.
CNN affiliate WVLT reports that Knoxville police dispatch got several calls overnight from people who thought they saw the tiger, and crews responded to one call on Thursday morning.
It's not known where the tiger came from.
Zoo Knoxville, in a Facebook post on Thursday morning, said that it wasn't one of its big cats .
"We want to reassure everyone that our Zoo Knoxville Malayan tigers Arya, Bashir and Tanvir are all safely accounted for. Our team is standing by to assist if needed," the zoo wrote.
The sheriff's office is urging residents to contact them if they see the tiger.
Italy's serial escape artist bear Papillon recaptured after 42 days on the run
A brown bear nicknamed "Papillon" for its ability to escape from its wildlife enclosure in northern Italy has been recaptured after more than a month on the run.
The 4-year-old male bear, officially named M49, broke through an electric fence and tore through additional mesh fencing to flee its 9,000 square-meter enclosure on July 27.
Forestry workers recaptured the bear with a "tube trap" in the Lagorai area of Trentino province in the eastern Alps, according to a statement on the provincial government site released Monday. This marks an end to Papillon's 42 days of freedom, Italian public broadcaster RAI News reported.
It's only the latest in Papillon's long string of bids for freedom. The bear -- affectionately named after the eponymous character of the autobiographical novel by French writer and escaped convict Henri Charrière -- has "fled his cage multiple times," a spokesman for the region's local government told CNN in July.
After being captured in 2019, Papillon broke free last July -- and, without a tracking collar on him, spent the next nine months evading government agencies and forestry teams despite intensive efforts to catch him, RAI News reported.
The bear was recaptured this April, according to a spokesman for the region's local government. But only hours later, it escaped again from the fenced area, which it shared with a second, female bear.
Once returned to captivity, Papillon was castrated in a bid to "calm him down," according to the spokesman.
But it clearly didn't work.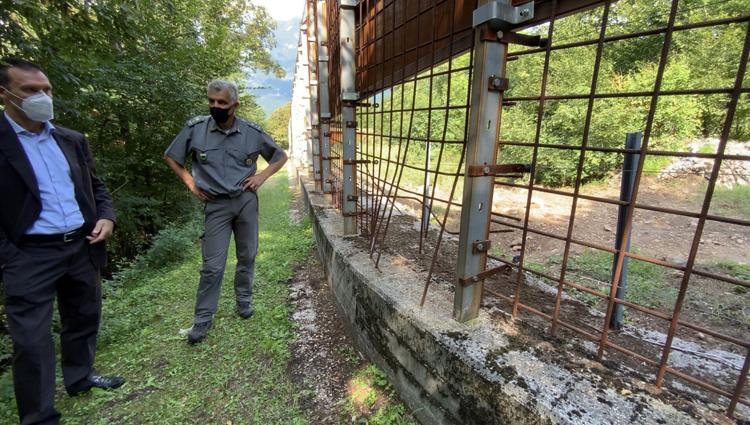 "The problem is he is too wild and has a strong instinct to return to the forest," the spokesperson told CNN at the time.
Brown bears were reintroduced to the region in 1999 as part of the Life Ursus project, which sought to conserve the species in the Alps. The scheme, launched by the National Institute of Wild Fauna, has led to 100 bears living in Trentino province today.
The aim had been for the bears to disperse, but instead they concentrated in the area, according to the government spokesman, and are "fearless of humans and livestock." The animals are believed to be responsible for killing several donkeys, goats and cows.
There have also been several bear attacks in the region in recent years, and local authorities have a database of bear DNA collected from feces, fur and saliva. Surveillance cameras are used to match the DNA to the animals.
But Papillon has also won over some fans and supporters, including Italian Minister of the Environment Sergio Costa, who has repeatedly urged the government not to kill the bear in their recapture efforts. After Papillon's escape this July, Costa posted on Facebook that the bear had not hurt anyone, and had only caused property and material damage that could be compensated.
"Every animal must be free to live according to its nature," he wrote in the post. "Papillon must live!"
CNN's Valentina Di Donato and Lianne Kolirin contributed to this report.
Grave mistake: 'Casket' seen in river turns out to be dock
ANNAPOLIS, Md. (AP) — Police in Maryland investigating reports of a casket photographed bobbing up and down in a river discovered the object was something far less macabre.
A post to a local radio station's Facebook page Tuesday showed a rectangular object with flat sides and a curved top floating in the South River, a tributary of the Chesapeake Bay near Annapolis.
The concrete slab, resembling a coffin, sparked complaints of a possible hazard in the water, The Capital Gazette reported.
Department of Natural Resources police were dispatched to the river, where a hydrographic operations team helped pull what turned out to be a floating dock from the water, according to the agency.
The shocking moment a passenger took a walk on an airplane wing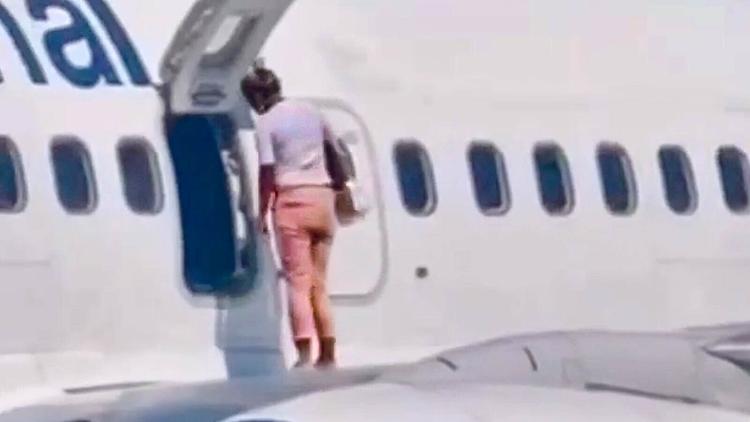 We've all experienced the frustration of being stuck on an airplane, so close to the end of the journey, yet forced to wait while some technical problem is sorted out.
But while common sense stops most people from opening the doors ourselves, one passenger in Ukraine apparently decided the best course of action was to pop open the emergency exit and take a stroll on the aircraft's wing.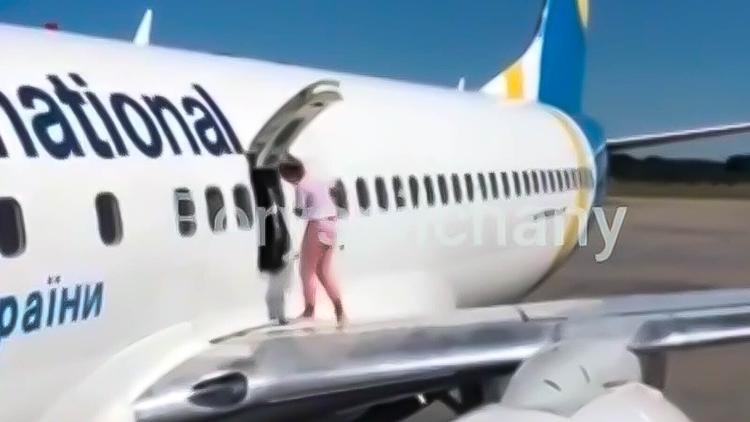 Cooling off
A minute-long video has emerged of the woman, dressed in a white top and light pink trousers, hanging out on the wing in front of stunned onlookers at Boryspil International Airport in Kiev, before being summoned back on board by the airplane's crew.
The unidentified passenger, who was traveling on a Ukraine International Airlines flight from Antalya, Turkey to the Ukranian capital with her husband and children, was reportedly overheard saying she was "too hot" and needed to cool down.
Her unauthorized walk on the wing of the Boeing 737 has seen her banned from all future UIA flights.
According to a statement from the airline, airport security and police attended the scene, along with doctors, who determined the woman "was not under the influence of alcohol and/or drugs."
The Ukraine airline went on to criticize the passenger for setting an inadequate "parental example," stressing that she may be subject to "an exceptionally high financial penalty in the form of a fine."
A spokesperson for Boryspil International Airport declined to comment on the incident, which took place on August 31.
2 pythons weighing 100 pounds collapse ceiling in Australia
An Australian returned home and was surprised to discover that his kitchen ceiling had collapsed under the weight of two large pythons apparently fighting over a mate.
David Tait entered his home in Laceys Creek in Queensland state on Monday and found a large chunk of his ceiling lying on his kitchen table.
"I knew we hadn't had rain, so I looked around to find what had caused it," Tait told Nine Network television on Tuesday.
He soon found two culprits -- non-venomous carpet pythons 2.8 meters (9 foot, 2 inches) and 2.5 meters (8 foot, 2 inches) long -- that had slithered into a a bedroom and living room. The snakes have an estimated combined weight of 45 kilograms (100 pounds).
Snake catcher Steven Brown was called to remove the two snakes.
"I would assume that it was two males fighting over a female that was nearby in the roof," Brown said. He suspected the female could still be in the ceiling or nearby.
The males were returned to the wild.
'Meals on Heels' mixes drag, food during virus
Berlin zoo's twin panda cubs celebrate 1st birthday
BERLIN (AP) — The Berlin zoo's popular twin panda cubs have celebrated their first birthday with a special frozen cake and a portion of snow from the penguin house.
Pit and Paule — Chinese names Meng Xiang und Meng Yuan — were the first pandas to be born in Germany and have become a star attraction at the capital's zoo since they made their public debut in January. They are on loan from China, as are their parents.
The cubs, who weighed less than 200 grams (7 ounces) at birth, now each weigh in at about 28 kilos (62 pounds).
Zookeepers on Monday brought the duo a frozen cake in the shape of the figure 1, made out of beetroot juice, apples, sweet potatoes and bamboo. The creation was garnished with a portion of snow.
Wheel-y mysterious: Hamster DNA find baffles German police
BERLIN (AP) — German police said Wednesday they are losing hope of finding out who left on a train a box of vials with hamster DNA, which caused alarm in the southwestern town of Heidelberg last week.
Federal police sent a bomb squad to investigate after a train driver found the styrofoam box with three vials of liquid on a local train Friday. Forensic specialists later determined that the liquid contained genetic material from rodents.
Officers had hoped to crack the case by publicizing the unusual find, but despite intense media interest the owner has remained elusive so far, said Jan Doering, a federal police spokesman.
Doering said police had already disposed of the vials as the cold chain had been broken.
Heidelberg is home to several research centers, including the European Molecular Biology Laboratory.
770-pound crocodile caught at Outback tourist destination
DARWIN, Australia (AP) — Wildlife rangers have trapped a 4.4-meter (14.5-foot) saltwater crocodile at a tourist destination in Australia's Northern Territory, the biggest caught in the area in years, a wildlife ranger said Monday.
The 350-kilogram (770-pound) male was caught in the Flora River at a remote nature park 120 kilometers (75 miles) southwest of the Outback town of Katherine, said Katherine senior wildlife ranger John Burke.
A larger 4.7-meter (15.5-foot) croc was trapped three years ago in the same wildlife management zone, but that one was caught in the Katherine River, which is closer to the sea, Burke said. He said he did not know of a larger croc caught in the Flora River.
Crocodile numbers have been increasing across Australia's tropical north since federal law made them a protected species in the early 1970s.
"They certainly are increasing (in number), and that's part of the reason we have the management zones — to reduce the numbers in high-visitation areas so there's less chance of interaction between salties and people," Burke said, referring to saltwater crocs.
The captured croc had been taken to a crocodile farm to become part of a breeding program. Farmed crocodiles can be killed for their meat and leather.
The crocs are trapped in large cages baited with wild pig and other meats and submerged in waterways.