The Atlantic City St. Patrick's Day Parade is back for the first time since 2019 this Sunday While a storm system has postponed some Saturday parades around the region, the resort city will be luckily dry for the cars, performers and spectators to enjoy.
When the parade starts on the corner of Boardwalk and St. James Place at 1 p.m., expect temperatures in the mid-40s. There will be some sunshine, likely filtered through high clouds and a light wind from the north.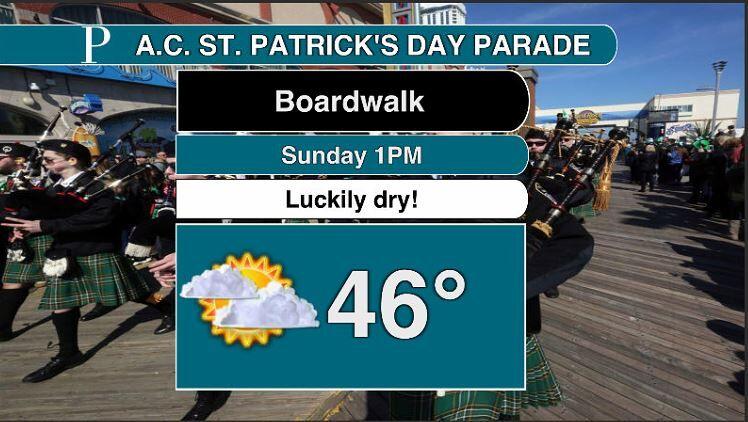 So, those in the parade will have the wind at your back marching south to Albany Avenue along the Boardwalk. 
Temperatures will remain in the mid-40s for much of the afternoon. Clouds will thicken, ahead of an impending storm system that arrives Monday. 
Calling all ye Irish — and all ye who just pretend you're Irish each March! Saint Patrick's Day isn't even until next week, but in South Jersey, we're kicking off the holiday early, with parades, parties and plenty o' green. The best part? Though there are multiple parades, and they are timed so you can actually make it to more than one. With a whole weekend of celebrations, you might be thinking it's time to go big or go home, but pace yourself — this is a party that's going to last all week.
Highs in the mid-40s are about seasonable for Mid-March. The average high as Sen. Frank S. Farley State Marina, on the other side of the city, is 47 degrees. 
Contact Joe Martucci:
609-272-7247
Twitter @acpressmartucci