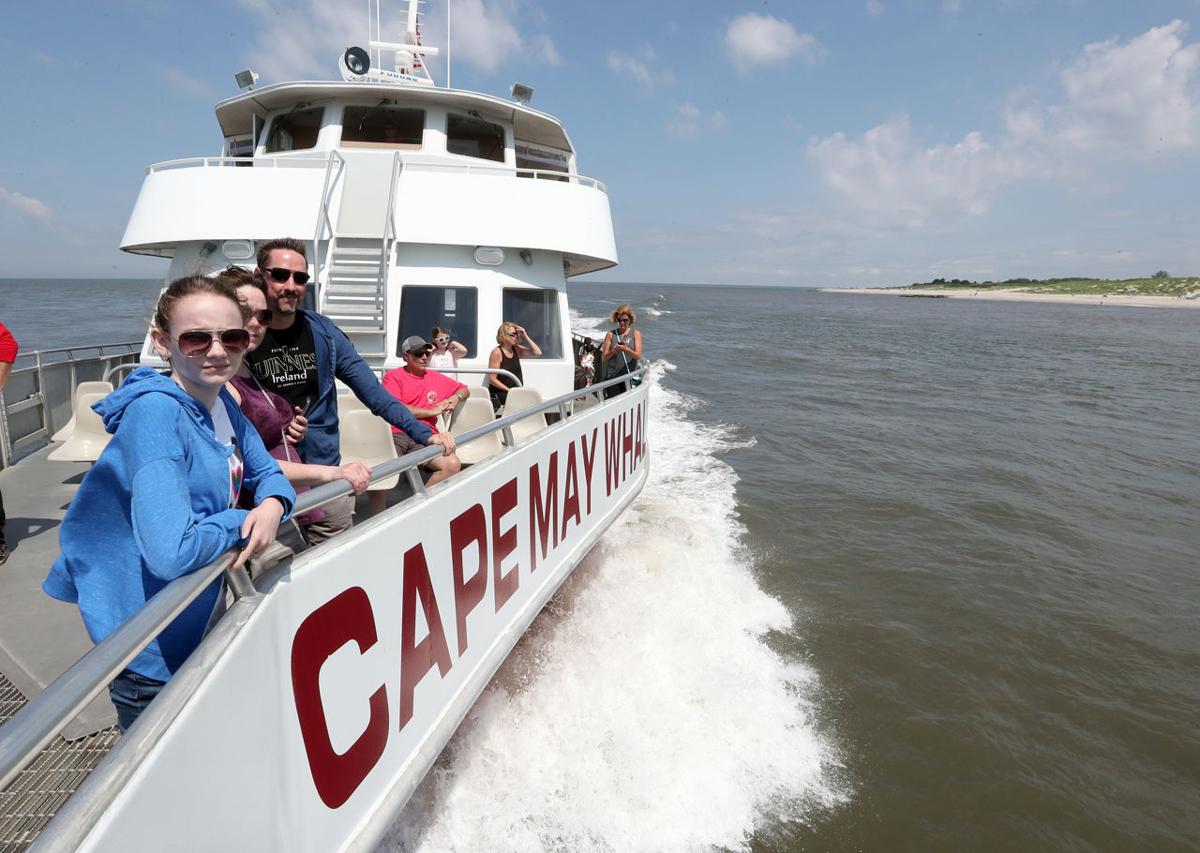 CAPE MAY — Jeff Stewart clearly remembers one of the last times humpback whales descended on the Delaware Bay.
It was 1990 and there was an abundance of bunker in the waters, a type of forage fish that whales eat that are also called menhaden, said Stewart, captain of the Cape May Whale Watcher.
Those same conditions are bringing the cetaceans to the bays from Town Bank to Cape May Point yet again, he said.
Marine biologists say a combination of warming waters and an increasing bunker population in the south is bringing more of the fish to New Jersey's coast — and in turn luring whales to bay habitats they normally don't swim in.
"There's a ton of (bunker) right now. I'd definitely say it's above average, to see it this early and in these quantities," Stewart said.
Typically, the whales are found 20 miles offshore in the ocean, Stewart said, but last week, one of his captains spotted a humpback whale in the bay about 1½ miles off Cape May's coast. Another was found in the bay Sunday morning about 100 yards out.
The tour agency, founded in 1993, started taking people out to sea again for the season last month. Stewart said more bottlenose dolphins are also in the waters as a result of increased bunker.
The increase in bunker could have to do with higher water temperatures and their increasing population around the Chesapeake Bay region in recent years, said Malin Pinsky, an associate professor in Rutgers' Department of Ecology, Evolution and Natural Resources.
He said some research indicates that bunker populations grow more quickly in warmer waters. They are small, flat fish that are typically less than 15 inches in length.
At the same time, the bunker population is increasing in areas south of New Jersey, such as off the Virginia coast. As their numbers rise there, the fish spread north in greater numbers.
"Its likely a combination of those two ideas," Pinsky said.
Fishing quotas also have an impact on fish populations.
In 2013, the Atlantic States Marine Fisheries Commission set quotas for the fish for the first time ever, capping the total allowable catch at 170,800 metric tons per year for a region spanning from Florida to Maine. Anglers catch bunker for fish meal and oil.
Afterward, controversy swirled. Commercial fishers contended bunker were never overfished, while environmentalists said protection of the species is needed because the fish have an important role in the food chain in bays and estuaries. They feed on phytoplankton and zooplankton, and turn microscopic plant life into protein for predators, such as bluefish, weakfish, striped bass and whales.
But since 2013, the quotas have been raised every year, from 170,000 metric tons to 216,000 metric tons, the commission said in an email. For the past 30 years, reduction fishery landings for bunkers have been steadily decreasing, while bait landings have grown.
Whales are filter feeders that on average eat 2,000 pounds of small-schooling fish such as bunker and herring per day, said Jacalyn Toth Sullivan, an adjunct professor of Marine Science at Stockton University.
Sullivan says as the tiny fish naturally move around within their "range of habitat," the whales follow their food source, even into bays.
That could bring whales closer to humans who are boating in those waters. Sullivan said people should stay 30 meters away from humpback whales, and avoid getting in the way of the mammal's intended direction.
"Admire from afar," Sullivan advised.