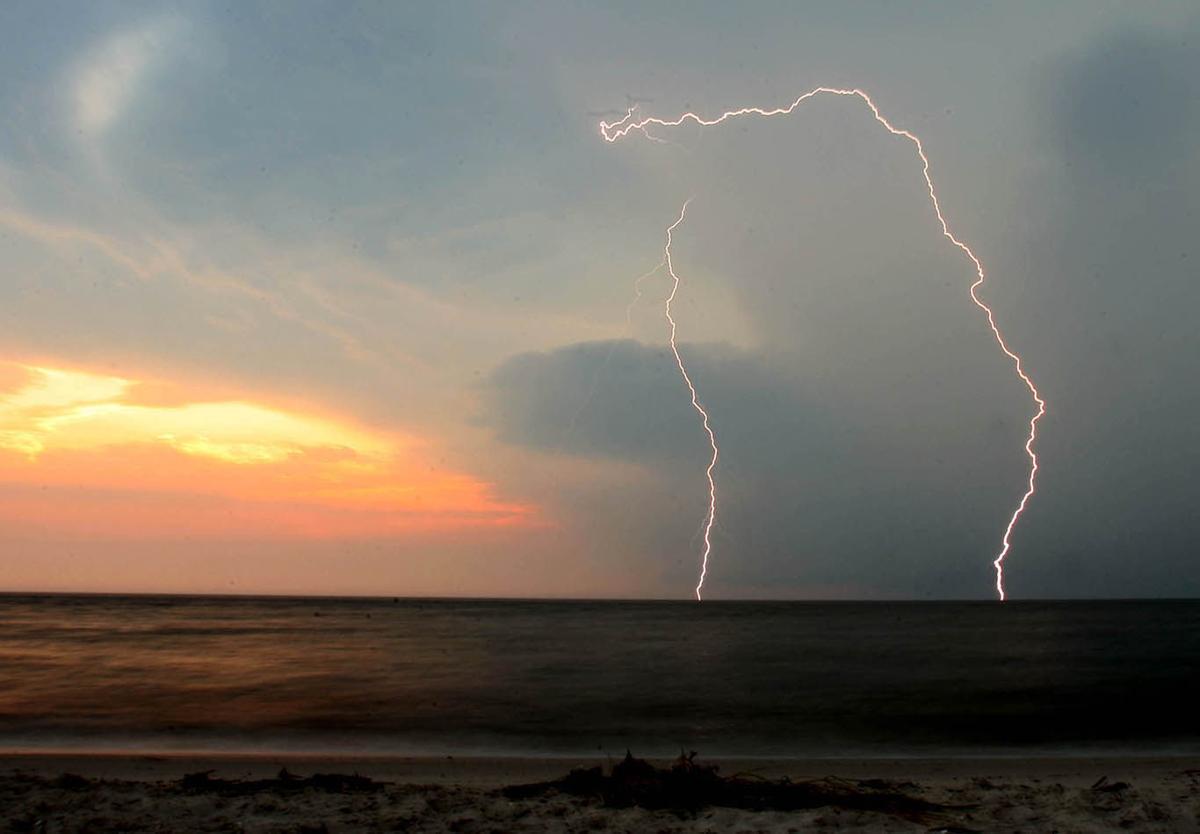 Hazy, hot and humid. Those three words will continue to carry us from Tuesday into most of the Fourth of July weekend. Speaking of the holiday, there will be more positive news coming out of the weather front.
Temperatures on Wednesday morning will start in the low to mid-70s everywhere, with some humidity.
In a year full of severe weather, and the occasional tornado warning, it takes an all-hands-…
Before we get into the forecast, I want to talk about isolated vs. scattered vs. numerous storm coverage, because that will be important for this forecast.
Isolated and scattered do not indicate washouts. They both mean storms are random on the map, or hit or miss.
However, isolated storms indicate a thunderstorm won't have any others around it for a good distance, while scattered means there can be.
To put it another way: You drew the short end of the stick if you get rained on during an isolated storm day, where there's plenty of other people in the same boat as you during a scattered event. On the other hand, numerous coverage indicates a large number, perhaps more than half, will see storms at some point. It doesn't necessarily mean a washout but gets very close.
It's a scenario that happens on occasion in Cape May County: You're sitting on the beach and…
Wednesday afternoon will reach the low 90s on the mainland. On a southwest wind, the shore will near 90, before a cooling sea breeze bumps it back down. After 3 p.m., isolated storms will be present, lasting until the early evening.
Wednesday night will see a gradual clearing. It stays sticky again, as morning lows Thursday will range from 70 to 75, about 5 degrees above average.
As the people of this great nation, you have the freedom and duty to celebrate America's bir…
The Fourth of July does shed some better news for us. Winds will be from a southeasterly direction.
That will take out some of the juice in the atmosphere, while also taking us out of what would otherwise be a heat wave.
So, expect a mostly dry day. The Fourth of July morning parades look good; it just won't be the best hair day. Afternoon barbecues and time by the water will be fine, but a few folks may have to run off the beach. Still, I believe most of these isolated storms will stay on the mainland. Temperatures will stay in the mid-80s.
Again, fireworks looks OK for many. However, the mainland will still need to keep a close watch. Temperatures will be around 80 just after sunset, so wear your favorite USA T-shirt and flip-flop.
Friday and Saturday will see the 90-degree temperatures come back to the mainland. Also, the dew points will take a tick upward. Keep yourself either by the water, in the shade or in the air conditioning. The heat index will be in the upper 90s on Friday, nothing unusual for us, but will get to 100-plus on Saturday, which is more concerning.
In terms of rain threats, neither day will be a washout. Isolated morning showers and storms will be present, though I'd expect the shore to be nearly dry. That'll then turn to afternoon and evening scattered coverage.
Also note, the shore will be in minor coastal flood stage during the Wednesday, Thursday and Friday evening high tides. This will be between 9 p.m. to 11 p.m. on the Atlantic Ocean waters and later in the bay. There might be less room on the bayside beaches to sit on and enjoy the view. However, no damage will be expected. If you see flooded waters on the road, turn around don't drown.