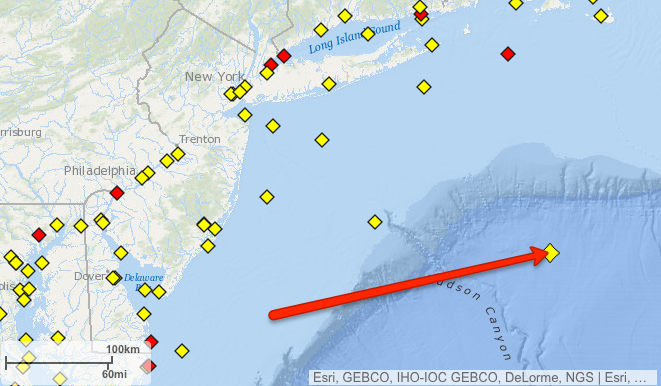 Some speculated a meteor, others a submarine.
A buoy that detects tsunamis 205 miles off Long Beach Island's coast recorded an 88-foot drop in the ocean Saturday, followed immediately by a 180-foot rise. The results were so staggering that many contemplated what caused it, since no other evidence supported a tsunami.
No one turned off the machine before routine maintenance.
Jared Klein, a meteorologist with the National Weather Service in Mount Holly, said, "The National Data Buoy Center was conducting routine maintenance on the buoy at that time."
Klein says maintenance workers usually disable the instruments before work is done to prevent extreme data swings from being recorded.
In this instance, the instrument that measures water depth was left on — hence the wildly inaccurate readings.
That triggered the tsunami buoy to go into "event mode," starting public speculation as to the possible cause.
Klein says "missing data is better than inaccurate data," which is why instruments are usually shut down during maintenance.
Buoy 44402 reported an 88-foot drop in the ocean level in only 15 seconds, just after 6:30 p.m. Saturday.
Fifteen seconds later, the ocean level rose 180 feet, as measured by the buoy.
Actual tsunamis can range from a few feet tall to more than 100 feet tall when the series of waves crash ashore.
However, most tsunamis will not register nearly as dramatic a height fall or rise over deep ocean water.
While over deep water, most of the tsunami's energy is under the surface of the ocean. Tsunamis gain height upon approach of the shallow waters near the coast.
Because it was a lone errant buoy and the data was so extreme, the National Weather Service was not concerned with any impact on the coast.
Yet before it was learned that the inaccurate readings were man-made, there was wide speculation as to what may have caused the fluctuations.
The website superstation95.com, which reported on the errant buoy over the weekend, said NASA advised it could have been from a small meteor.
The annual Lyrid meteor shower peaked over the weekend.
That website also suggested the fluctuation in water level could have been caused by a submarine in the vicinity of the buoy.
Buoy 44402 is a tsunami buoy, part of a vast network of buoys throughout the ocean used to measure ocean heights and help detect possible tsunamis.
Other buoys off New Jersey's coast and in the Delaware Bay measure a more extensive list of weather variables, including wave height, wave period, water temperature, wind speed and wind direction.
Klein says some buoys are owned and maintained by the National Buoy Data Center, while others are serviced by the U.S. Coast Guard.