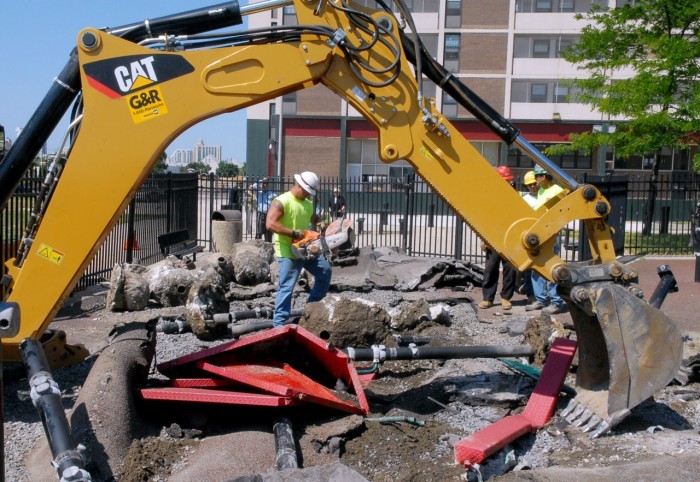 ATLANTIC CITY - The sound of twisted metal and the stinging scent of burning in the city's 2nd Ward Wednesday will eventually be replaced by the quiet and natural scents of community gardens, with the first being constructed on the site of a dilapidated playground.
Eventually six gardens in which residents can grow their own vegetables will be built across the city. The first garden, on a 4,500-square-foot site on Mediterranean Avenue, will have between 30 and 36 4-foot-by-6-foot plots of land residents can rent for $15 annually.
The "Hope Community Garden" is being built by a collaboration of AtlantiCare, the Atlantic City Housing Authority and Urban Redevelopment Agency and the Rutgers Cooperative Extension of Atlantic County behind the Janie M. Jones Community Center on Mediterranean Avenue.
"I think we're really trying to service the residents by offering increased access to healthy foods," said Elizabeth Motts, annual giving and grants manager for the AtlantiCare Foundation.
The garden, the first of six to be built in the city, will be built where the playground once stood. The master gardeners from the Rutgers Cooperative Extension of Atlantic County will construct the garden, said Mona Bawgus, who works for the extension service.
Dirt will be trucked in and each plot will be contained using cedar. The plant beds will be raised about 12 inches, she said.
Bawgus said she has been trying to create a community garden in Atlantic City for the last seven years. The gardens will provide access to fresh produce in a city that has no supermarket.
She said the Mediterranean Avenue site was ideal because there was a water source nearby, a fence surrounding the property and it faced the "southern sun."
Bawgus said the garden's potential sun exposure was necessary to consider before officials could finalize a site. She said neighboring buildings would block the late-afternoon sun and act as protection from from potential heat and burning.
AtlantiCare is funding the Mediterranean garden's construction with a grant for $15,455. There will then be two years of "sustainability" funding for the first garden project, Motts said.
Once demolition is finished today, crew members with Kline Construction Co. will have completed nearly $12,000 worth of demolition for free.
Once the entire project is complete, each of the city's six wards will have a garden for its residents. AtlantiCare expects to partner with community organizations and help pay for the future gardens, although funding levels are not yet set.
"It will create social pride for residents," Motts said.
In addition to creating a new social hub for 2nd Ward residents, the garden would act as a new way to bring fresh vegetables to the tables of city residents.
Bawgus said the completed gardens should have a positive effect on the community. Many children in the city might not have an understanding where food comes from and how it gets to their dinner plates each night, she said.
The last Atlantic City supermarket closed in 2006.
As recently as April, Casino Reinvestment Development Authority officials said they were in negotiations with Fresh Grocer to build a 50,000 square-foot facility on Convention Boulevard.
CRDA Interim Director Susan Ney Thompson could not be reached for comment Wednesday.
Bawgus said parents and grandparents can teach children how to grow and a new self-sustained lifestyle can be created.
Motts said AtlantiCare officials plan to offer health education classes for communities once their respective gardens are built to ensure residents can combine the growth of their gardens with the need to understand healthy eating.
The bang, clang and crunch of construction equipment started a little after 7:30 a.m. Wednesday. The sound was enough to catch the attention of children who live in the Shore Park High Rise who could be seen from ground level more than 10 stories up leaning against the netting that encloses their balconies.
Neighborhood "watchdog" and high rise resident Donald Llewellyn said he was walking along Mediterranean Avenue when he heard the drilling of the jackhammer.
Llewellyn said he was happy the garden was being constructed, but was sad for area children who played regularly on the playground.
"I'm happy for something positive to come," he said. "But I'm sad too because kids would come to play in the playground."
Pamela James, executive director of the Atlantic City Housing Authority, said the playground was slated for demolition long before AtlantiCare officials contacted her asking if there was any interest in a community garden.
Parts of the yellow and red recreational equipment had sustained severe rusting that was not worth the cost of repairs, she said.
Caroline "Cookie" Till, a member of the AtlantiCare Foundation board of directors, has been a long-time advocate of developing small gardens throughout the city.
She hopes the 2nd Ward's garden - which has 16 of the available plots rented - will result in a more healthy and environmentally educated community.
"I think the only thing worse than not having a garden is having a garden not tended," Till said Wednesday.