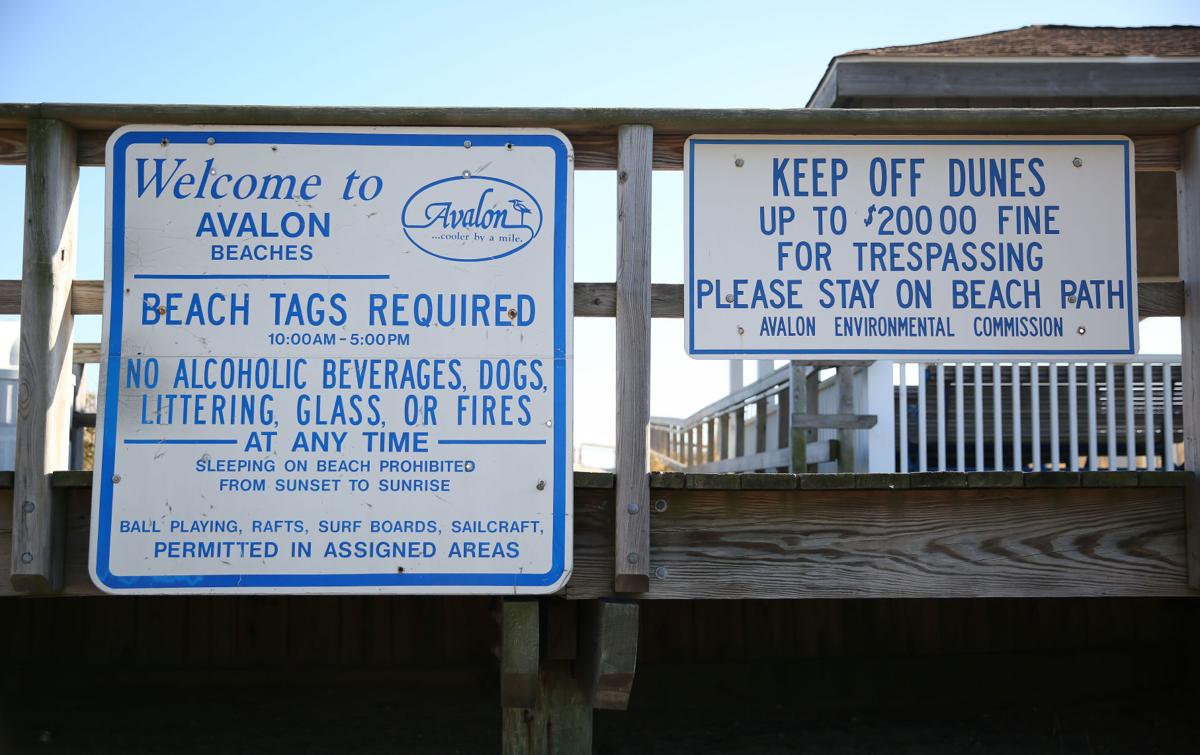 MARGATE — Sally Carter's father still goes to the beach, but at 81 years old, it's a struggle.
Ahead of his visit, he calls the lifeguard station and asks for assistance getting over the dunes and onto the sand, Carter said.
"It's very limiting," the lifelong Margate resident said while walking her dog on the beach Tuesday morning.
Carter's tale hits upon an issue coastal towns across South Jersey have grappled with for more than a decade: What makes a beach accessible, and how easy must it be for visitors to spend a day at the shore? Beachgoers and conservationists have argued that ample parking, wheelchair ramps, public restrooms and access points are needed. Meanwhile, some local communities have discouraged people from using their beaches by limiting parking, not providing bathrooms and banning food.
AVALON — Visitors to this Cape May County beach community will, if they arrive near 30th str…
On Monday, the state Legislature passed a bill that codifies the "public-trust doctrine," which states that everyone has a right to enjoy tidal waters and shorelines. Previously, the doctrine was held up only through court rulings.
Matthew Saidel, a spokesman for Gov. Phil Murphy, declined to say whether the governor planned to sign the bill.
"(The bill) makes clear that the public has a right to get to and enjoy the waterfronts of New Jersey and that the state should create new public access, enhance existing access and defend against attempts to block access," Tim Dillingham, executive director of the American Littoral Society, said in a news release.
CAPE MAY — Every year, 65,000 people get aboard Capt. Jeff Stewart's whale-watching boat.
The state Department of Environmental Protection's access rules remain the same, though.
Municipalities can develop their own access plans, but it's not mandatory. The DEP incentivizes towns to do so by giving less-costly dune maintenance permits to those that have access plans, said DEP spokesman Larry Hajna.
The department requires one access point every half-mile but does not set bathroom or parking quotas.
"Public access planning is predicated on the idea that municipalities are in the best position to understand their public access needs," Hajna said.
The bill has bigger implications in North Jersey and along the Hudson River, where massive redevelopment has created private waterfronts. The bill requires developers to submit changes to their public access plan to the DEP for approval.
Jeff Tittel, president of the New Jersey Sierra Club, fears the new law won't improve beach access in towns that curb it the most, such as Avalon, Deal and Long Beach Township. Small, last-minute changes to the bill weakened it, he said.
The bodies of dozens of spiny dogfish sharks washed up on beaches across Atlantic County ove…
The bill states the DEP must promote public access to the extent "practicable" instead of "possible." That wording gives towns more flexibility when arguing in court as to why they are unable to provide beach access, he said.
"With 'possible,' you have to demonstrate there is no alternative to limiting access ... but practicable means reasonable. The town can say, 'There's going to be traffic or noise.' It's a very weak standard," Tittel said.
The accessibility of waterways has been a decades-long issue in New Jersey.
In 2007, DEP Commissioner Lisa Jackson tried to create uniform rules for all beach towns. Municipalities would have to open beach access points every quarter-mile, and public parking and restrooms every half-mile.
Many towns sued in response, including Avalon.
Today, the four-mile borough has two public restrooms, both around 30th Street, according to an online tool published by the DEP, as well as a free 900-car public lot in the same vicinity. The borough fought the DEP's regulations and won in court, arguing a requirement that beaches couldn't close without state approval presented a safety hazard.
"Avalon does not have any issue with providing beach access," said Scott Wahl, the borough's public information officer. "The NJDEP should continue to work with towns for solutions to provide beach access, and continue to abandon the one-size-fits-all, cure-all approach to solve issues that may exist in some municipalities."