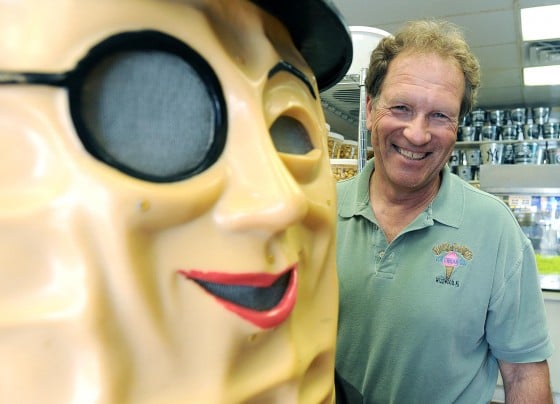 OCEAN CITY — Mr. Peanut looked down on Mr. Peanut, all while under the watchful eyes of Mr. Peanut.
To the left — Mr. Peanut pointing at him. To the right — Mr. Peanut smiling at him. Even to his rear, Mr. Peanut sat quietly on a shelf, saying nothing.
"My daughter's 2½, and she's scared to death of him," Leo Yeager IV said. "I definitely have to break that if she's going to have any future here."
He'd better get cracking. The Boardwalk Peanut Shoppe is the epicenter of one of the largest collections of Mr. Peanut memorabilia in the country, if not the world —  the result of the Yeager family's decades of work in the peanut industry.
Leo IV's father, Leo Yeager III, opened the peanut store at 10th Street and the Boardwalk in 1972. Leo III's father was the manager of the since-demolished, much-beloved Planters Peanuts store across from the Steel Pier in Atlantic City.
Planters used to allow its licensees to purchase large amounts of Mr. Peanut merchandise, Leo III said. So when he saw the demand out there for the Monocled One, he did the practical thing — "I bought up all I could," he said.
Behind the glass windows of an ancient-looking display case, a Mr. Peanut alarm clock is frozen in time above Mr. Peanut cookbooks from 1955. Around him are Mr. Peanut pens and pencils, Mr. Peanut salt and pepper shakers, Mr. Peanut peanut holders, a Mr. Peanut barbecue fork and what Leo III said was one of the rarest items — a Mr. Peanut "ceramic salad set" priced at $125.
There's even a plastic Mr. Peanut riding a car apparently made out of a larger peanut. Let that serve as a warning to the other peanuts — don't mess with the man. He may look foppish, but he will gut you and drive around in your remains.
Above it all stands two original boxes of 1960s Mr. Peanut "Peanut Butter Makers" — As seen on TV! — complete with helpful instructions for kids. Just load peanuts into Mr. Peanut's top hat, crank the handle helpfully attached to his brain, and voila: "Nutritious and delicious" peanut butter oozes out of Mr. Peanut's head.
"The people who enjoy looking at them are the ones who remember," Leo IV said. "So many people say, 'Look kids! These are the toys I played with when I was your age.' The kids look at them like they were nuts."
"The kids without their parents," he continued, "they look at the prices and ask, "What's inside the peanut? What's so special in there?"
Both Yeagers, however, said there's no shortage of people craving any Mr. Peanut memento they can get their hands on. Leo IV said it was akin to a "cult following," while Leo III described how "the rabid collectors will, when they find a source for an item, be very secretive about it — as if they're collecting fine art."
The family sells 1,000 to 2,000 pieces of Mr. Peanut memorabilia every year, Leo III said. He said he is not afraid of running out.
"I have a tractor-trailer full of them," he said. "25,000 pieces."
Like Zeus descending  from Olympus, Mr. Peanut himself suddenly made his dramatic entrance at the shop — or, more accurately, an employee in a Mr. Peanut costume waddled down the stairs and hopefully didn't bump into anything.
By the way, if you're wondering if Mr. Peanut has a first name, this particular version answers to "Rolando."
"We go through about six to seven Mr. Peanuts a season," Leo IV said. "When they're under the awning with the lights on, people can see who they are, and they're embarrassed."
Obviously, it takes a real man to be a tough nut. Was there anyone who could go the distance?
"We did have a Russian kid who did it two years in a row," Leo IV said. "He was part time, though."
As for the little kids, "Half of them love him and wrap their arms around him," Leo IV said, "and half of them are scared."
Some families, he said, take a photo with him every summer — gauging their children's growth not by notches on a wall but by seeing if junior finally reaches the monocle.
The item that brings back the most memories? The original Mr. Peanut penny scale from the early 1940s, the same one that generations of kids used to weigh themselves at the old Planters store in Atlantic City before it closed in 1978.
The old scale was brought out from its retirement den — standing guard over the ancient peanut-grinding machines at the front of the store — and placed at the center of the shoppe to stand next to its doppelganger, the silent Rolando.
All the while, as Leo III reminisced, Mr. Peanut began to blend into the background — you didn't even notice he was there after a while. It's as if any store you might walk into in Ocean City would have a six-foot tall, partially nearsighted, anthropomorphic legume hanging around, and it's no big deal.
One little girl was walking out of the store, holding her mother's hand, when she was alerted that Mr. Peanut was in the building. She stopped, turned to look, and resumed walking, all without changing her expression.
"Kids today," sighed Leo III, winding up a tin Mr. Peanut toy. "He's not lively enough, I guess. Perhaps if he talked."
E-mail Steven Lemongello: