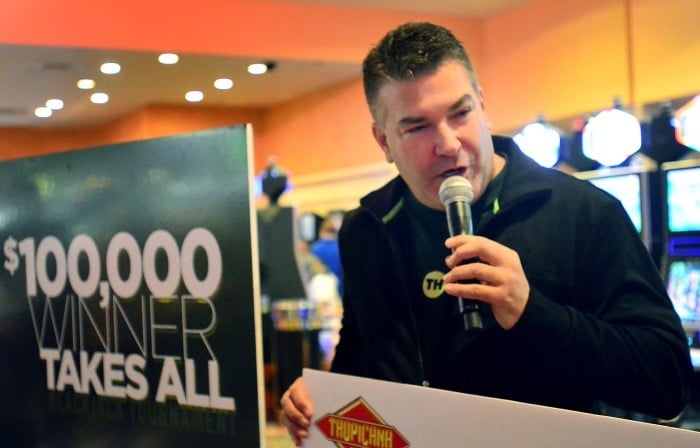 ATLANTIC CITY — The man who beat several of the resort's casinos for about $15 million at their blackjack tables returned to town Friday, but he had to give up his low profile.
Don Johnson, 49, of Bensalem, Pa., arrived at the Tropicana Casino and Resort to host — and play in — a winner-take-all blackjack tournament. The contest started Friday evening and concludes tonight.
"One lucky blackjack player is going to walk away with $100,000," Tropicana President Tony Rodio said in a brief ceremony on the casino floor Friday afternoon. "It might be Don himself."
In lieu of an appearance fee for Johnson, the casino donated $10,000 to the JBJ Soul Foundation, run by rock star Jon Bon Jovi. The group helps poor and homeless families. Johnson said he is a friend of Bon Jovi's brother and has met the rock star several times.
"If I'm lucky enough to win the $100,000, I'm going to donate it to the Soul Foundation," Johnson said as a small crowd gathered to watch.
But the big money might — or might not — come outside the tournament.
Johnson said he will stay at the Tropicana until Tuesday, and friends from Virginia and other states would join him. In addition to hanging with his pals, he probably will play at the tables.
"It's enticing enough that I'm going to play," Johnson said, but he wouldn't reveal details of the arrangements.
Rodio, too, said the Tropicana is "more than willing to take his action," but does not discuss marketing arrangements with individual customers. But they are putting Johnson up in a new Cielo suite.
Johnson won about $5.8 million from the Tropicana during a 12-hour gambling session in April, betting as much as $100,000 for each hand of blackjack. He also beat Caesars Atlantic City for $4.2 million in December and won more than $5 million from the Borgata Hotel Casino & Spa during trips in December, March and April.
He had managed to remain anonymous, but granted two interviews to The Press of Atlantic City in May, in which he talked about his winning streak.
Johnson said Friday that several Las Vegas casinos have barred him from their blackjack tables, and Caesars Entertainment properties in Atlantic City have limited his play to $5 per hand. New Jersey law does not allow casinos to ban skilled players, but the gaming halls are allowed to alter some rules of the game to deter them.
But Rodio said the Tropicana welcomes Johnson's high-stakes action.
"He's become a celebrity. He's gotten worldwide press and recognition for his winning," Rodio said. "People want to meet him and people are excited about playing blackjack against the most recognized blackjack player in the world."
People who signed up for a Tropicana player's card Friday could play in a free blackjack tournament that evening. The top seven scorers would advance to Saturday night's finals, Rodio said. Tonight, they will be joined by Johnson and 41 invited guests — or premium players — and the one who finishes with the most chips will win the $100,000 prize.
Johnson said that although he is a skilled player, his victory in the tournament is far from assured.
Playing strategy is different in a tournament, where players compete against each other, than it is in regular games where gamblers try to beat the house, Johnson said. Each round in a tournament consists of 15 hands, which is not nearly enough for the laws of probability to kick in.
Tournament play "is a lot more luck than there is skill," Johnson said. "You just hope to get some luck and get some decent hands."