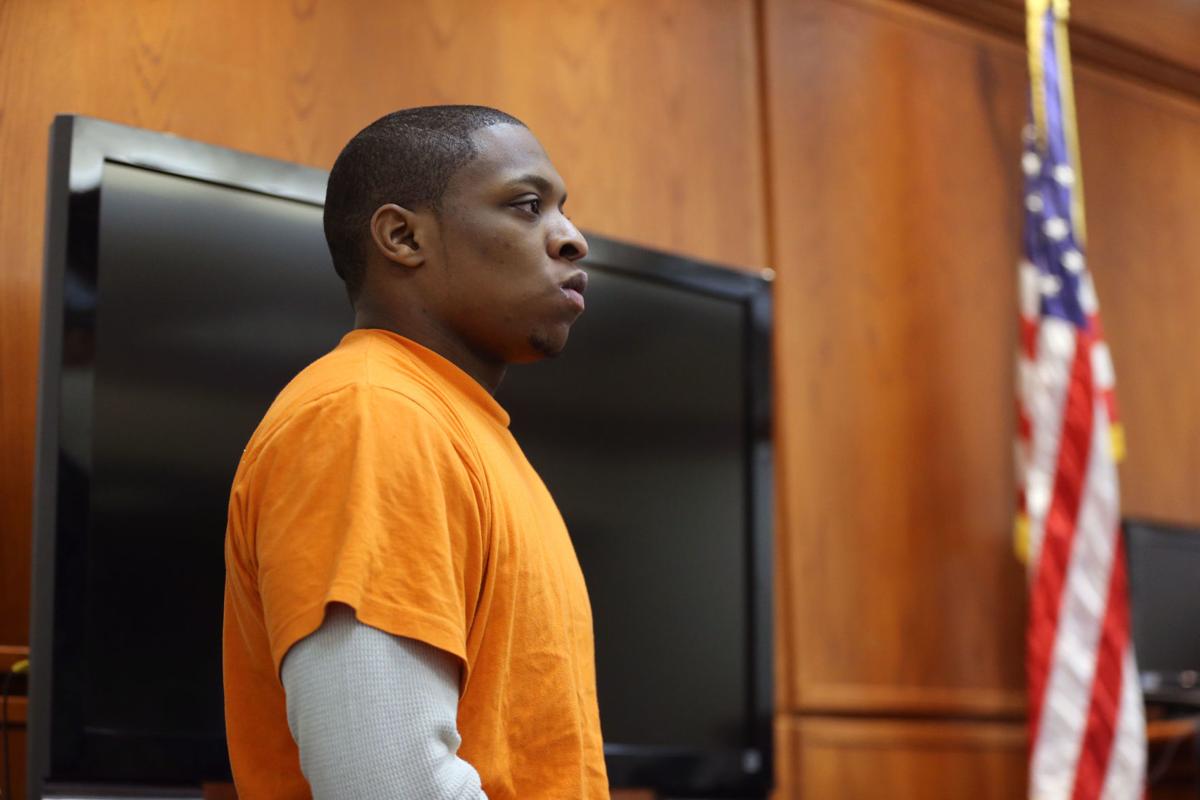 CAPE MAY COURT HOUSE — An area man initially charged in the murder of 15-year-old Nicole Angstadt was sentenced Thursday to 10 years in prison after he pleaded guilty to armed robbery, robbery, burglary and endangering the welfare of a child.
Derrick Powers, 25, shackled at his hands and feet, stood quiet, calm and focused, alongside his attorney, Michael Schreiber, in Judge John C. Porto's courtroom in Cape May Court House.
Until just a little over a month ago, Powers had, for nearly two years, faced murder charges along with co-defendant Charles Mosley in the December 2015 killing of the young girl. Her body was found stuffed into the crawl space of a vacant Rio Grande home.
In December, however, Mosley pleaded guilty to strangling Angstadt, effectively exonerating Powers of the slaying. Murder charges against Powers were dropped after Mosley's plea.
Mosley was sentenced two days ago to 30 years in prison.
The Angstadt family did not attend the sentencing and was unavailable for comment.
On Thursday, Schreiber told the judge that had Mosley not confessed in a letter to another prisoner, Powers would have faced a murder trial, instead of sentencing on lesser charges. Now, Schreiber said, it is time for changes to be made to the "pre-sentencing investigation," or PSI.
"It's important to my client to have an accurate PSI," Schreiber said. "Mosley was trying to blame my client and set him up for the murder of Nicole Angstadt."
As it stood, Schreiber said, the PSI was about 30 pages of investigation, much of which unfairly tied Powers to the killing, and only in the final page exonerated his client of murdering Angstadt.
That statement, the defense attorney said, would follow Powers through the judicial system, and would be read by a future parole board.
"My guy didn't do it," Schreiber said. "The confession from Mosley saved us from a murder trial."
While Assistant Prosecutor Rob Johnson agreed the PSI should be correct, it should not minimize Power's involvement in the events that resulted in the teen's killing. Armed robbery, robbery and burglary, he argued, are all serious crimes.
Porto acknowledged the Angstadt family in his decision to have the PSI reworked to remove statements apparently tying Powers to the murder.
"With due regard to the family who has been through trauma and sadness," he said. "But it's important that the record is factual."
Powers received 10 years in prison and must serve at least 85 percent, or 8½ years, before he is eligible for parole. He will receive credit for time served awaiting sentencing — 787 days.