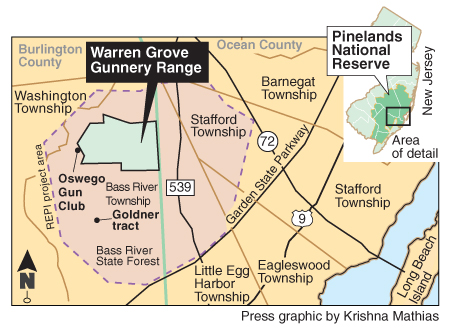 Chris Jaje periodically sends out hundreds of letters to landowners with property deep in the pinelands, telling them he wants to buy their long-forgotten and undevelopable land in the middle of nowhere.
Some agree to sell. Most never respond. Others refuse, sometimes for surprising reasons.
"The craziest answer I've gotten is from grandchildren who want to keep (their property)," Jaje said from his Hammonton home office recently, "because it's a good story that their grandfather won the property in a poker game."
Jaje, the New Jersey Conservation Foundation's assistant director, is charged with running an ambitious, unprecedented project to acquire thousands of acres of forest surrounding the Warren Grove Gunnery Range to protect surrounding residents from the constant threat of wildfire. Using resources from a variety of groups, including the U.S. Department of Defense, the foundation's goal is to place a mosaic of private land under public control after more than a century of shady deals, strange promotions and imprecise wills haphazardly assembled it. All of that land is restricted to development; some of it is too small for any construction anyway.
Jaje has been working on the project since 2006, when the military approved the use of grant money through its Readiness and Environmental Preparedness Initiative, or REPI, to create a buffer around its New Jersey Air National Guard base at the northern tip of Bass River Township — a wooded tinderbox that's one of the most flammable areas in the country.
"It gives them that safety net when it comes to a fire starting," Bass River Deputy Mayor Richard Bethea said. "And you know fire: it travels through the pines pretty quick."
But Jaje's work is massive. The project is targeting 202 parcels comprising 2,797 acres left in the REPI project area. So far, only two properties totaling 112 acres have been bought.
"We're going to work on this until either everything is preserved or everyone says no," Jaje said, "and even then we'll wait five years and send them another letter."
The REPI project area is shaped like an oval that runs from its northern tip in Barnegat Township down through Stafford, Eagleswood, Little Egg Harbor and Bass River townships to its southwestern corner in Washington Township.
From a plane, this area looks like a never-ending sea of trees stretching for miles across flat, sandy soil and swampland. Long, skinny dirt roads are scraped across it.
On a color-coded tax map, the interior of that oval is a vibrant, bewildering jigsaw puzzle with huge chunks mixed with scattered tiny pieces. More than 10 different governmental or nonprofit entities claim land within the boundary, along with private property owners.
The same is true for much of the pinelands, and attempts elsewhere to sort it out were ad hoc attempts to clear one title or another either for a specific private interest or preservation goal. But the REPI project presents a situation in which various groups are working together to try to lump all that land into one manageable swath.
The federal government is interested in this difficult, time-consuming and expensive project because the REPI area roughly corresponds to the gunnery range's flight path. Being able to control that land below its planes allows it to ease fears about the base's safety.
Those fears are rooted in the more than 17,000-acre wildfire of 2007 that burned through five of the REPI project's municipalities for more than a week, destroying or damaging several homes and forcing the evacuations of thousands. A fighter jet sparked that blaze when it dropped a flare too low to the dry ground. The base has since stopped using incendiaries, but the threat of wildfires in the area remains high.
The only way to reduce the danger is to manage the dense forest blanketed by years, if not decades, of dead foliage, mainly through controlled burns. That's illegal to do on private property without getting the owner's permission, so the Forest Fire Service would have to build polygonal fire breaks and burn around them.
Finding those owners is an arduous process, as those few people who specialize in it know well.
Richard Venino has traveled as far as Barcelona and what was formerly Yugoslavia to track down people who owned properties in southern New Jersey.
The Sea Girt, Monmouth County, attorney researches the title history of land throughout the state, but notes that much of it in the pinelands has the most convoluted past of all.
"There are many common themes to clearing these titles," he said, "but a lot of times they're very unique situations."
Venino said most of those situations began in the early 20th century, before the Great Depression, when wealthy landowners and companies started subdividing and divvying up the undeveloped land in the pinelands.
A popular practice was giving out minuscule parcels — as small as tenths of acres — as promotions for a variety of reasons; newspapers gave them away in exchange for subscriptions, and train companies and movie theaters offered them as gifts for buying tickets.
In other cases, the land was bought and sold to the masses of immigrants reaching the country's shores. Venino said he has seen various areas where several adjacent titles can be traced back to specific ethnicities — Italian or Irish, for example.
"That's just depending upon where they were marketed," Venino said.
Many of these parcels had no road access, and still don't, and were too small for any kind of viable development. In fact, the reckless subdividing hampered large scale projects.
"While a lot of promises were made to build roads and churches and schools, none of that ever happened," said Dave Moore, the NJCF's former executive director.
For most in the REPI area, that has left a nebulous history of ownership.
People who lost interest in the land stopped paying taxes, and they were foreclosed. Some heirs didn't even know they inherited the land, and some wills further subdivided it up among various relatives.
Some owners, especially the newly immigrated, changed their names after acquiring the land, and never reconciled the difference.
"You simply can't find these people," Venino said.
But the law requires a diligent effort to do so, and in cases where there's a financial interest, it's worth it. That's why Venino traveled to Spain for a property in Berkeley Township that he bought and eventually sold for a profit.
Land in the most preserved parts of the pinelands, though, is undevelopable, and therefore there has been little reason to trace their histories.
"There are still a lot of uncleared titles in those areas that are of no interest to people," said Erwin Apell, another attorney based in Browns Mills, Burlington County, who has extensively handled these issues.
That would make it seem like people are ready to get rid of their properties.
Chris Jaje would convince you otherwise.
The main reason anyone would want a few-acres property in the Pine Barrens is for hunting, Jaje said. He's also talked to a developer wanting to keep land there as collateral to finance a project elsewhere.
In other cases, he said people simply don't believe that they won't be able to build on their land at some point in the future.
"They don't get the Pinelands Commission," he said. "They say, 'There's no way that in the state of New Jersey they can maintain this level of restriction on development forever.'"
So far, Jaje's sent out four batches of about 250 letters each and had about a 10 percent response rate, half of which have expressed interest.
In March, the guard, NJCF, Pinelands Commission and the Green Acres Program combined to buy a 107-acre property and a five-acre property in the REPI area, the former a long-unused gun club and the other a parcel inherited by a family living in Philadelphia. They cost $127,000 combined.
Jaje said he plans to close on two more properties next month, he has another five-acre piece being donated and he's actively negotiating contracts for three more. In September he will drop another set of letters in the mail.
He said he isn't worried about the project taking a long time. The goal is to preserve the land in perpetuity, and taking that perspective it doesn't mean much if it takes 10 years to do it.
"It's not like the project's a failure if we don't get all of them," he added. "Every time we get a parcel, it makes it easier for the Forest Fire Service to do their job."
He has seen a jump in interest, though, when the Air National Guard sent out a set of companion letters confirming that Jaje's letters are indeed not junk.
"When you get a letter from the military," he said, "you're at least kind of curious."