The full moon is a celestial event that captures the minds of many. Maybe it's a stroll on the boardwalk with a loved on. Perhaps it was so bright at night, you could still garden. 
For centuries, we've been fascinated with the moon's full illumination on earth. In fact, we've given names to describe the one for each month, plus one to describe what happens when it occurs more than once a month. Here are the names, and explainer why, for each.
All of the information is from https://www.moonconnection.com/full-moon-names.phtml and https://www.farmersalmanac.com/full-moon-dates-and-times
August: Sturgeon Moon
The sturgeon, a large fish common to the Great Lakes and other nearby bodies of water, is most easily caught during this month. The reddish appearance of the moon through the frequent sultry hazes of August also prompted a few tribes to dub it the Red Moon. Other names included the Green Corn Moon and the Grain Moon.
Time of full moon: 11:59 a.m.
September: Harvest Moon
Many of the Native American tribes' staple foods, such as corn, pumpkins, squash, beans, and rice, are ready for gathering at this time. The strong light of the Harvest Moon allowed European farmers to work late into the night to harvest their crops. The Harvest Moon does not always occur in September. Traditionally, the name goes to the full moon closest to the autumn equinox, which falls during October once or twice a decade.
Time of full moon: 1:22 a.m
October: Hunter's Moon
After the fields have been reaped, the leaves begin to fall and the deer are fat and ready for eating. Hunters can ride easily over the fields' stubble, and the fox and other animals are more easily spotted. Some years the Harvest Moon falls in October instead of September.
Time of full moon: 5:05 p.m.
November: Beaver Moon
At this time of year the beavers are busy preparing for winter, and it's time to set beaver traps and secure a store of warm fur before the swamps freeze over. 
Time of full moon: 4:30 a.m.
December: Cold Moon
Winter takes a firm hold and temperatures plummet at this time. Sometimes this moon is also called the Long Night Moon as the winter nights lengthen and the moon spends more time above the horizon opposite a low sun. The full moon name often used by Christian settlers is the "Moon before Yule."
Time of full moon: 10:28 p.m.
March: The Worm Moon
Snow slowly begins to melt, the ground softens, and earthworms show their heads again and their castings or fecal matter can be found.Christian settlers also called this the Lenten Moon and considered it the last moon of winter.
Time of full moon: 1:48 p.m.
April: The Pink Moon
Flowers begin to appear, including the widespread grass pink or wild ground phlox. Other variations indicate more signs of full spring, such as Sprouting Grass Moon, Egg Moon, and Fish Moon (common among coastal tribes).
Time of full moon: 10:35 p.m.
May: The Flower Moon
Flowers come into full bloom and corn is ready to plant. Also called the Corn Planting Moon and the Milk Moon.
Time of full moon: 6:45 a.m.
June: The Strawberry Moon
Strawberry-picking season reaches its peak during this time. This is one of the few names that was universal to all Algonquin tribes.
Time of full moon: 3:12 p.m.
How about a blue moon?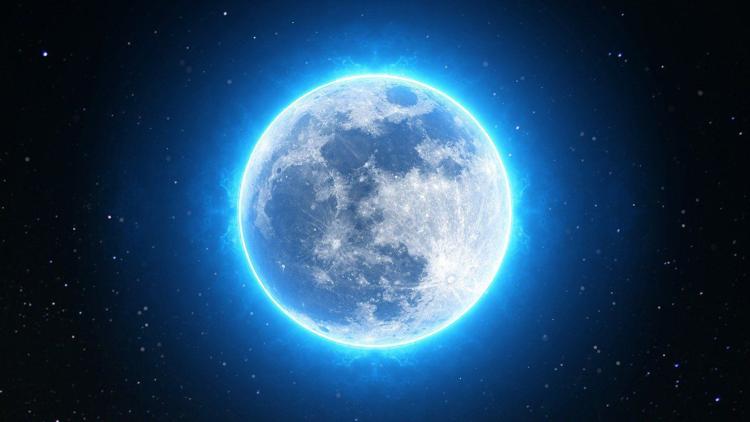 When you hear someone say "Once in a Blue Moon..." you know they mean: Rare/seldom. 
According to modern folklore, a Blue Moon is the second full moon in a calendar month. Usually months have only one full moon, but occasionally a second one sneaks in. Full moons are separated by about 29 days, while most months are 30 or 31 days long; so it is possible to fit two full moons in a single month. This happens every two and a half years, on average.
From: https://www.nasa.gov/vision/universe/watchtheskies/07jul_bluemoon.html