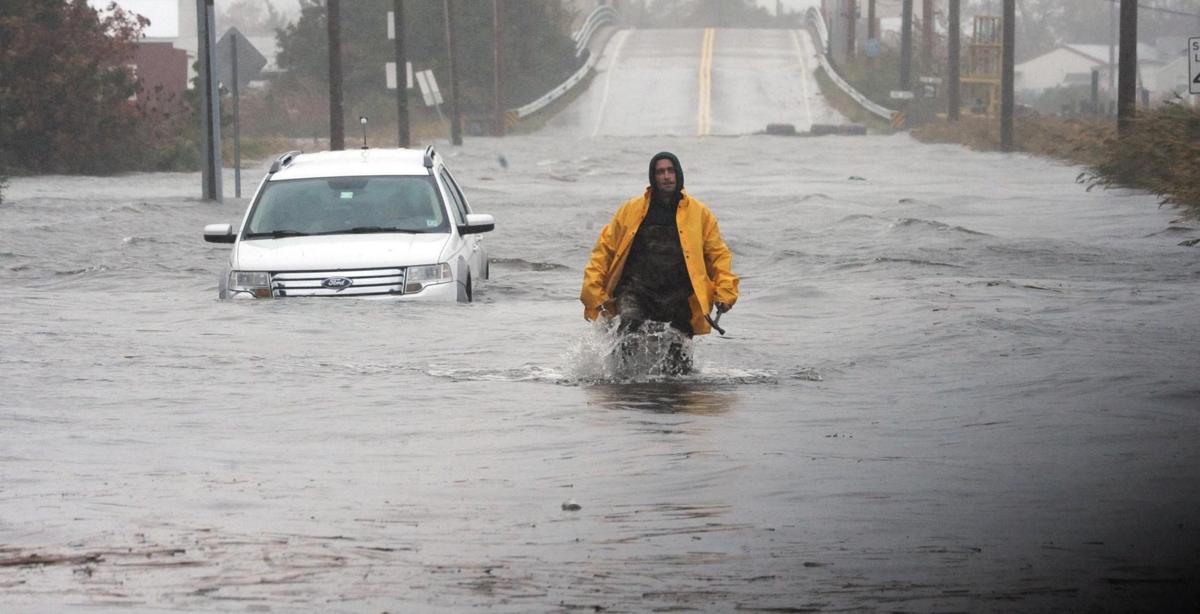 On Superstorm Sandy's seventh anniversary, Gov. Phil Murphy committed the state to a far-reaching plan to deal with climate change and protect itself from future storms.
Murphy signed an executive order Tuesday in Hoboken, a city that was inundated with flooding during Sandy, establishing a statewide climate change resiliency strategy involving 16 state agencies.
"New Jersey is extremely vulnerable to the impacts of sea-level rise and global warming," Murphy said in a news release. He said the order outlines actions to ensure communities and infrastructure are more resilient against future storms.
GALLOWAY TOWNSHIP — Wherever they live in the state, two-thirds of New Jersey residents beli…
Led by an official in the Department of Environmental Protection, the group will write a report on how best to deal with rising sea levels, warming seas and stronger and more frequent storms. It is to be delivered to the governor by Sept. 1.
The report will address topics including guidance and strategies for state agencies, municipalities, and regional planning agencies; long-term water and energy resource security; reducing the risk of wildfires in state forests; reducing health risks from climate change such as increased vulnerability to extreme temperatures; and supporting sustainable development and identifying funding sources.
David Rosenblatt, the DEP's assistant commissioner, will serve as New Jersey's chief resilience officer, leading the effort and working with other state agencies.
New Jersey has lost $4.5 billion in appreciation of home values since 2005 because of floodi…
"Factoring climate change into housing rehabilitation efforts in New Jersey is critical because natural disasters are inevitable and unavoidable," said Lt. Gov. Sheila Oliver. "What we can control is how we prepare and plan for the future by rebuilding homes and businesses that are less prone to flood damage and more resilient."
Jeff Tittel, director of the New Jersey Sierra Club, called the move "long overdue."
"It is a good step forward when it comes to being prepared and stronger than the next storm," he said. "However, we still have a long way to go to completing the resiliency plan."
Tittel said the state continues to allow dense development in flood-prone sections of the state, which places people and property directly in harm's way even as sea levels rise.
Also Tuesday, Rutgers University released a report on increasing sea-level rise and its impact on the state.
ATLANTIC CITY — Dutch flood control expert Edgar J. Westerhof stood in front of hundreds of …
The Rutgers report, "New Jersey's Rising Coastal Risk," focuses on what has already happened in the state because of sea level rise, and what may happen in the future.
"Sea-level rise has already increased coastal flood risk in New Jersey substantially," said Rutgers professor Robert E. Kopp, director of the Rutgers Institute of Earth, Ocean and Atmospheric Sciences and a professor in the Department of Earth and Planetary Sciences.
Over the past 40 years, Kopp said, the number of buildings flooding each year has grown by about 27,000. In the next 30 years, he said, the study predicts that number will grow by 33,000, to 58,000.
The research was performed by the Rhodium Group's Energy & Climate team, with Kopp and other collaborators at the University of California at Berkeley and the University of Chicago.
STAFFORD TOWNSHIP — Almost six years after Hurricane Sandy struck New Jersey, a group that a…
"Exposure to flooding driven by hurricanes and nor'easters is also increasing, and this report highlights that wind damage from hurricanes is growing, too," Kopp said. "But by integrating climate change and sea-level rise into regional planning, we can reduce the human and economic costs of these changes."
Kopp said reducing global greenhouse gas emissions can significantly decrease the magnitude of the problem we have to deal with, particularly beyond 2050.
Staff Writer Michelle Brunetti Post contributed to this report.
Contact: 609-272-7219
Twitter @MichelleBPost