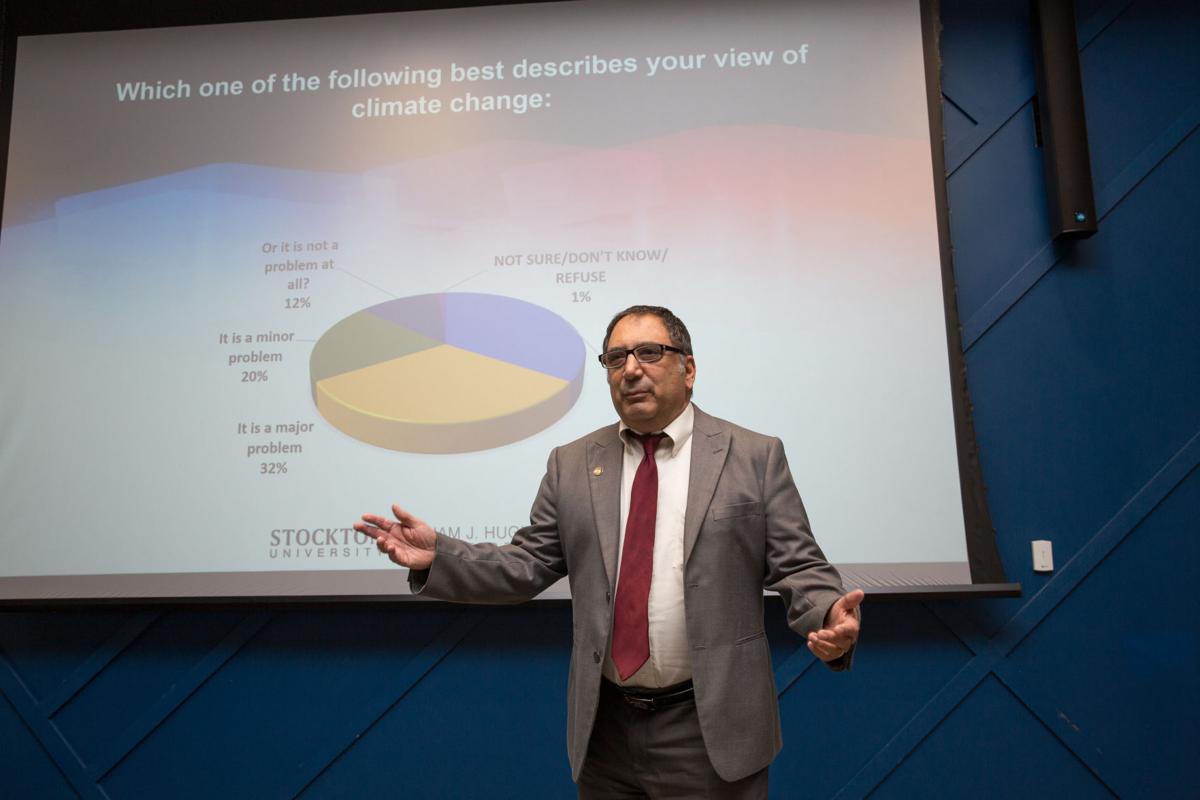 A recent poll of 647 New Jersey registered voters found a majority approve of the job President Joe Biden is doing and support his positions, but the chasm between Democrats and Republicans on virtually every issue is deep.
Democrats overwhelmingly supported Biden — with 91% approving of the job he is doing compared with just 12% of Republicans.
Only 25% of Republicans supported the recent $1.9 trillion COVID-19 relief bill compared with 93% of Democrats favoring it, according to results released Wednesday by the William J. Hughes Center for Public Policy at Stockton University.
"The polarization we saw on presidential candidates in the 2020 election extends not only into the new presidency but to the major issues of the day," said John Froonjian, executive director of the Hughes Center.
A significant regional difference turned up on only one question — whether those polled had confidence Biden can unify the country.
GALLOWAY TOWNSHIP — New Jersey residents are concerned about the COVID-19 pandemic, and most…
A majority of North Jersey respondents had confidence Biden can bring people together, but in South Jersey, most people were pessimistic about it.
"That was one task ... that most of South Jersey voters weren't confident Biden could do," said Alyssa Maurice, Hughes Center research associate.
About 58% of all respondents either strongly approved or somewhat approved of the job Gov. Phil Murphy is doing as governor, and about 36% said they somewhat or strongly disapproved of Murphy's performance. It is Murphy's highest approval rating in the three years the Stockton poll has asked the question, according to Maurice.
"I would think that's an indication of satisfaction with the way Murphy handled the pandemic," Froonjian said. "A lot of times voters aren't really issue voters — they don't decide based on positions. A lot of voters look at leadership quality."
If Murphy can maintain that 58% approval rating, "that's landslide territory," Froonjian said.
TRENTON — New Jersey became the latest state Tuesday to enact a law allowing early in-person…
A majority of those polled, 58%, supported expanding vote by mail and early voting, while 40% opposed such measures. On Tuesday, Murphy signed a bill to require early voting in the November election.
The coronavirus pandemic and the need to tighten the border to control immigration were the two issues most frequently cited as ones respondents most want the Biden administration to address. The pandemic was most frequently cited, at 18%, and controlling immigration was second at 16%.
There were party differences on those top issues as well, with 36% of Republicans citing restricting immigration as opposed to 4% of Democrats; and 25% of Democrats citing the coronavirus compared with 12% of Republicans.
The next most mentioned answer was the economy, at 6%, health care, at 6%, and jobs at 5%. Another 37 issues were cited by 4% to fewer than 1% of respondents.
A question asking voters to rate the amount of COVID aid provided showed rare bipartisan agreement. Half the voters of both parties and independents thought the amount of relief provided was not enough. Respondents from both major parties called for greater direct stimulus payments and more small business relief.
Election officials are warning that the stress put on them by the state's first mostly vote-…
The federal government is sending $1,400 checks to a majority of Americans after providing $600 payments in December.
About 49% said New Jersey is going in the right direction, and 40% said the state is moving in the wrong direction.
"But when Alyssa looked at the nitty gritty details, more Democrats, women, racial and ethnic minorities and lower income voters were much more bullish," Froonjian said. "That is Murphy's base. So the people who are feeling good are the people Murphy needs to turn out."
Men and wealthier residents, whites and Republicans were more likely to disapprove of the state's direction, on the other hand.
Of the respondents, 39% were from the eight southernmost counties in the state. The breakdown by party identification was 36% Democrat, 31% independent and 21% Republican with 12% other or did not say. That is roughly the party breakdown in the state.
Sixty percent supported the recent $1.9 trillion coronavirus American Rescue Plan Act package, and 63% supported raising the federal minimum wage to $15 an hour.
Overall, 53% approved of Biden's job performance, while 38% disapproved and 9% were unsure. Another 53% thought the country is going in the right direction, with 39% saying it's going in the wrong direction.
Contact Michelle Brunetti Post: 609-272-7219
Twitter @MichelleBPost