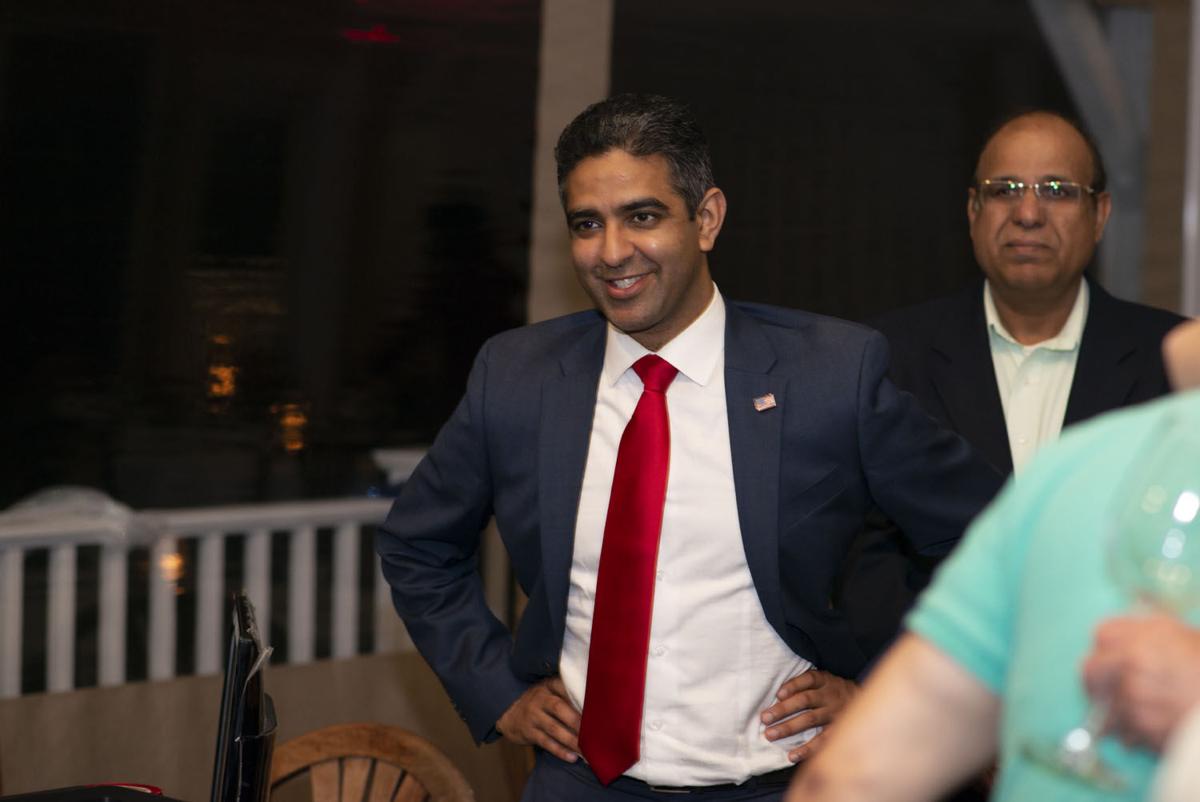 Linwood's Hirsh Singh, a candidate for the Republican nomination for governor, acknowledged Tuesday he refused to get a COVID-19 vaccine or test to participate in a planned virtual debate on the New Jersey PBS station Wednesday night with his GOP opponent, former Assemblyman and businessman Jack Ciattarelli.
"I'm looking forward to having a family and having a lot of kids," 36-year-old Singh said Tuesday. "I do not want to expose myself to an experimental vaccine that they don't know the long-term effects of for men and women."
NJ PBS spokesperson Debra Falk said a production team was scheduled to go to each candidate's location.
"For the protection of all involved, as we have with other events like this, we require COVID testing of our team members and those associated with the campaign planning to be present," she said in response to emailed questions.
The event was planned as virtual because NJ PBS's studio was undergoing renovation and could not be used, according to a statement on the NJ PBS web site.
An in-person debate with Ciattarelli at 7 p.m. Tuesday night from the studios of radio station 101.5 will go forward, however, with no vaccine or testing requirements, Singh said.
Despite having no Democratic opponents on the ballot in the June 8 primary, look for televis…
NJ PBS said both campaigns agreed to the virtual arrangement in late April and had the debate criteria in early May.
"Since then, the Singh campaign did not re-confirm its participation in our event by the deadline set by ELEC (Monday) and has refused to comply with the COVID testing requirement that is part of NJ PBS production protocols," the PBS statement said.
Ciattarelli said he believed Singh said no to the PBS debate out of fear of answering tough questions about his record and experience.
"Hirsh Singh's weak decision to back out of this debate — despite previously agreeing to it and knowing all of the rules well in advance — has nothing to do with medical freedom, vaccines, or masks," Ciattarelli said in a statement Monday night.
The winner of the Republican primary June 8 will face Gov. Phil Murphy as he seeks a second term in the general election Nov. 2. Murphy is running unopposed in the Democratic primary after two rivals were disqualified over faulty ballot petitions.
"To defeat Phil Murphy, Republicans need a candidate with real-world experience and a backbone like Jack Ciattarelli," the statement from Ciattarelli's camp said. "Not a perennial campaign loser who still lives with their parents at 36 years old and doesn't even pay property taxes."
Singh called it "an utter disgrace that we cannot hold a debate in-person" after CDC guidance recommended loosening mask and other requirements.
"It's time to end the anti-science policies, end the mask mandates, and reopen New Jersey," Singh said on his Facebook page..
Singh said a test would be a forced medical procedure, and that would be "un-American."
There are few contested primary races for state offices this year in southeastern New Jersey…
NJ PBS pulled the plug on the debate Monday evening after Singh refused to comply with its COVID-19 precautions.
Singh said he also is opposed to requiring vaccines for children or young adults.
"There's too much we don't know," Singh said. "It's a values thing. I'm against forcing people — that's very un-American."
Singh, who has never held elected office but has run unsuccessfully in primaries for U.S. senator, House of Representatives and governor, said he is the best candidate for his party to win in November.
"We have to beat Phil Murphy. I cannot only totally win against Murphy, but I can lead the state to Republican victories in the Assembly and state Senate."
New Jersey is an overwhelmingly Democratic state, and Ciattarelli has the backing of the GOP establishment. Both Murphy and Ciattarelli have raised many times more in campaign donations than Singh.
Singh said he is excited about the debate at the radio station in Ewing, Mercer County.
"I look at this as two different corporations — one wants to have a debate so people can hear the issues. The other one is focused on COVID, and is so out of touch," Singh said of saying yes to 101.5 and no to PBS.
Murphy has raised and spent the most as of May 12 in the gubernatorial primary, followed by Ciattarelli, according to a recent report by the Election Law Enforcement Commission.
Murphy raised $7.8 million, has spent about $7 million and has less than $1 million in cash on hand. Ciattarelli brought in $5.7 million and spent $4.4 million, but he has $1.3 million on hand, more than any other candidate.
Singh has raised about $500,000, mostly from family members, according to records.
Ciattarelli is a former GOP Assembly member who ran for and lost the Republican gubernatorial nomination in 2017, to then-Lt. Gov. Kim Guadagno.
He's also a certified public accountant and started a medical publishing company.
The Associated Press contributed to this report.
REPORTER: Michelle Brunetti Post
609-272-7210