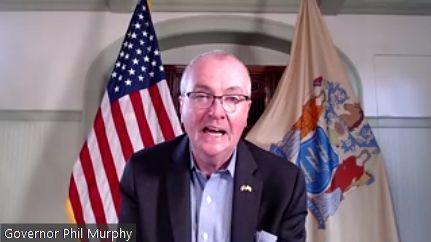 One day after going into quarantine following contact with a senior staffer who has since tested positive for COVID-19, Gov. Phil Murphy urged residents to remain vigilant and limit travel outside the state, as hospitalizations in the state connected to the disease have doubled since last month.
"I think this is proof, if nothing else, that no one is immune from this virus, and that we all must take this pandemic with the utmost seriousness," Murphy said during a briefing with other state officials held virtually Thursday afternoon. "Simply put, folks, we have to remain vigilant, not just some of the time, but all of the time."
Murphy, 63, who has tested negative for the new coronavirus twice this week, participated in the briefing from his home, saying he will be "off the field" until at least Sunday, pending two more tests. He and first lady Tammy Murphy did not have close contact with the staffer who tested positive Saturday at a Hoboken gathering as described by the Centers for Disease Control and Prevention, so the self-quarantine is "out of an abundance of caution," he said.
"We're going above and actually beyond what any requirement would be," Murphy said while explaining his decision to quarantine fewer than 14 days. "By any measure, I did not have what you would consider and define as a close contact."
Deputy Chief of Staff for Intergovernmental Affairs Mike Delamater and Daniel Bryan, senior adviser to the governor for strategic communication, have both tested positive.
During the briefing, Murphy urged residents to stay in the state, avoiding all unnecessary travel as cases of the coronavirus continue to rise, along with hospitalizations related to the disease, which have doubled since September.
"There's no other way to put this than the numbers we are getting day-to-day are sobering," he said. "They are constant reminders that not only are we not out of the woods, but we also have to find a way to combat our pandemic fatigue and remain vigilant in our practices. Folks, we can't drop the ball here."
The number of positive cases of COVID-19 in New Jersey has increased by 1,182, bringing the total to 224,385, Murphy said, calling the overnight numbers "not pretty." There have been 18 additional deaths, bringing the state total to 14,474, with 1,789 probable deaths.
Essex County reported 196 of those new cases, he added, while Bergen, Hudson and Union counties each reported more than 100 cases. By comparison, Atlantic County reported 47 new cases Thursday and Cape May County reported 14 new cases. Neither county reported new deaths.
There are 852 people hospitalized across the state with the virus, including 187 people in intensive care and 74 people on ventilators, Murphy said. The state positivity rate is 5.28%, while the rate of transmission is 1.17, meaning each person with the disease likely will infect more than one other person.
"We need to get that down below one," Murphy said.
Average hospitalizations have doubled from a month ago, when they were averaging about 400 a day, Health Commissioner Judith Persichilli said during the briefing. South Jersey officials are reporting a 3.66% positivity rate, while the north and central parts of the state are reporting 6.15% and 5.13%, respectively.
There will be no other live briefings through Sunday, Murphy said.
More than 28,000 people sought jobless benefits last week in New Jersey, state labor officials said.
That's down from more than 29,000 applications for unemployment benefits the previous week, but shows the effect COVID-19 is having on the job market, the governor said.
So far, more than 1.7 million people in the state have sought jobless benefits since the outbreak began in March.
In-person voting 'as we have laid out'
In-person voting will carry on as laid out under current law, the governor said.
Murphy was asked whether he might scale back in-person voting because of the virus.
"Right now, it is as we have laid out," he said.
All registered voters got mail-in ballots under Murphy's executive order as well as a recently passed law in response to the virus outbreak. Under the law, voters can return the ballots by mail, official drop box or in person on Election Day at polling places.
Murphy also said Thursday that nearly 2.2 million voters have already returned their ballots to county officials. That's 55% of the turnout in the 2016 presidential election, Murphy said.
Ballots must be returned, postmarked or voted in person by Election Day, Nov. 3.
The Associated Press contributed to this report.
Contact: 609-272-7241
Twitter @ACPressMollyB
Concerned about COVID-19?
Sign up now to get the most recent coronavirus headlines and other important local and national news sent to your email inbox daily.