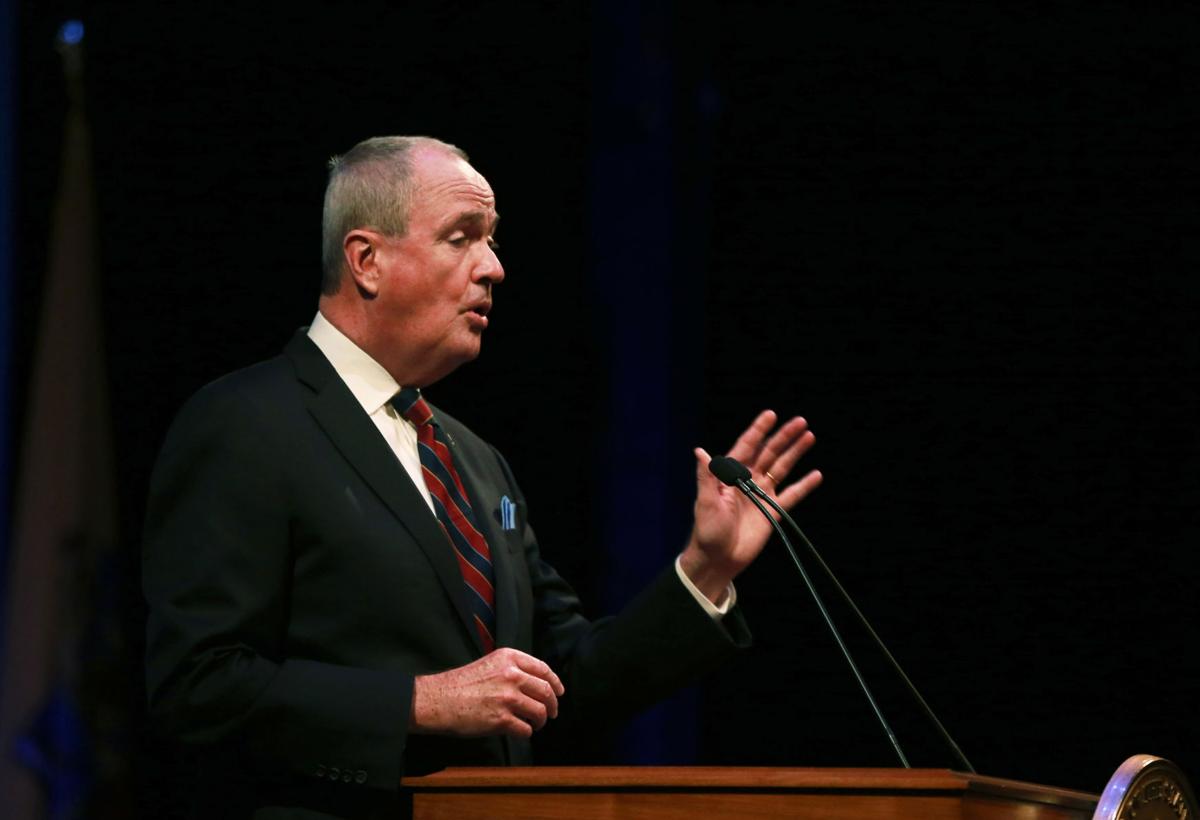 TRENTON — New Jersey will increase capacity at restaurants, gyms and other businesses to 50% next week from 35%, Gov. Phil Murphy said Wednesday.
"I am pleased to announce that effective next Friday, March 19, the indoor capacities for our restaurants, recreational and amusement businesses, gyms and fitness clubs and personal-care businesses will increase to 50%," Murphy said.
Additionally, Murphy said indoor and outdoor capacity for nonreligious events would increase. Outdoor events that are not religious in nature will have a limit of 50 people, up from 25, Murphy said.
The governor attributed the increases to continued positive trends in hospitalizations and daily cases.
"We feel confident in these steps given the data we've been seeing over the past five weeks since the last time we expanded," Murphy said. "For example, on Feb. 5 ... our hospitals were treating just under 2,900 patients. That number has come down by 1,000 and has been consistent since then. In fact, our hospitalizations have been below 1,000 for the past 12 days."
New Jersey's seven-day rolling average of new cases rose over the past two weeks from 3,029 on Feb. 22 to 3,322 on Monday.
The state has fully vaccinated about 899,000 people, or just over 10% of the population. That's just slightly higher than the 9.9% national rate.
Murphy emphasized that although capacity has increased, the state's mask mandate will continue to be enforced.
"We believe when all factors are weighed, we can make this expansion without leading to undue further stress on our health care system," Murphy said. "Unlike some states, which are frankly prioritizing flat-out politics over public health — Texas and Mississippi come to mind — our mask mandate remains in effect and will continue to be enforced."
Although 50% is helpful, Lauryn Freedman, general manager of Bocca Coal Fired Bistro in Margate, said the restaurant still hopes to use outdoor seating this summer.
In summer 2020, Margate closed a portion of Essex Avenue so Bocca could have tables in the street.
"We want to do the outside tent, but it's up to the city because it's their property," she said.
She said outdoor dining would still be beneficial because even at 50% capacity, the restaurant is losing revenue.
"I think this summer is going to be better than 2020," Freedman said. "People are getting vaccinated, and the virus is less of a concern, but I don't see the governor allowing restaurants to operate at 100% before the end of summer."
Brett DeNafo, owner of Stone Harbor Bar and Grill, hopes 50% capacity will allow him to use his second-floor dining area. Last summer, he eventually was able to offer indoor dining on the first floor of his restaurant because two sides of his establishment consisted of all windows he was able to remove, creating more of an open-air feel.
Gov. Phil Murphy on Tuesday signed legislation designating March 9 COVID-19 Heroes Day.
But he's just glad he is in a better position than last year.
"Last year at this time, we were completely shut down," he said. "This year, we're reopening the second week of April at 50%.
"I do believe by the end of May/early June, we're going to have herd immunity, and we're going to be almost back to normal," he added.
Maria Gatta hopes the city of Ventnor will allow her to pivot to outdoor dining again this summer.
Last year, the city closed a portion of Monmouth Avenue to allow Gatta's restaurant, Red Room Café, to offer outdoor dining in the street. At 50%, Red Room can accommodate 25 people inside.
TRENTON — New Jersey has the best education system in the country, according to the 2021 "Be…
"That would help me a great deal, if we could have both," Gatta said.
While most members of the New Jersey business community were encouraged by the increases, there's still a desire for more as soon as possible.
"Today's announcement by Gov. Murphy is another good step in the right direction, as we have seen a relaxation of capacity restrictions in many states throughout the nation," Michele Siekerka, president and CEO of the New Jersey Business & Industry Association, said in a statement. "However, New Jersey still trails many states, including those in our region, in terms of capacity limits. Obviously, we hope that increases in occupancy occur with urgency as data dictates, because we know our businesses need all the help they can get."
Siekerka said the announcement comes one week after the coalition issued a letter to Murphy urging him for a comprehensive reopening plan.
The letter was signed by more than 90 businesses and nonprofits and requested definitive data thresholds to drive reopening decisions, with updated restrictions that are narrowly tailored to particular circumstances; new approaches to indoor and outdoor gathering limits; and a prudent reopening of childcare centers.
During Wednesday's briefing, Murphy also addressed visitation guidelines for long-term care facilities.
"Compassionate care, essential caregiver, outdoor and end-of-life visitation by appointment should be permitted even when indoor visitation is restricted because of the status of your facility," Murphy said. "Essential caregivers should be permitted visitation if a facility goes 14 days without a positive case, and compassionate-care visits are allowed even when there is a known case in a facility."
Compassionate-care visits are not end-of-life visits and can be for any resident who may not be coping well with isolation or whose status of health is declining, Murphy said.
"We have enormous concerns regarding the emotional distress caused by isolation, and the much broader impact on the overall health and quality of life of residents in our long-term care facilities," Murphy said. "Although compassionate-care visits are not meant to be routine, they need to take place more than once."
To prevent further outbreaks, the state Department of Health has developed phases of reopening for these facilities.
"The phase reopening is based on the outbreak status of a facility, based on the department's COVID-19 activity level index and the facilities' ability to meet criteria," Health Commissioner Judy Persichilli said.
The Associated Press contributed to this report.
Contact Molly Shelly:
609-272-7241
Contact CJ Fairfield:
609-272-7239
Twitter @ACPress_CJ
NEW – Effective March 19th, the following businesses can increase indoor capacity to 50%:
☑️Restaurants
☑️Recreational and amusement
☑️Gyms and fitness clubs
☑️Barber shops, salons, and other personal care businesses pic.twitter.com/rfyTmCmCjB

— Governor Phil Murphy (@GovMurphy) March 10, 2021