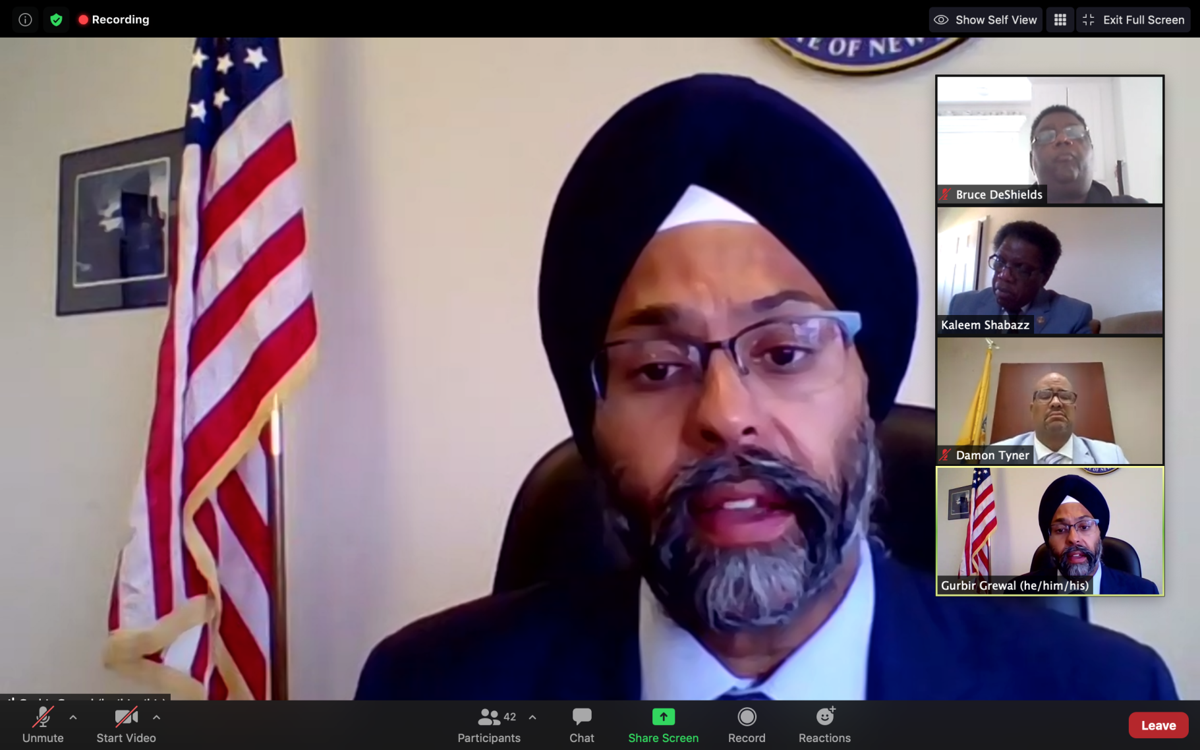 Policing in New Jersey may start to see dramatic changes in a matter of months.
Attorney General Gurbir Grewal on Thursday discussed many of those changes during a Zoom call with Atlantic City 3rd Ward Councilman and NAACP Chapter President Kaleem Shabazz. The latest in a series of virtual meetings hosted by the Coalition for a Safe Community, the call was also attended by Atlantic County Prosecutor Damon G. Tyner and Cape May County Prosecutor Jeffrey Sutherland.
Included in the policy is a ban on all forms of physical force unless absolutely necessary, de-escalation training for all 38,000 officers in the state and the creation of a public portal where all use-of-force incidents can be viewed by the public.
"This is something that, if you recall, one of the newspapers in our state had done," Grewal said during the meeting. "They created their own force report by filing public records requests, digitizing that information and then analyzing it and allowing the public to analyze.
"We saw that a newspaper did it for us, and then we took ownership of that issue."
A 26-year-old Little Egg Harbor Township woman is accused of selling meth out of her home, t…
The portal, Grewal said, should be available in the coming months. During that time, the state will also be acquiring trainers for the mandatory de-escalation program. Once that's done, the state hopes to have all officers trained by the end of 2021.
Another major change will be the reclassification of the use of batons to the head and neck area, or prolonged kneeling or sitting on a person, as deadly force, which is considered a last resort to be used in limited situations. To avoid what he called "positional asphyxiation," officers must also immediately put a suspect in an upright position once they have been handcuffed.
"This is common sense," Grewal said. "We've seen, unfortunately, situations in this state and in other jurisdictions where because somebody did not intercede, or that pressure was kept on someone too long, that they lost their life, like we saw on that horrible video (of George Floyd) from this past May."
If officers must use force, the policy states that they must render medical assistance to the suspect if necessary; and if an officer sees misconduct by another, they have an "affirmative duty to intervene," Grewal said.
Shabazz thanked Grewal for what he considers a step in the right direction. He sees the policy as progress toward equality.
The job is dangerous, demanding and requires extensive training. Calls may come at any hour …
"I think that what you're doing is giving people confidence that change can be made," Shabazz told the attorney general. "And I think you're also helping (the NAACP). The NAACP is a civil rights and social justice organization, but if people don't see that you can make civil rights and social justice within peaceful, organized structures, then that gives the people who are more extreme support."
According to Pleasantville police Chief Sean Riggin, many of the things outlined in the policy have already been in practice across the state. It's not always, however, in writing.
"I think to some degree, what we're doing is codifying by state mandate what departments and counties were already doing by local regulation or local practice," Riggin said. "That said, I don't think it should be understated that that is an important step because clearly, what we've done in New Jersey is that we weren't doing a good enough job of writing these things down in a clear and coherent way, and making it clear to the public that these are our regulations and these are our rules.
"If we have a prohibition against chokeholds, but people don't know that and they see scary incidents of chokeholds in other places, and then they become concerned that we're doing them in their local municipality, then we've failed in our public information mission. I think a lot of what we're doing with this use-of-force policy is fixing that and making clear that everybody's on the same team."
Contact Ahmad Austin:
609-272-7404
Twitter @ACPressAustin