Rounds of showers and storms will be present over the next three days, bringing much needed rain to parts of the area.
Temperatures, coming off another 90-degree day on the mainland Monday, will fall for this period, too.
Our cutoff low pressure, a low-pressure system removed from the general flow of the atmosphere, such as the jet stream, sits in New England. This will influence our weather through Thursday.
Tuesday morning will start out between 65 and 70 degrees, just around average for this time of year. Similar to Monday, it will not be all that muggy to start, as a west wind turns to the north.
So you will see a sunny beginning to the day, with some areas of patchy fog. Cloud cover increases as the afternoon goes on. Most of the day will be dry. After 2 p.m. or so, though, showers and storms will flare up.
Storm coverage should be fairly limited, looking more like calls for isolated storm coverage. Many of you will still need to water your plants or lawn. Otherwise, it'll be a pleasant day, with highs in the mid-80s in Vineland and inland areas, with low 80s in Ventnor and the shore.
This should end our heat wave, as we did actually get into the low 90s at Atlantic City International Airport on Monday, bringing our streak to four days.
Storms will taper off by about 10 p.m. or so Tuesday. However, clouds will be slow to move out. Morning lows come Wednesday will be 65 to 70 again.
Often during the spring and summer, you'll hear a Meteorologist say "isolated", "scattered" …
As Wednesday progresses, a piece of energy will pass through the area, enhancing rainfall coverage.
The morning still looks dry, however, you can expect scattered storms for the afternoon and early evening.
We are running below average in the rainfall department, so the higher coverage of storms could be a benefit. Storms can drop a quick half inch of rain as they pass. Highs will again be in the low to mid-80s, warmest well inland.
A very spotty shower will be around Wednesday night. So, if you wanted to leave the windows open for sleeping, keep that in mind. We'll fall into the 70s during the evening.
On Thursday morning, lows will be in the upper 60s inland to low 70s at the shore.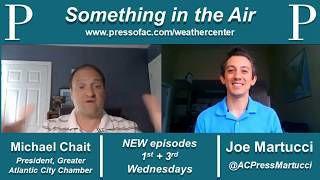 There's a slight update to the forecast Thursday, compared to the past couple of days. Storms no longer look likely at the shore, leaving it to just isolated afternoon mainland storms. So, if you want to hit the beach, you should be good. Unless your outdoor mainland plans are super sensitive to rain, you'll be OK. Highs will be a bit warmer than Wednesday.
The Fourth of July weekend looks to bring a dry and hot Friday, with typical summery weather Saturday and Sunday. Highs Friday will soar into the mid-90s inland, with a cooling sea breeze. Both Independence Day and Sunday will be back in the 80s everywhere, with just spotty afternoon storms.