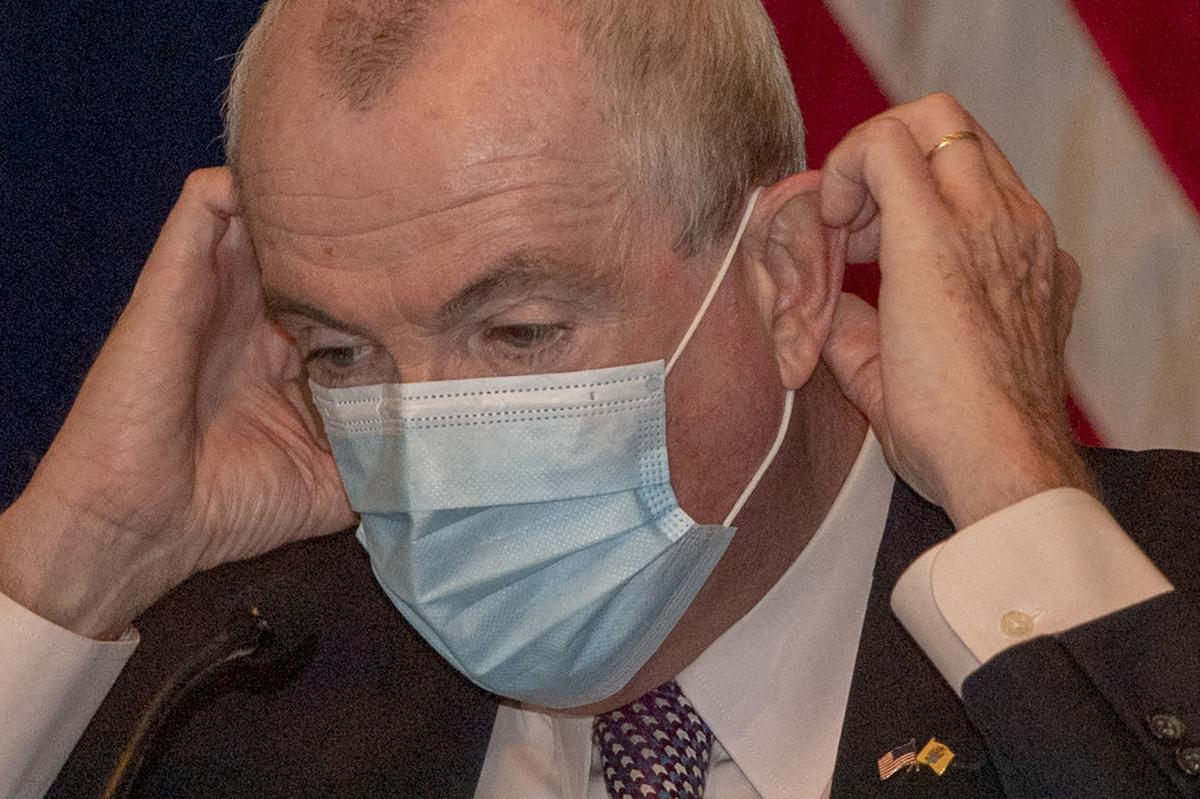 TRENTON — Rutgers University's RUCDR Infinite Biologics is providing 30,000 of its rapid-response saliva-based coronavirus tests daily to bolster the state's COVID-19 testing, Gov. Phil Murphy announced Monday during his 100th pandemic response media briefing.
"Having these tests means we now have 30,000 tests a day, and they come with a 48-hour turnaround," Murphy said. "As test turnaround has lagged nationally given the flare-ups all around the country, this is welcome news."
Murphy said the tests will be deployed first to priority populations, including front-line workers and vulnerable resident populations.
New Jersey reported 446 new positive COVID-19 cases as of Monday, bringing the statewide total to 179,812. The daily positivity rate is 1.72%, but the rate of transmission has increased to 1.09. However, positivity rates in South Jersey are triple that of North Jersey.
Department of Health Commissioner Judith Persichilli said that as of July 23, North Jersey reported a daily positivity rate of 1.09%, Central Jersey 1.60% and South 3.30%
Murphy said that the increase in new positive cases and rate of transmission is likely due to a "lab catch-up" over the last few days due to a backlog in reporting results.
"We know there are flare-ups," he added, citing a recent house party in Middletown that resulted in 20 new cases.
The state had previously reported there were problems in contact tracing related to that party, but Murphy said Monday that parents have been cooperating.
He told CNN on Monday morning that he thought parents feared repercussions for possible underage drinking in that incident, but he assured them otherwise.
"We don't condone underage drinking or any illegal behavior, but this is not a witch hunt," Murphy said. "This is about controlling the virus."
He said that in Middletown alone, there were 65 new positive cases, with 52 between the ages of 15 and 19.
He also addressed the recent report of an outbreak among Long Beach Island lifeguards due to a house party, an outbreak among Rutgers University football players and another house party in Jackson Township with a reported 700 attendees, quipping "must have been quite a house."
"This is among us folks," Murphy said, urging residents to take precautions especially when gathering indoors or in close proximity.
Persichilli said in relation to the lifeguard outbreak that there were 35 cases related to one common social gathering, so far.
"Although they don't experience what we would call severe illness as often, young people can still transmit COVID-19 to those that they love," she said.
Murphy reported 17 new COVID-19 related deaths Monday and a positive trend in some metrics, with hospitalizations at 695, down from a high of more than 7,000 hospitalized in mid-April.
He also spoke about the upcoming school year and urged some "in-person" component, as well as compassion.
"This will not be a normal school year, there's no way it can be," he said. "It will be a challenge for everyone, so let's acknowledge that and commend everyone who is working so hard to provide a path forward."
Murphy said the state's reopening guidance was designed with flexibility to let each district make decisions based on its needs, and noted that health and safety, education and equity were its guiding principles.
"If done safely, I believe we must try to include at least some aspect of in person education this fall," he said, adding that remote learning is easier for affluent communities and their families who have more resources. "All of this must be a part of our thinking as we move to September."
Atlantic County's Division of Public Heath reported no new deaths but 17 new positive cases of COVID-19 on Monday.
It was the third consecutive day without a fatality in the county.
The new positive cases in Atlantic County included seven men, ages 22-71, and 10 women, ages 29-71 in the following locations: five in Galloway Township, three in Pleasantville and one each in Absecon, Atlantic City, Brigantine, Egg Harbor City, Egg Harbor Township, Hammonton, Linwood, Northfield and Ventnor.
Monday's new reported COVID-19 cases brought the countywide total to 3,418, of whom 1,911 have been cleared as recovered and 229 have died.
Testing will continue Tuesday at the county's drive-thru facility in Northfield at Route 9 and Dolphin Avenue. The test site is now available for both symptomatic and asymptomatic county residents with or without a doctor's prescription. If available, appointments can be made online at aclink.org.
Eight new positive cases of COVID-19 infection were announced Monday by the Cape May County Department of Health. The municipalities were the new cases were found break down as follows: three cases each in Upper Township and Sea Isle City and two cases in Lower Township, the county said.
Total positive cases of COVID-19 infection in Cape May County is now 959, including 81 deaths, the county said.
Additionally, there are two new out-of-county positive cases, the county said.
Also, the Cape May County Department of Health and CompleteCare Health Network, CCHN, are partnering to open drive-thru COVID-19 testing clinics, said Freeholder Jeff Pierson.
The first drive-thru will be held starting at 8 a.m. Thursday by appointment only at the Cape May County Fire Academy, 171 Crest Haven Rd, Cape May Court House, the county said.
Appointments for screenings can be requested by visiting CompleteCareNJ.org and clicking the Request an Appointment tab or calling 609-465-0258. To help save time, using the website is recommended.
Once your appointment request is received, you will receive a call back from a CompleteCare representative to help you schedule your visit. If testing is required, your prescription will be sent to the Health Department who will then call you to schedule your drive-thru testing time.
The full process for scheduling an appointment for COVID-19 drive-thru testing and more information about the virus can be found at CompleteCareNJ.org/COVID19.
Two Vineland events canceled
Two signature downtown Vineland events have fallen victim to the current COVID-19 situation, but there is light at the end of the tunnel.
Main Street Vineland has announced the cancellation of this year's Cruise Down Memory Lane and the Food Truck Festival on the Ave.
This would have been the 29th year for Cruise Down Memory Lane, one of South Jersey's largest car shows. Scheduled for Oct. 10, it had already been postponed from June.
The event committee felt, however, that the event could not be pulled off, and, at the same time, comply with the current restrictions placed on outside events by Gov. Murphy.
The third annual Food Truck Festival on The Ave was scheduled for Aug. 23. The event, which brought thousands of people to The Ave, almost two dozen food trucks, and day-long entertainment could not be held in today's situation, even with efforts to scale it down this year.
Although both events were canceled, Newfield National Bank, which was to be the major sponsor for both events has committed to switching that sponsorship to two Main Street Vineland events that are still scheduled — the second annual Run The Ave 5K and the annual Pumpkin Patch Party on The Ave.
The Run The Ave 5K, Cumberland County's premier road race and held in conjunction with Second Capitol Running, is scheduled for Sept. 13. It brought over 100 runners to downtown Vineland last year.
The Pumpkin Patch Party, scheduled for Oct. 31, brings almost 100 children and parents to the mini-park at Landis Avenue and the Boulevard for an afternoon of fun, games, and fellowship.
"It was with deep regret that we had to cancel the Cruise Down Memory Lane and the Food Truck Festival — two of our most successful downtown events," said Main Street Vineland Executive Director Russell Swanson.
"We do not take such actions lightly, but we face unusual times this year, and we always believe safety and health come first, Swanson said.
BIG BROTHERS, BIG SISTERS OF CUMBERLAND GETS GRANT
Big Brothers Big Sisters of Cumberland and Salem Counties (BBBS) recently received a $2,000 grant from the United Way of Delaware as part of the Salem County COVID-19 Emergency Response Initiative, a nonprofit collaborative response to the 2020 Coronavirus pandemic. The grant will help BBBS fund their programs.
Contact: 609-272-7251
Twitter @clairelowe
Source: State of New Jersey Department of Health
Concerned about COVID-19?
Sign up now to get the most recent coronavirus headlines and other important local and national news sent to your email inbox daily.