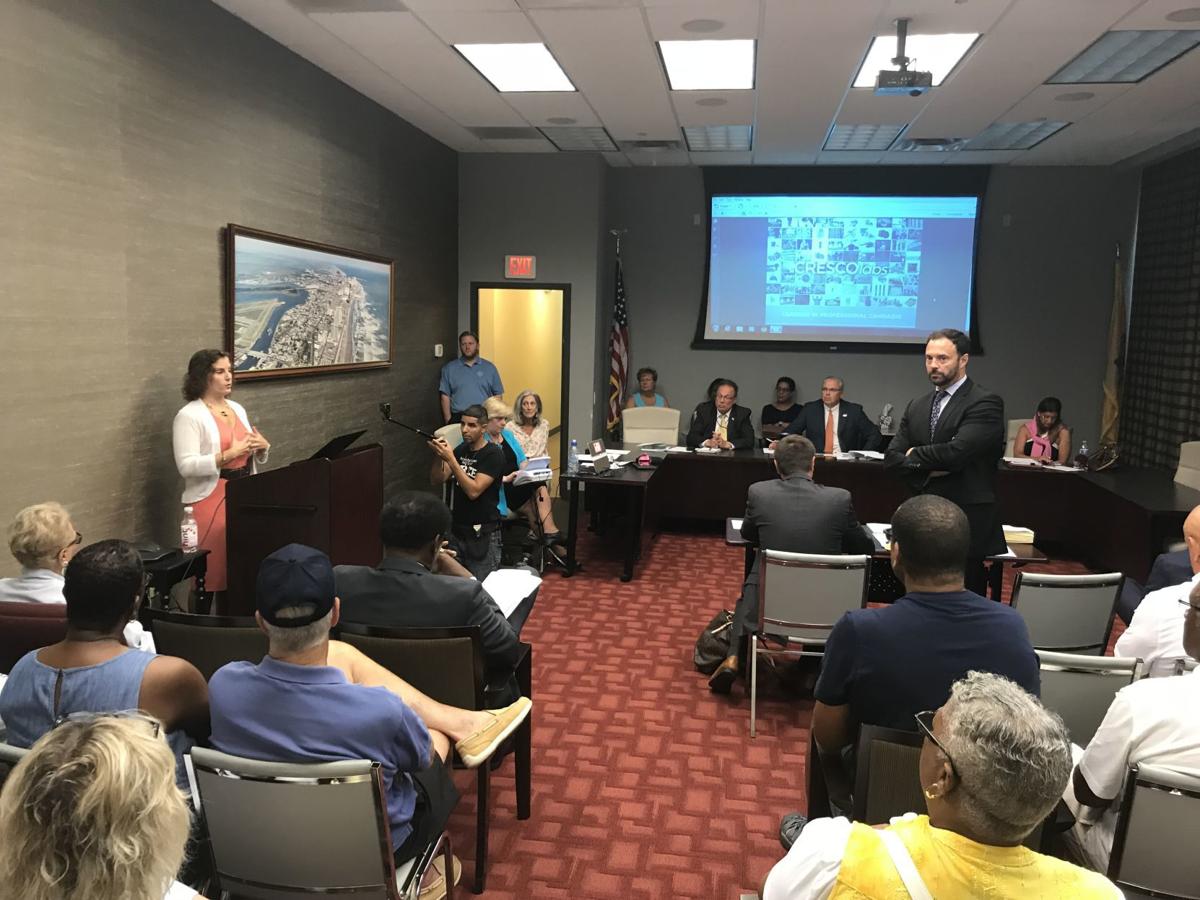 ATLANTIC CITY — Community members concerned about a medical marijuana facility coming to their residential neighborhood attended a public hearing Thursday morning only to find out they were erroneously notified.
As required by law, property owners within 200 feet of a proposed land-use variance were notified last week an application for a medical marijuana facility had been submitted to the Casino Reinvestment Development Authority. The proposed facility would be located at the Calvi Electric Co. building on California Avenue in the city's 4th Ward. However, in an attempt to be thorough, the applicant listed several other properties owned in the city, which resulted in 3rd Ward residents around Kentucky and New York avenues receiving notices.
The CRDA only has land-use jurisdiction over the city's Tourism District, which does not include the additional properties listed on the application.
The applicant's attorney, Eric Goldstein, from the law firm of Nehmad Perillo & Davis in Egg Harbor Township, said the additional listed properties could potentially have a connection to the proposal in the future.
"Rather than try to hide the ball ... we said, 'Let's notice everything,' so that in case the public comes out at a later date they don't feel like they were given less information than they should've," he said.
Following a statement read into the record from 3rd Ward Councilman Kaleem Shabazz, who suggested that better communication may have prevented any misunderstandings by the public, most of the residents left.
The applicant, 1909 Associates LLC, which is a partnership between Calvi Electric President Michael Brestle and Longview Strategic LLC CEO Ellie Siegel, is seeking a variance to allow an agricultural use for the property. The variance would allow the building to be used as a grow house for medicinal marijuana. Since the building is already zoned for commercial use, the manufacturing, production and retail of medical marijuana could be permitted without a variance.
CRDA Director of Planning and Development Lance Landgraf will make a recommendation on the use variance to the full board. Should it be granted, site approval from CRDA would still be needed.
The applicants seek to become one of six new permitted alternative treatment centers in the state. Citing a growing need, New Jersey recently expanded the number of available medical marijuana dispensary permits to include two more in each of the state's three geographical regions: north, central and south. The state has set a deadline of the end of the month for submission of applications.
Cresco Labs LLC, an existing medical marijuana operator with cultivation, processing and retail facilities in Pennsylvania, Illinois and Ohio, would partner with the applicants.
The facility would employ about 30 Atlantic City residents, Siegel said during Thursday's hearing.
City Council unanimously passed an ordinance to restrict medical marijuana facilities to commercially zoned areas at Wednesday's public meeting. Council also passed a resolution in support of medical marijuana.