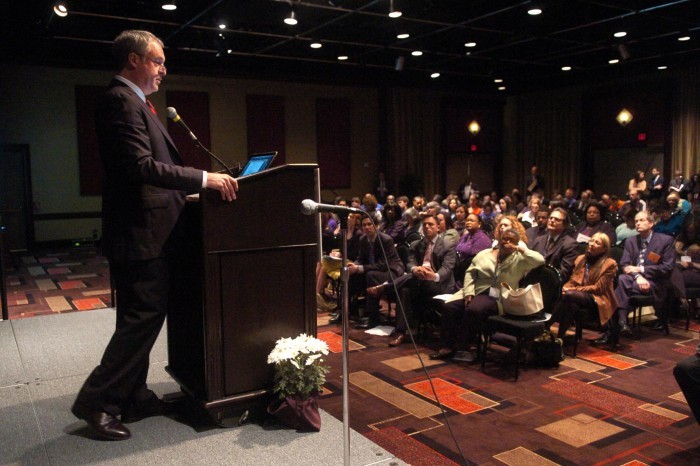 Tighter standards, better ways to measure progress, increased accountability and an easier regulatory environment are what acting N.J. Department of Education chief Christopher Cerf says he has planned for the state's charter schools as a way to encourage growth and educational quality.
"These are exciting times for charter schools," said Cerf, speaking Monday at the New Jersey Charter School Association conference at Bally's Atlantic City Hotel & Casino. "It's also a time for change, and it's a time when we have to live with an increasingly vocal and organized opposition."
Cerf told several hundred charter school teachers, board members, parents and students that the Christie administration strongly supports the schools as an alternative to traditional public schools.
"I absolutely expect an increasingly friendly, lighter touch, regulatory environment," Cerf said.
However, Cerf said, he plans to enact stronger standards for granting charter school applications and enhancing accountability for those charter schools that are failing standards.
Two charters did not get renewed this year, including Pleasantech Academy Charter School in Pleasantville.
"We have to do this. This is not an optional thing," Cerf said. "I deeply understand that this can't just be about test scores."
Association President Carlos Perez said in opening remarks that charter school students also are public school students and they should get the same level of funding. Currently, charter schools do not receive money toward facilities and must pay for housing the school and other building-related expenses out of their operating budget.
Perez also warned that state legislators "are looking to pass a law that would stop the growth of charter schools." The senate bill, if enacted, would require voters to approve new charter schools in their town.
More than 700 charter school teachers, board members, parents and students are attending the conference, which runs through today.