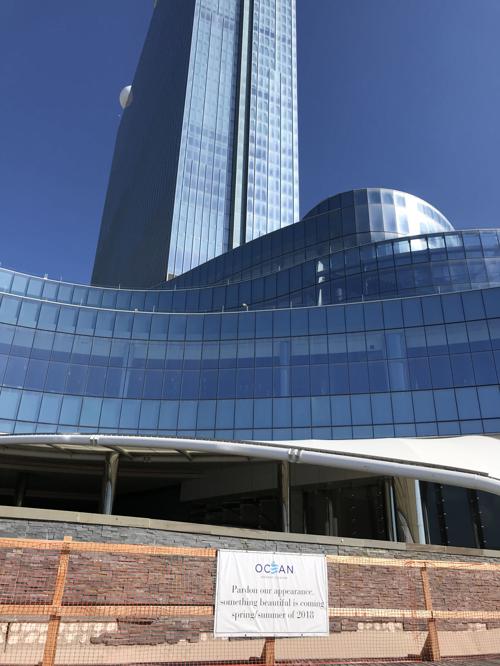 ATLANTIC CITY — Ocean Resort Casino is intent on not following in the footsteps of its failed predecessor when it opens June 28.
The shortcomings of the former Revel Casino Hotel, including an indoor smoking ban, the awkward casino entrance from the Boardwalk and the infamous "escalator to heaven," are among the numerous "detractions" the owners of Ocean Resort said they will avoid.
Smoking will be permitted in designated areas, the stone wall obstructing access from the Boardwalk is being replaced by stairs and the escalator will be surrounded by a safety wall.
ATLANTIC CITY — Ocean Resort Casino is aiming for a June 28 grand opening, the same date as …
In a statement Monday confirming the opening date — The Press of Atlantic City first reported the date April 25 based on signed employee agreements — Ocean Resort CEO Frank Leone said June 28 will be a "culmination of all of our planning and know that this will be a special day for Atlantic City as it turns the page on a new chapter of revitalization."
Before Ocean Resort can officially begin casino operations, an investigation by the state Division of Gaming Enforcement must be completed, which will result in a recommendation being issued to the Casino Control Commission prior to a license hearing.
The 1,399-room Ocean Resort will open the same day as Hard Rock Hotel & Casino Atlantic City, which announced its opening date during a three-city news conference April 18.
The 6.4 million-square-foot Ocean Resort has been undergoing upgrades and renovations since the property was purchased for $200 million in January from Glenn Straub's Polo North Country Club Inc. The casino hotel states these projects have created 300 construction jobs and related positions at more than 90 local companies, and it is anticipated by the time of opening, Ocean Resort will have created 3,200 full-time jobs.
When Hard Rock Hotel & Casino Atlantic City opens its doors in June, it will be the final act in a highly-publicized play that included a Times Square press conference, Miss America, massive job fairs and the transformation of one of Atlantic City's most recognizable buildings.
Ocean Resort will feature a 138,000-square-foot casino, 160,000 square feet of indoor meeting and convention space, 90,000 square feet of flexible outdoor special-event space and six swimming pools, including a saltwater pool and an ocean-facing sun deck with luxury cabanas.
The property will open with 16 dining options, including the Ocean Buffet and Wahlburgers, the chain owned by the family of actor Mark Wahlberg, as well as a theme-bar based on the HBO series "Entourage" and a breakfast option, called Cereal Town.
Other amenities include the world's largest Topgolf Swing Suite, the renovated $250 million, 5,500-seat Ovation Hall, day- and nightclubs, a "best-in-class sports book" (pending government approval), 70,000 square feet of retail space and a 32,000-square-foot Hyatt Hotel Exhale Spa with 32 treatment rooms, a mind-body studio and retail boutique.
ATLANTIC CITY — Ocean Resort Casino just carded a hole-in-one by landing one of the biggest …
"Our team has been working diligently since we acquired the property in January and have put a great deal of time and effort into creating a truly unique and memorable destination guest experience," said Bruce Deifik, chairman of AC Ocean Walk, which owns the casino-hotel.
Revel cost $2.4 billion to construct and opened to the public in 2012 before closing in 2014.