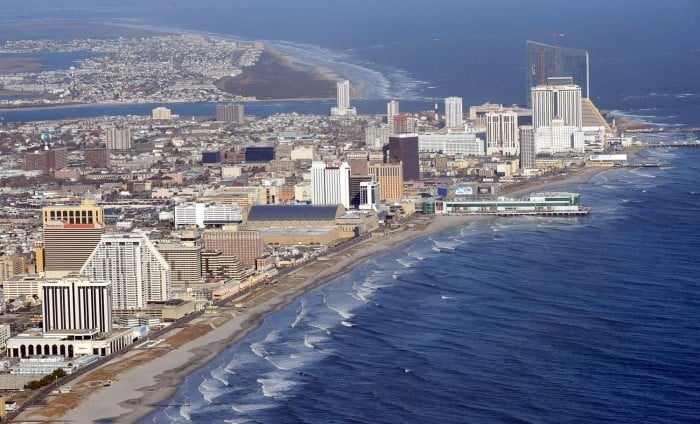 Think of them as pocket-sized casinos — a miniaturized way for customers to play the slot machines and table games.
Using wireless handheld devices, gamblers will be able to place bets while lounging at the pool, enjoying dinner at a restaurant or relaxing in the privacy of their hotel rooms.
Mobile gambling, a concept unheard of a decade ago, is coming to Atlantic City now that the New Jersey Division of Gaming Enforcement has approved regulations to govern the latest technological innovation in the casino industry.
But based on demand in Nevada — the only other casino market in the country to legalize mobile gambling — it may be a long time before hordes of tech-savvy Atlantic City customers are seen wagering on their smartphones or iPads.
"It really hasn't reached critical mass. The numbers haven't been impressive," said Michael Lawton, senior research analyst for the Nevada Gaming Control Board.
Only a handful of Las Vegas casinos offer mobile gambling, even though it began in 2009. Through September of this year, mobile gambling had generated just $3,074 in total gambling revenue for the six casinos that currently have it, Lawton noted.
According to the Nevada Gambling Control Board, mobile gambling produced just $230,000 in revenue in 2009. Casinos actually lost $217,000 from mobile gambling in 2010, but rebounded to win $1.3 million in revenue in 2011.
For accounting purposes, Nevada's gaming board wraps the tiny winnings from mobile gambling into the billions of dollars in slot machine revenue. Lawton explained that mobile gambling is simply too small to merit a separate line item in the board's revenue reports.
Atlantic City casino executives acknowledge that mobile gambling won't be an immediate game-changer for a market mired in a six-year revenue slump. However, they are hopeful it will help distinguish Atlantic City from rival casinos in surrounding states and serve as a platform for Internet gambling, if it is legalized in the future.
"I think of mobile gaming as a tiny step toward Internet gambling," said Tony Rodio, chief executive officer of Tropicana Casino and Resort and the head of the Casino Association of New Jersey, an industry trade group.
Uncertainty over Internet gambling could delay Atlantic City's casinos from investing in mobile gambling. If New Jersey lawmakers or Congress do not legalize Internet gambling, casinos could waste millions of dollars building the wireless systems needed for mobile gambling, Rodio warned.
New Jersey's Legislature has been pushing Internet gambling, but Gov. Chris Christie believes it may violate the state's constitution, which limits casino gambling to Atlantic City. Christie vetoed a proposed Internet gambling bill last year, calling it unconstitutional.
Casinos are taking a cautious approach toward mobile gambling. The Division of Gaming Enforcement says no casino has submitted a formal proposal yet to begin testing of a mobile device. Final regulatory approval would be needed before mobile gambling goes live at any casino.
Only Borgata Hotel Casino & Spa has made a preliminary move for mobile gambling. Division spokeswoman Lisa Spengler said Borgata is the only casino so far to receive approval for mobile gambling software. The next step calls for Borgata to submit a mobile device for testing by state casino regulators. Borgata declined to discuss its plans.
"We are still evaluating our options under the (new) regulations. Therefore, it is too early to comment," said Joe Lupo, Borgata's senior vice president of operations.
Besides the potential financial and legal complications, mobile gambling faces a technology hurdle — not in developing it, but having customers accept it. Casino analysts say the technology may be slow to catch on.
"The learning curve and adoption curve clearly are going to be steep," said Michael Pollock, managing director of Spectrum Gaming Group, a Linwood-based casino consulting firm. "It's new. It's not tried. There are issues with respect to the comfort level and the demographics of the customer base. There may very well be issues with respect to whether people even trust it."
Pollock drew parallels between mobile gambling and the growth of smartphones and iPads. Initially, there may be some public reluctance in accepting wireless devices for gambling, but the longterm prospects are enormous, he said.
"I don't think anyone is expecting a big leap initially," Pollock said. "It may be several years off before you see a big leap, but once you do, you'll see dramatic improvements."
David Schwartz, director of the Center for Gaming Research at the University of Nevada Las Vegas, said gamblers in Las Vegas have certainly been slow to embrace mobile gambling. In general, there is a lag in introducing any new technology to the casino industry, he added.
"If you look at the slot machine, it took a long time for change to happen. Ticket in-ticket out technology was talked about in the 1980s, but it took 20 years to get it," Schwartz said of the next-generation machines that replaced the old-fashioned, coin-operated slots.
Cantor Gaming, a mobile gambling operator, was not available to discuss the systems it has developed for Las Vegas casinos. Some of the casinos that offer mobile gambling, including the M Resort Spa Casino and the Las Vegas Sands Corp.'s Venetian and Palazzo casinos, declined to comment or did not return telephone messages.
Schwartz sees mobile gambling's potential in sports betting. Mobile gambling can be done in real time, which offers far more betting options than the standard pre-game wagers on sporting events, he said.
"Especially if legal sports betting starts in New Jersey, this is one way of doing it," Schwartz said.
Through legislation and lawsuits, New Jersey lawmakers have been trying to overturn the 1992 federal ban on sports betting. Only Nevada, Delaware, Oregon and Montana are allowed to have sports betting because they had a form of it on the books before the ban took effect.
In Atlantic City, mobile gambling will be allowed throughout the casino-hotel complex, including poolside, in restaurants and in guest rooms. Generally, customers will be able to wager on handheld devices anywhere throughout the property, except for the garages and parking lots. Once they set up mobile accounts, they will be able to gamble on their own smartphones, electronic tablets or on devices issued by the casinos.
David Rebuck, director of the Division of Gaming Enforcement, New Jersey's primary casino regulatory agency, said the new rules for mobile gambling include safeguards to protect against underage gambling or cheating. He described mobile gambling as an innovative partnership between regulators and the casinos to add new attractions to Atlantic City.
Contact Donald Wittkowski: