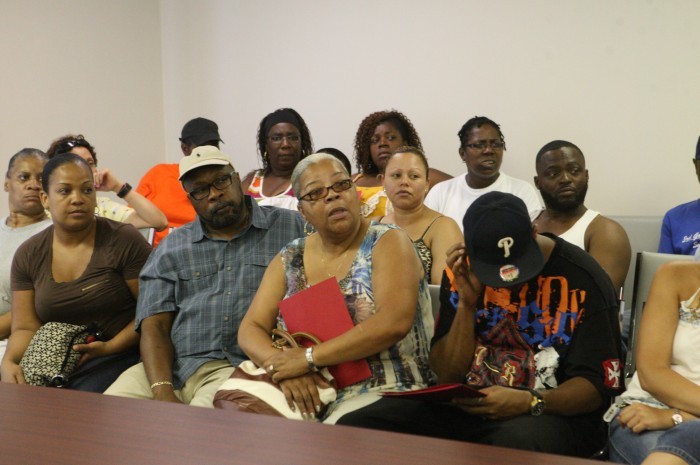 Questions surrounding when residents will have to leave their homes in the South Inlet and how they will find new places to live abounded at public hearing Tuesday night.
Those who will soon be displaced to make way for a redevelopment project got their first taste of the process.
About 25 residents of the Metropolitan Plaza low rises attended the public meeting sponsored by the Casino Reinvestment Development Authority. The meeting was the first of three that will held this week. Those who live or own property in the area slated to become home to chic shopping and retail development were told the basics about moving reimbursements and relocation allowances.
Many residents had questions about the process and said they weren't happy about the prospect of leaving their homes, but no arguments arose and the tone remained calm. The appraisal process is underway. Offers could be made to property owners by September and 90-day notices to vacate would be issued to property owners, said Bunny Rixey, CRDA's director of real estate development.
That would mean that residents would have to leave their homes by December, though CRDA officials said there can be some flexibility as long as residents show that progress is being made.
Marie Tavarez, 30, has lived in the neighborhood with her three children for about four years. She said she sees the situation as an opportunity to make a fresh start and is considering moving to North Jersey. A security guard at Trump Taj Mahal Casino Resort, Tavarez said she would like to move north and find a job with more regular hours.
"It's hard for me, you know. This is not life," she said.
Though it's not common, CRDA will assist residents who wish to move out of the city or even out of the state. In one case, the agency helped a resident affected by a project move to Kentucky to be with family. CRDA compiles a list of available rental properties and moving companies for the residents, among other things. As residents consider other properties, CRDA will cover expenses from tolls to cab fare or the agency will provide transportation.
"I don't want anybody to worry when you walk out of here tonight that you're not going to be taken care of by CRDA," Rixey said.
The blocks included in the project are bordered by Connecticut, Rhode Island, Oriental and Pacific avenues. A few parcels on Oriental Avenue north to Vermont Avenue are also included, and the project's boundaries could be extended in future phases. About 60 residences are included in the project's boundaries.
A CRDA map of the project area on display at Tuesday's meeting painted a vision of the inlet's future. In additional to the mixed-use project, the map showed a park surrounding Absecon Lighthouse — also requiring property acquisition by CRDA — as well as the blocks from Delaware to Connecticut avenues where The Richard Stockton College of New Jersey may consider for a satellite campus.
South Inlet resident Paul Dalnoky wasn't at Tuesday's meeting and instead planned to attend one of the meetings later in the week. Dalnoky, who has lived in Atlantic City for about four years and has been in a South Inlet apartment for about year, said he's not apprehensive about the possibility of moving.
For him, it's the principle behind the move that bothers him. The redevelopment project with its new housing, shops and restaurants is poised to transform the South Inlet currently plagued with blight into a bustling neighborhood. That development will sit just blocks from the $2.4 billion megaresort Revel, which is required to invest in the project through a financing arrangement.
Dalnoky, however, says he believes the latest development project that will level parts of the neighborhood to make way for something new, caters too much to Revel's interests and not enough to the residents'.
"They rolled in here and promised there would be jobs. I'd like to know who got the jobs," said Dalnoky, who said he's applied for several jobs at Revel but has always been rejected. "To me, Revel is being given to and is not giving anything back."
CRDA has devoted an initial $1.2 million to the project. An arrangement with the New Jersey Economic Development Authority could provide as much as $50 million in loans.
Additional financing would come from Revel, which is committed to investing in the South Inlet neighborhood due to tax rebates received from EDA.
Follow Jennifer Bogdan on Twitter @ACPressJennifer