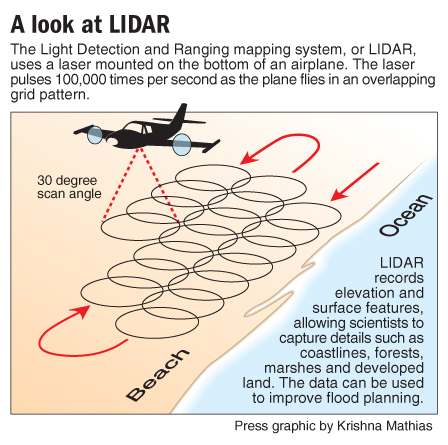 Most people are familiar with radar, if only to slow down near police speed traps.
But researchers think another acronym soon will become a household word: LIDAR. It stands for Light Detection and Ranging, a laser system that researchers used to map the surface of Mars - and now is being used to map southern New Jersey. The Garden State this year is one of the first states in the country to have its entire topography scanned with the aerial devices. Planes are making sweeps of Atlantic and Ocean counties to complete a Federal Emergency Management Agency project.
"This is history-making. It allows the department to look into the future to be able to predict today what happens tomorrow," said Elaine Makatura, spokeswoman for the state Department of Environmental Protection.
The agency's Office of Coastal Management is working on a LIDAR study of the Delaware Bayshore, including Cape May, Cumberland and Salem counties. The bayshore project is designed to map floodplains in greater detail, identify flood-vulnerable neighborhoods, and see where critical infrastructure such as hospitals, firehouses and schools are in relation to these dangers, state scientist Dorina Frizzera said. The goal is to identify geological patterns not normally visible to the naked eye.
"Coastal hazards are the No. 1 concern on the Delaware Bayshore," Frizzera said. "We realized that this part of the coastline was not getting the critical attention the Atlantic coastline was getting. We started looking at the resources in the Delaware."
Nationwide, LIDAR is used to track changes in earthquake fault lines, measure the growth of forests and monitor volcanoes. But Frizzera said these elevation maps could help local planners identify where to build - or more importantly not build - firehouses, roads or nursing homes to account for rising sea levels.
"It will inform us what are the best evacuation routes and help with future decisions on where to place things," she said.
The New Jersey Forest Fire Service also uses LIDAR to identify potential trouble spots, Warden Bill Edwards said.
"We can see where the highest fire danger is," he said. "Not long before the (2007) Warren Grove fire, they mapped that area and it came back as one of the most dangerous areas in the state."
Edwards said his agency was just starting to address these problem areas when an errant flare at the Warren Grove Gunnery Range started a forest fire in 2007 that caused $203 million in damage in Ocean County and prompted evacuations in Barnegat and Stafford townships.
This year the agency is focusing its attention on creating firebreaks and conducting controlled burns on thousands of acres of Berkeley, Dover and Manchester townships that LIDAR identified as a fire hazard, Edwards said.
"There was very little fire management out there because it was private land," he said. "We're looking across this whole landscape and suddenly (LIDAR) identified it as being a very high fire danger. That makes it a higher priority for us."
"There's a lot of information that comes from LIDAR. You're painting the ground," said Kyle Schmid, a senior technical staff member with NOAA's Coastal Services Center.
Aerial photography served this purpose for state planners for decades. But LIDAR can see things that photos cannot, he said.
"If stereo photography has trees in the way, you're dead in the water. You can't see through them," he said. "But LIDAR is able to observe through canopied areas."
LIDAR's laser light gets bounced back to the plane in varying intensity, depending on what it hits. The LIDAR can tell where the tree canopy begins, which could help track the growth of a forest. "The ecological uses are pretty far-reaching. It depends on how much time people want to put into extracting the information. They're doing this more and more," he said.
State research scientist John D'Agostino said the plane flies an overlapping grid, like someone carefully mowing a lawn.
"The contractor optimizes the time in the air. They cover different swaths," he said.
Computers combine the data into usable maps that can separate the criteria to be studied, he said.
"The value is it adds greater specificity," he said. "The older elevation data was based on 10-meter grids. So within 10 meters there are homes and vegetation and hills. You'd miss something."
The LIDAR device is about the size of a suitcase, said Dave Maune, senior project manager at Dewberry, the Fairfax, Va., company working with the DEP.
Mounted on the bottom of a plane, LIDAR shoots more than 100,000 laser pulses per second at the ground, collecting data about every tree, creek, building, road and marsh in the state. This is the same technology that NASA uses to study other planets.
The military uses LIDAR in the rugged hills and mountains of Afghanistan to identify potential ambush sites during engagements. But Maune said LIDAR will play a bigger role in aviation, smart phones and even car navigation, he said.
"You'll see cars that will know what the slope of the terrain ahead is and how might you adjust the speed of the car if you want to accelerate," he said.
Maune has been working with LIDAR since 1997. Since then its practical uses have exploded, he said.
"I am pleased with it. They keep coming along and impressing me with more applications," he said.