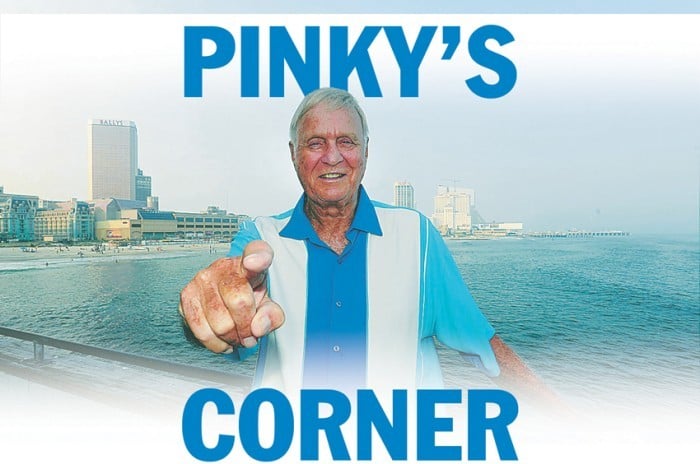 The Atlantic City rumor mill has been churning overtime with the latest talk of a possible change in casino ownership.
Penn National's COO Tim Wilmott, the former CEO of Harrah's Entertainment, and Jay Snowden, former general manager and vice president of Harrah's casino and Showboat casino, were in Atlantic City last week looking at the Showboat property and considering the possibility of taking it over.
It also was reported that Gary Loveman, CEO of Caesars Entertainment, was in town for a couple of days. The rumor mill states that the two major players of their respective facilities are seriously considering the deal.
It would be interesting to have Tim Wilmott back in Atlantic City, as he has Penn National as one of the top major casino corporations in the nation. He is very familiar with Atlantic City, and he has Snowden alongside him, who is also well versed in the Atlantic City market.
We understand that this deal would help to unload some of the burden of Caesars Entertainment, which, in addition to Showboat, owns the Bally's, Caesars and Harrah's Resort casinos in Atlantic City.
If this rumor becomes a reality, it could very well be a deal that would be good for both parties and Atlantic City.
Three years ago, on April 15, 2010, the Atlantic City Regional Transportation Land-Use Plan was presented to the Casino Reinvestment Development Authority. As of today, very few of the items have been put in place. It is good to know that one of them will soon be guiding the people driving into and about Atlantic City.
It is anticipated that brand-new, well-lit street signs will advise those in their automobiles and those walking about the names of the streets before them. The signs are based on the same type of lights that are used in New York City. They are big and bright and have the names of the streets painted in such a manner that it is easy to note where you are. Hopefully, they will be in place for the summer season. It will also help pedestrians find their way and hopefully stop jaywalking, to some degree.
The next step would be to revise the signs advising people which way to turn to get to their destination. This has been discussed for quite time, and hopefully it will follow the street signs.
Here we are two months from summer and not one concert has been scheduled at Bader Field, to the best of my knowledge. For the last two years, Atlantic City proved it could handle major concerts. The crowds were big, they were well conducted, the music was great, the city and state made money, and everyone seemed to have a good time. So why should it stop?
What is the problem of the additional 9 percent tax that the state was putting on the tickets? It is my understanding that if you bought the tickets outside of the state you didn't pay that tax, but if you bought them in the state, you had to pay the tax. Just think, that for that additional tax, how much did the city and state loses by not having concerts?
There is something wrong somewhere, and it should be corrected. Mayor Lorenzo Langford had a well-rounded committee that worked on things like this, but one hears very little from them.
There are several good programs in place to begin this summer, with the Powerboat Show the weekend of June 22-23, the Atlantic City Salutes America's Armed Forces Parade on Monday, June 24, and the practice day of the airshow and a concert by the Bay Symphony Orchestra at Kennedy Plaza on the evening of June 25. A 31/2 hour civilian airshow will be quite exciting on Wednesday, June 26, with some special events to follow that Thursday. It's a good way to start the summer.
A marketplace in Atlantic City will be developed. Caesars Entertainment has offered the property on Ohio Avenue from Pacific to Atlantic avenues as the site for this market, which could offer Jersey Fresh produce, meats and flowers. The site is close to The Walk and it is located one block from Bally's garage, at Michigan Avenue.
However, there are discussions about locating it in the inlet area. Looking at it realistically, one must consider the numbers of people who would be patronizing a marketplace and the convenience of those walking to and from. The Walk is loaded with people daily and is without sufficient food venues to take care of its clientele. There are retail stores and the AtlantiCare Regional Medical Center to provide sufficient customers for a marketplace.
Margaritaville to open early
Talks with several of the workers who are developing the Margaritaville produced forecasts for the opening of this outstanding facility. They tell me that the LandShark Café will open at least one or two weeks before the projected date of Memorial Day.
There were long lines of applicants and 600 opportunities to be a part of this outstanding organization. Today is the final day for obtaining a job at Margaritaville, as it is the final day for applications, from 10 a.m. to 4 p.m. We wish you well.
Little has been heard lately about the proposed 20-story condominium building that was to be located on the Boardwalk next door to Revel. And where are the Brighton Condominiums that are to be located between Atlantic Avenue and the Boardwalk, between Richmond and Annapolis avenues. Both have their plans set but they are not ready to build as, unfortunately, they can not find buyers.
One of the major problems is the fact that the property tax in Atlantic City is unfathomable. It keeps going up and up. Those who are interested in a condo and consider making a purchase find prices could range anywhere up to $1 million and the buyer wouldn't care about that, but when they hear the yearly property tax that the city now has, and it shows no sign of going down, it stops the potential buyer from writing his name on the contract.
At one time, there were six or seven condo buildings ready to be built. And then came 2006 and with it the decline in income and the housing prospects folded. Now there seems to be a little upward tick in the economy and some seem ready to make a purchase. But when they look at the property tax on their unit, unfortunately, they have been turned off.
Pinky's Corner appears every Thursday in The Press. The Pinky's Corner radio show airs 4 to 6 p.m. Mondays through Fridays on WOND 1400-AM. His TV show, "WMGM Presents Pinky," airs 7:30 p.m. Saturdays on NBC TV40. E-mail Pinky at pinky@pressofac.com