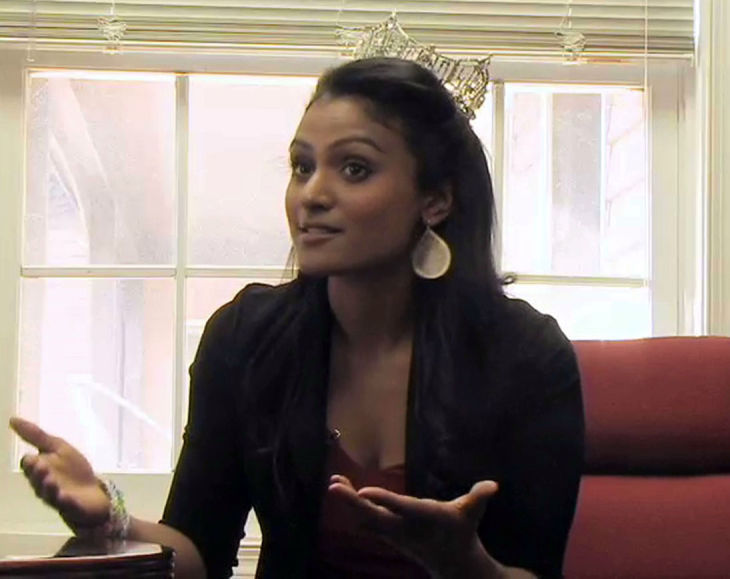 Nina Davuluri, 24, was crowned Miss America 2014 on Sept. 15 at Atlantic City's Boardwalk Hall. She has since traveled the country to promote her platform: celebrating diversity through cultural competency.
Davuluri is the first Indian American to be crowned Miss America and won in the competition's first year back in Atlantic City after an eight-year hiatus. Immediately after her crowning, social media erupted with attacks on her heritage and race. Some even called her a terrorist.
Her poised response to the attacks sparked an international discussion on race. Her pageant platform is based on her experiences facing stereotypes and ignorance about her ethnicity while growing up. Davuluri is also the spokeswoman for Atlantic City for the duration of her reign.
Q: What experiences growing up led you to promote the platform you have chosen?
A: I was born in Syracuse, and my family moved to Oklahoma when I was 4. So I grew up with a lot of stereotypes and misconceptions about my culture. So many people asked me what the red dot (on a forehead) meant, or if I worship cows, or If I am going to have an arranged marriage, and the list goes on. Many of these remarks weren't necessarily meant to be malicious but simply due to the fact of ignorance.
Very often in Oklahoma, I was mistaken for Native American and people would ask "What tribe are you in?" and I would say, "I don't know."
I just remember feeling so left out and disconnected ... so a large part of that stemmed from my own experiences. Those kinds of stereotypes still happen, whether it be a joke, and of course we can all laugh but there is a fine line. I saw (stereotypes) not only toward the Indian community but toward all groups. There was always something, so that's why I chose to promote it.
Q: Do you expect these stereotypes to still be an issue now that you're an adult?
We live in a country that is not as simple as black and white anymore, and that's the reality of the situation. I think people are just afraid of change, but we really need to be educated. And that's what I like about cultural competency: You might not necessarily believe everyone's same belief, but you have to be able to respect them, because you are going to work with different people throughout your entire life. Whether it be business, educational, whatever ... it may be you have to be able to communicate with them in an open and honest manner.
Q: Not many Miss Americas have had to deal with social media feedback the way you have. How did that affect you?
I really didn't have time to process it, quite honestly, because everything happened so fast, you know, it was just interview after interview after interview and so I really just didn't have time to process it, but I think it was because I had dealt with it as Miss New York that I was able to handle it so eloquently as Miss America. I just remember thinking everything really does happen for a reason.
As Miss New York, I was called a terrorist and very similar remarks. I said that in my Miss America interview, and I think that was a very powerful moment that I was able to talk about and open up that discussion. I think that probably resonated with some of the judges, hopefully.
Q: Talk about the first couple of minutes after you had won, when you heard about the tweets. Did you see any of them?
As contestants, we are in Atlantic City for two weeks, and we don't really have our phones with us a majority of the time. We get them back at night for a little while, but we're kind of in our own little bubble the whole time. On the final night, we didn't have our phones and they weren't given to us. So the first thing I did was, when I won Miss America, was go straight to a press conference. And that (Twitter and Facebook comments) was one of the first questions. I had no idea that it was going on, but I wasn't surprised. I wasn't surprised because that is something I had experienced as Miss New York. Those same kind of remarks and statements were made, and I had a feeling that should I win Miss America it would be a similar response. It's ironic because I said that in my Miss America interview, which is a 10-minute long private interview with a panel of seven judges: As Miss New York I was caught off-guard, and now, should I win Miss America, I know how to handle that situation. So for it to have happened right off the bat was ironic.
(Davuluri said she did see the tweets later that night in her hotel room.) For every negative tweet, post or comment, I received hundreds and thousands of words of encouragement and support from, not only Americans, but people across the world.
Q: What are some of the responsibilities or perks of your crowning?
I think more than anything it's been such a huge honor for the Indian community. And I knew this going in, but I just can't express how many people have come up to me and thanked me or called me a hero and view me as this symbol of hope. To have that, that was my moment where I thought to myself, "Wow, this is a huge opportunity, and I have an amazing avenue to promote my platform," and it's a large responsibility.
Q: You've received a tremendous amount of international attention. What does that mean to you?
It's just a huge opportunity. I will be able to travel internationally. Miss America has always been a national icon, a patriotic symbol. But to be able to expand that globally is - it's going to be a great year.
Q: You have already been on the news in the UK and India. Talk about that.
I actually did an interview with Vogue India, and that was my "Oh my goodness" kind of moment. That is so cool! I mean everyone wants to be in Vogue at some point, or at least I did. That was one of my dreams. That was really very surreal.
But it (my crowning) has also sparked discussion in India with racism in India. I feel like everyone just kind of handed me so many things to talk about because (promoting cultural awareness) is something that is near and dear to my heart. To be able to promote that both here and there is just a wonderful opportunity.
(Davuluri has since also been featured in British Vogue)
Q: It seems that even in India your heritage and skin color were an issue because you are not the typical Bollywood icon. Did Indian media pose any kind of questions like that to you?
People were saying that if I were in India it would have been more difficult for me to win Miss India. It is so sad to see that divide within all countries - where this exists - this sort of divide of racism, cultural sense exists. I grew up in an Indian household, and my parents, or my mom at least, bless her heart, would always say, "Don't go out in the sun because you are going to get too dark."
The University of Michigan had a huge Indian population, I have quite a few Indian friends and there would be times where we would take a picture and they would say, "Oh my god, delete that - I look so dark."
That's just something that we grew up with. To finally be able to reach out to all young girls, both Indian and non-Indian. ... There is always something we are trying to attain for this image of what we think is beautiful. Regardless of your gender, your race, your ethnicity, socioeconomic status, anyone can truly follow their dreams, become anything they want - not only Miss America. That is the whole ideal of the American Dream, and that is what I am living right now.
Q: What are you trying to promote about your platform?
Well, my platform is something that I have been working with for a very long time, almost three years now. I think many people just thought I started launching it because of all this, but it was something I've been working on.
When I was a local titleholder - Miss Syracuse was my local title - I started a campaign called Circles of Unity. And I have asked everyone to tweet me pictures or videos or thoughts of cultural awareness and hashtag circles of unity (#circlesofunity). Now I have been able to take that nationally, and the response has been really great, to be able to start a civil discourse discussion, via social media, in a positive way.
Q: What is one thing you have not been asked that you want to answer?
I wish someone would ask me about (my) dog. I miss him so much. My dog's name is Hanuman (the name of a deity in Hinduism). And he is half-retreiver, half-question mark, and he's 13 (years old). He is getting really up there, and I haven't been able to spend much time with him. But my mom believed that if we named him Hanuman, we would get more blessings the more we said his name. But it really backfired because we would be like, "Bad Hanuman" and yell at him all the time.
Most people actually think its "Honey Bun." ... Sometimes I will just, you know, go with it. And then he won't respond, and they'll be like, "What's wrong with your dog?"
Contact Anjalee Khemlani: