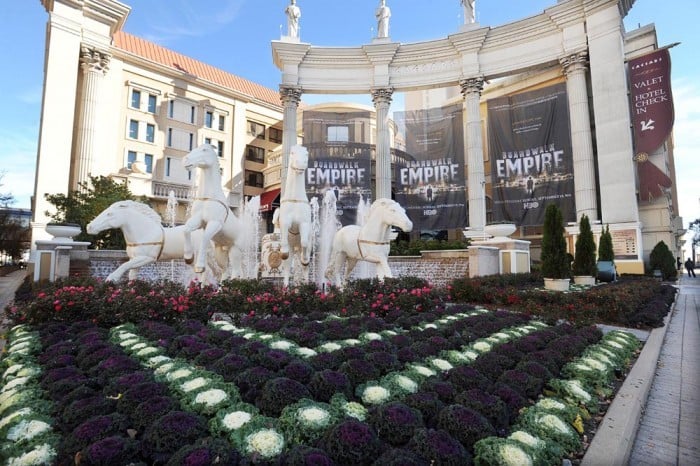 During World War I, the government used military-recruitment posters featuring Uncle Sam's iconic image and the words "I want you." Now, the world's largest casino company is conducting its own recruiting drive to fill its ranks with military veterans at a time when many former members of the armed services are struggling to find jobs in a fragile economy.
The hiring program by Caesars Entertainment Corp. is called Enlisting Heroes.
What began at nine Caesars casinos in Las Vegas early this year will eventually spread across the country to all of the company's casinos, including the four in Atlantic City.
"We're rolling it out for Baltimore, Cincinnati and Cleveland next. Obviously, it will continue to roll through the entire enterprise - 50-plus properties. Atlantic City will definitely be part of that," said Eloise Scavella, vice president of employment and training for Caesars Entertainment.
Nearly 200 veterans have been hired so far in front-line and management positions in Las Vegas, Scavella said. The program is expected to begin next year in Atlantic City, where Caesars Entertainment owns the Bally's, Caesars, Harrah's Resort and Showboat casinos.
Scavella said Caesars is looking to capitalize on skills the veterans acquired during their military service.
"We have a lot of talented people who are becoming available in the work force again," she said. "They have all the traits we go after - loyalty, honor, courage, leadership, accountability, drive, dedication, intelligence and a good work ethic."
Dennis Funtila, a former Marine who served two tours in Iraq, became the first veteran hired under the Enlisting Heroes program. He joined the Flamingo Las Vegas in April as a valet attendant. Three months later, he was promoted to valet shift supervisor.
The 26-year-old Funtila was unsure how he would support his wife and two children when he was honorably discharged from the Marines in January after serving for eight years. He was worried that having only a high school education would hold him back in a competitive job market.
"For me, it was difficult, especially with my experience as a driver in the Marine Corps. Unless I wanted to be a truck driver or a police officer, I knew it would be hard to find a job in the real world," Funtila said.
Funtila's transportation battalion in Iraq often encountered roadside bombs. Funtila, who started as a truck driver and later served as a machine gunner, said leadership skills he developed in the battlefield have helped him in his civilian job.
"I'm using what I was taught in the military, the basic leadership, and applying that here," he said.
Funtila has been serving as an unofficial company ambassador for Enlisting Heroes. The company sent him to Boston in May to promote the program as part of Caesars' efforts to develop a new Massachusetts casino. There, he met Caesars Entertainment CEO Gary Loveman, who later arranged an interview for Funtila with the company's information and technology experts.
While continuing to work as a Flamingo valet supervisor, Funtila attends ITT Technical Institute in Las Vegas to pursue a degree in information technology. He hopes to transition to an IT job at a Caesars Entertainment casino.
Not all veterans have shared Funtila's good fortune in the civilian job market. Figures compiled for August by the federal Bureau of Labor Statistics show a national unemployment rate among all veterans of 6.2 percent, compared with the 7.3 percent jobless rate for the entire country.
However, when the figures are broken down by age groups, some of the veterans are stuck in double-digit unemployment levels. The statistics show an 18.4 percent unemployment rate nationally for veterans between the ages of 18 and 24 and nearly 11 percent for ages 25 to 34. The unemployment statistics for the 18-24 age group are skewed somewhat because more than half of those veterans are enrolled in college on the GI Bill but are still classified as jobless.
The Bureau of Labor Statistics also has compiled figures for 2012 that represent the most complete data available to compare the unemployment levels between veterans and the civilian population. In New Jersey, the average unemployment rate in 2012 for civilians was 8.8 percent, compared with 10 percent for veterans.
Brian Murray, a spokesman for the New Jersey Department of Labor and Workforce Development, said the 10 percent unemployment rate for New Jersey veterans was inflated by 18- to 24-year-olds enrolled in college on the GI Bill.
Chief Warrant Officer Patrick Daugherty, a spokesman for the New Jersey Department of Military Affairs, said any unemployed veteran "is one too many."
"As much as the department does to get the word out on opportunities to help veterans in New Jersey, there are some folks we couldn't reach," Daugherty said.
Overall, Daugherty said the state has strong programs to help veterans find work, including job fairs and the use of social media.
Last year, New Jersey officials launched an initiative, called the Operation Hire a Jersey Hero Symposium, to help veterans transition into the civilian work force. State labor and military groups joined with the business community, led by Prudential Financial Inc., to provide veterans with education, job training and employment opportunities through the symposium series.
Murray said it's not surprising to hear that Caesars Entertainment has a military employment program because many of New Jersey's private companies - small and large - are committed to hiring veterans through job fairs and other initiatives.
"We have fairs in which 70 to 90 employers show up, and many of them are the same companies time and again," Murray said.
Contact Donald Wittkowski: