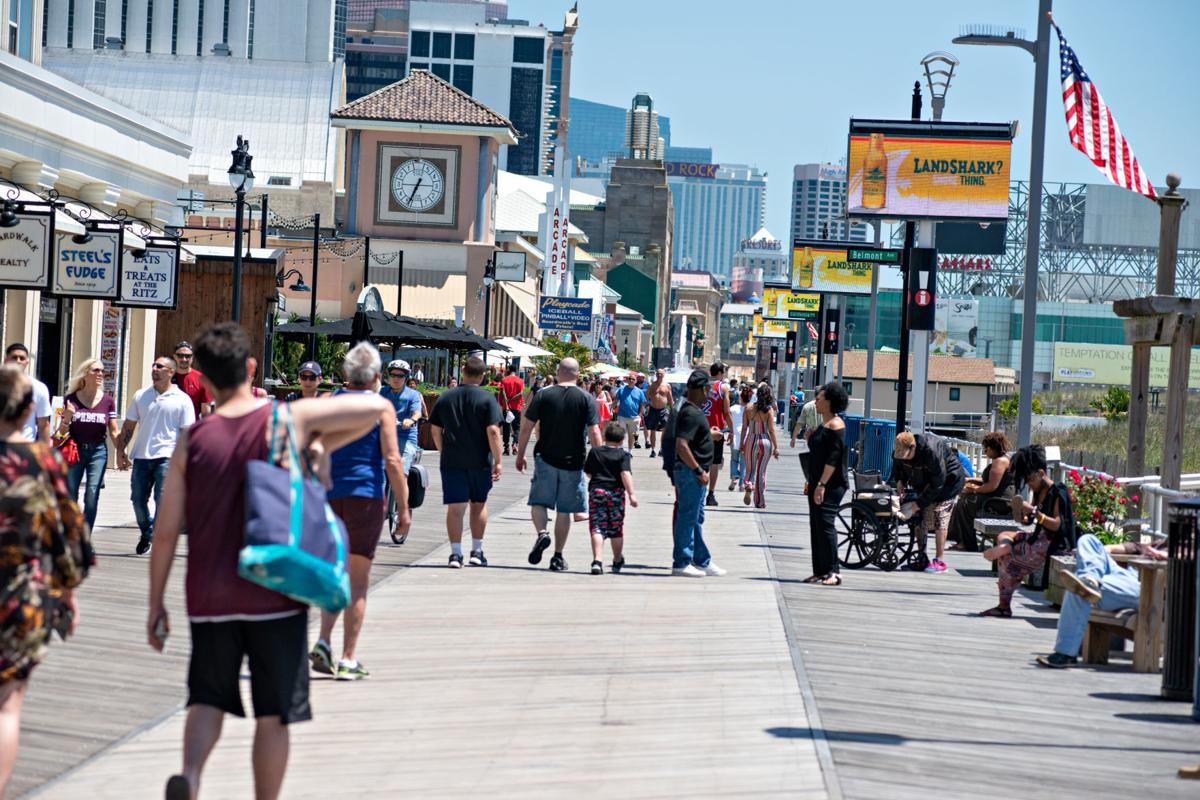 ATLANTIC CITY — The state Senate unanimously approved a bill last week that would allow alcohol to be consumed from open containers on the beach, Boardwalk and other designated areas within the Tourism District.
With the state Legislature about to break for the summer and ongoing budget negotiations preoccupying lawmakers, the bill is unlikely to go into effect this year.
The effort has the support of city government, the Police Department, business leaders and local alcohol regulators, but people strolling the Boardwalk on Monday had mixed reactions to the proposal.
Many were unaware of the effort to allow open containers because they already assumed it was permitted.
"We were walking around (this weekend) with beer and no one said anything or stopped us," said Vinny DiMateo, of Hempstead, New York.
In New Jersey, there is technically no law that explicitly prohibits public consumption of alcohol, but municipalities must adopt an ordinance designating where it would be permitted. The bill in the legislature would designate the Casino Reinvestment Development Authority, which has land-use and zoning jurisdiction over the city's Tourism District, as the agency responsible for crafting Atlantic City's defined area of permitted consumption.
Joe and Amber Weaver, of Greensburg, Pennsylvania, were not in favor of allowing open alcohol consumption on the Boardwalk. The couple was visiting Atlantic City for the first time with their two young daughters and said the idea of people openly drinking on the Boardwalk would be a reason not to return.
"I think for people with kids, it would probably be a deterrent for most," Amber Weaver said. "I don't think we would come back if there's open drinking."
Silvio Ortega, of Branchburg in Somerset County, was also opposed to the idea because of his children.
"I don't want my kids seeing that," he said, while listing off behaviors such as public urination, vulgarity, lewdness and littering. "If they actually want to make Atlantic City a place for families, this is a terrible idea."
Others thought that while a few bad actors were likely, the majority of adults would be able to consume alcohol in public without any issue.
"Why can't I take a walk at night on the Boardwalk with a beer or something?" asked William Howell, of East Orange in Essex County. "The trouble-makers are going to cause trouble whether or not it's legal. So, I don't see it as a big deal."
Christina Vargo, of Bucks County, Pennsylvania, said she supported the idea of allowing open containers because it would free up people to move between casinos and other bars along the Boardwalk without fear of breaking the law.
"Atlantic City is a place for grown ups to do grown up things," she said. "My friends and I, we like to bar-hop when we go out, so I think it's a good idea."
Atlantic County's state legislators — Republican Sen. Chris Brown and Democratic Assemblymen Vince Mazzeo and John Armato — are sponsors of the companion bills in their respective legislative chambers. The three lawmakers have all said the idea is a way to spur business and visitation to the city.
Tom Forkin, chairman of Atlantic City Alcohol Beverage Control, has been pushing the idea of permitting open containers for several years. On Monday, Forkin said he was frustrated that an idea that has both bipartisan support and local backing might not happen this summer.
"Those people in Trenton couldn't hit water if they fell out of a boat," he said about the Legislature's inability to pass the bill in a timely manner.
The Senate passed the bill on June 20 by a vote of 37-0. The bill was then referred to the Assembly Oversight, Reform and Federal Relations Committee, which does not have another scheduled meeting before the legislative recess.