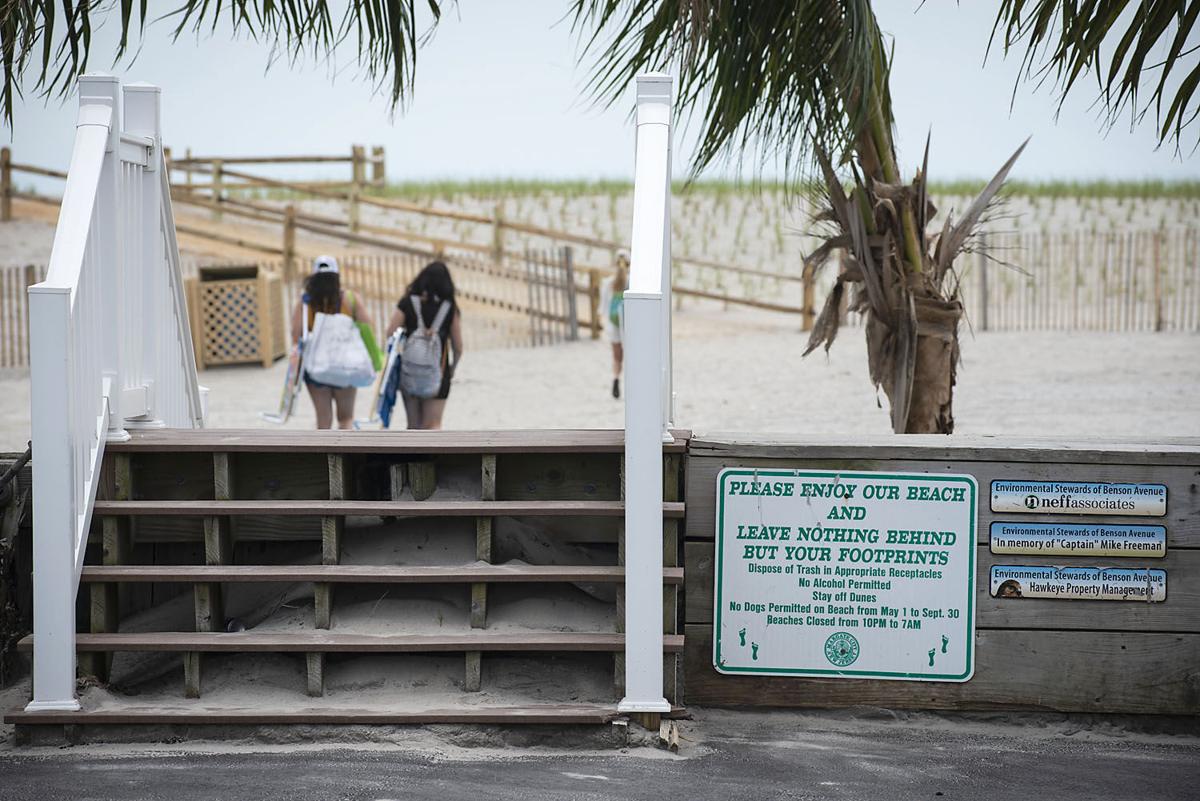 Shore towns prep for new fight over beach access rules
{child_byline}AVALON ZOPPO
Plant your beach chairs onto the South Coolidge Avenue beach in Margate on a summer holiday, and you'll have to trek a little more than a mile to the nearest, permanent public bathroom, at Library Park.
Ready to pack up and go? The walk back to your car could be a hike, depending on where you found street parking.
Now, the state Department of Environmental Protection is once again meeting with stakeholders to look at beach access regulations and whether to impose bathrooms and parking spot requirements for towns, Department of Environmental Protection Commissioner Catherine McCabe said at an event last week.
But shore communities are opposing what they call a "one-size-fits-all" approach to making waterways open to everyone and the financial burden it could impose on taxpayers.
"We have not done a good job in the northeast or here in New Jersey of guaranteeing the right to have both physical and visual access to waterways," McCabe said at a conference at Stockton University in Atlantic City last week. "We have a long road ahead, but we need to work fast on it."
Earlier this year, the state Legislature passed a bill codifying the Public Trust Doctrine, which, since the days of the Roman Empire, has established the people's right to enjoy waterways along the coastline.
Since then, multiple municipalities in Atlantic and Cape May counties have passed resolutions against the law, arguing they are best able to determine how to make their beaches easy to visit.
"Every community is different," Margate Mayor Michael Becker said in April. Margate and Longport both passed resolutions urging Gov. Phil Murphy to veto the legislation, though it ultimately became law.
Roger McLarnon, Margate's zoning officer, said carving out space on the already highly developed island could be logistically difficult. Offering public bathrooms on street ends near access ramps may create parking issues, lack of privacy for homeowners in those areas and maintenance problems. The cost of such additions, he said, would likely be borne by residents.
Currently, towns are required to submit annual beach access plans to the DEP, outlining access amenities available to the public. If municipalities don't submit those plans, they face sanctions.
"It appears to me that (the DEP) wants to treat developed areas the same as a state park," McLarnon said. "They are not the same. ... Logistically, it's an unfair burden."
Meanwhile, environmental groups are praising the possibility of new rules, which would make the Jersey Shore more open to day-trippers and vacationers.
Jeff Tittel, president of the New Jersey Sierra Club, argues some towns want to treat their beaches as private property for residents, singling out Deal in Monmouth County and Long Beach Township in Ocean County.
"Too many communities want our money, but they don't want us on their beaches. We need to make sure that the stakeholder process is open and fair and requires access since the law itself is weak and does not require it," Tittel said in a statement.
Under Gov. John S. Corzine, the DEP tried to require public access points every quarter-mile and public bathrooms in communities that accepted government funding for beach replenishment projects.
Those proposals were struck down in court in 2008. Avalon, where there's a 90-car capacity lot on 30th Street, was among shore towns across New Jersey that sued the state agency and won.
McCabe characterized any upcoming rule proposals as "sensible." DEP spokesman Larry Hajna declined to give specifics but said the agency is discussing rule changes that will "ensure robust public access to the state's tidal shorelines."
"We've got lots of people from urban areas who could come and enjoy our beaches as well. … It will not be an easy time," McCabe said. "We're all very, very attached to our beaches, and our beaches the way they are."