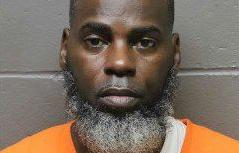 MAYS LANDING — A Newark man was sentenced Friday to 14 years in state prison for assault in a New Year's Day incident in the Golden Nugget Casino parking garage, Atlantic County Prosecutor Damon G. Tyner said.
About 1:25 a.m., officers arrived on the fourth floor of the parking garage to find Raymond Rivera, 25, lying near a wall with multiple lower-body injuries, Tyner said. A vehicle with "extensive" front-end damage was nearby, Tyner said. Rivera was taken to AtlantiCare Regional Medical Center, City Campus, and underwent surgery for two broken legs.
Witnesses told investigators Rivera reached into the car and punched Michael Garland, 46, who was seated in the driver's seat, Tyner said. Witnesses said Garland hit the accelerator when Rivera walked in front of the vehicle and continued driving after hitting the man, pushing him into the side of a parked SUV, Tyner said. Garland then ran from the car into the casino, Tyner said.
He was approached by security personnel inside and told them he assaulted Rivera because he was in fear for his safety, Tyner said. A field sobriety test determined Garland's blood alcohol level was .11%, Tyner said.
Garland was convicted of aggravated assault, for which he will serve nine years with an 85% period of parole ineligibility pursuant to the No Early Release Act, endangering an injured victim, for which he will serve 5 years, as well as assault by auto while driving intoxicated and causing serious bodily injury while driving with a suspended license.
Contact: 609-272-7260
Twitter @ACPressColtShaw
Be the first to know
Get local news delivered to your inbox!