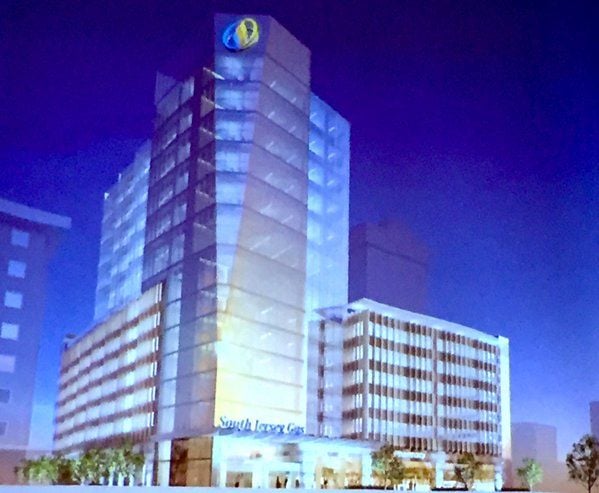 A Stockton University satellite campus, a new South Jersey Gas headquarters and an 886-space parking garage will open in Atlantic City in late 2018, the head of a recently formed nonprofit development group said Thursday.
The $121 million campus for as many as 1,800 students will include classrooms and a 500-student oceanfront dormitory, said Chris Paladino, an attorney who heads AC Devco, a nonprofit that wants to use a $210 million mix of public and private money to redevelop land at the foot of Albany Avenue and stoke job growth and spending in the city's reeling economy.
"This is not flashy. This is meat and potatoes," Paladino said after presenting the plan at a New Jersey State League of Municipalities forum in Atlantic City.
If completed, the project would at least triple the assessed value of the now-vacant land and constitute the biggest boost to the property-tax base here since Revel Casino Hotel was built, Atlantic City Mayor Don Guardian said. The total assessed value of Atlantic City properties, about $20.5 billion in 2010, is now about half that, largely due to casino closures.
Stockton University may soon sell the former Showboat Casino, but it will still own a small …
"This was the best site from the very beginning," Guardian said, alluding to Stockton University's tortuous and aborted attempt to open its Island Campus at the former Showboat casino-hotel. "If you took all of Atlantic City and said, 'Where would I like to build a university? ... This would be it," he said.
Stockton interim President Harvey Kesselman said in a statement that the university is working closing with AC Devco, Atlantic County, the Casino Reinvestment Development Authority and Atlantic City to expand the university's presence in the city.
"We believe this to be in the best interests of our students and the region in creating educational options and opportunities," Kesselman said. "Right now we are still in the process of lining up the financial partners to make this project a reality, and hope to finalize this in the near future."
In May, AC Devco bought the land — about 9.5 acres, including the site of the old Atlantic City High School — for $9.5 million from a Goldman Sachs affiliate. In July, CRDA approved a redevelopment plan to allow the university and corporate headquarters at the sites and committed $2.5 million in seed money to get AC Devco up and running.
GALLOWAY TOWNSHIP — Tower Investments will pay an additional $1 million and cover Stockton U…
The firm is modeled after the New Brunswick Development Corp. — also headed by Paladino — which claims to have overseen $1.6 billion in public-private investment for projects in that city, including a hotel, government offices and apartment buildings. AC Devco's four-member board of directors includes Paladino, business mogul Finn Wentworth, Jon Hanson — Gov. Chris Christie's adviser on Atlantic City matters — and Robert Holmes, who directs the Community and Transactional Lawyering Clinic at Rutgers School of Law in Newark.
Characteristic of nonprofit development firms in other parts of the United States, the plan detailed by Paladino on Thursday requires the firm to stitch together an intricate patchwork of public and private financing, including: $44 million from South Jersey Gas; $17 million in CRDA funds previously committed to Stockton University; subsidies from the state Economic Redevelopment and Growth Program; bond debt; and a private equity investment.
Several state colleges have used public-private partnerships to expand and spur development, including The College of New Jersey, Montclair State and Rowan University. The partnerships are viewed as especially effective for student housing - a priority of late for Stockton, which this year is housing more than 100 students in an off-campus hotel.
GALLOWAY TOWNSHIP — Stockton University's sale of the former Showboat casino to Philadelphia…
Stockton bought the former Showboat casino-hotel for $18 million in December 2014, but after a dispute with a neighboring casino over a deed restriction, decided against using it as a campus and privately run hotel. The college is spending about $400,000 per month in operating costs for Showboat, using money from the university investment fund while it pursues a sale to Philadelphia developer Bart Blatstein. That sale was expected this fall but has been postponed to January.
A spokesman for South Jersey Industries, parent of South Jersey Gas, on Thursday said there are no plans to vacate South Jersey Industries' Folsom headquarters.
Staff writer Tyler Tynes contributed to this report.