LOWER TOWNSHIP — Each night around midnight, Wayne Roop goes out to the weather station in his side yard.
It's a scenario that happens on occasion in Cape May County: You're sitting on the beach and…
Wandering into the night, the 72-year-old, who works at Paul's Refrigeration Service in Cape May, opens the white instrument shelter to record the high temperature, low temperature, snowfall, 24-hour precipitation and soil temperature.
It's been Roop's near-daily ritual since 1975.
Roop is one of nine observers of the Cooperate Observer Program (Coop) in Cape May, Atlantic, Ocean and Cumberland counties. Coop observers make up the nation's premier volunteer weather network.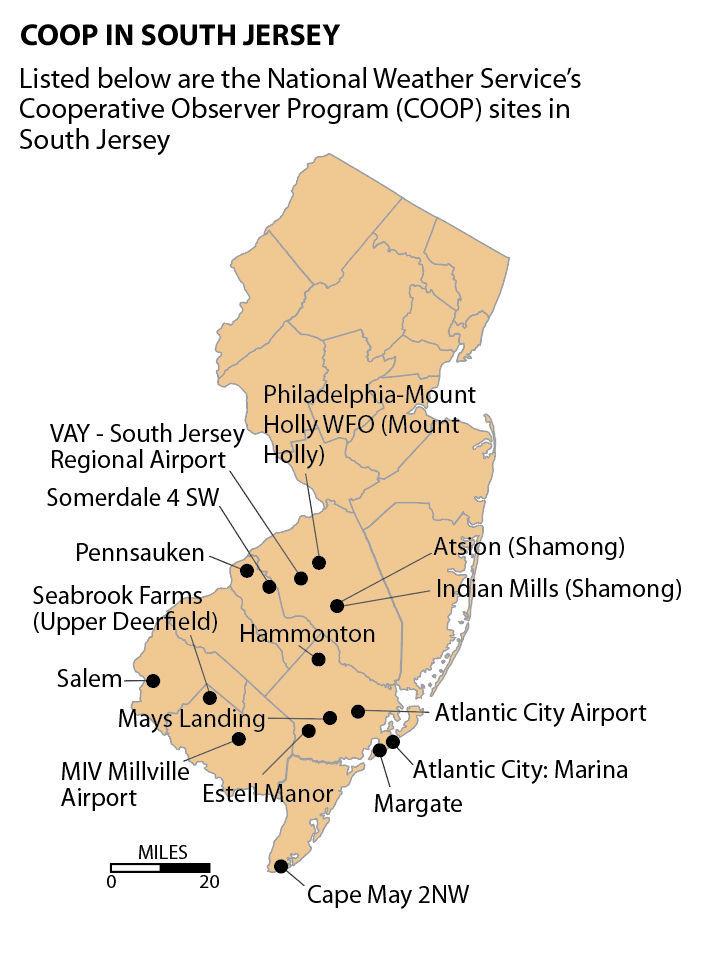 To honor his longstanding observation achievements and involvement in the community, the National Weather Service presented Roop with the John Campanius Holm Award on Monday after winning it in 2017. Holm was the first person known to have taken regular weather observations in the American colonies.
The award is one of only 25 that can be issued in a given year to the more than 8,700 Coop observers.
"It doesn't happen often, so when you have the opportunity to give somebody an award of this magnitude, it's really special," said Valerie Meola, meteorologist and Coop team leader for the National Weather Service in Mount Holly.
To earn the award, the local National Weather Service submits nominations for certain people they believe would qualify. The winners are then chosen on the national level. The highest award honors are the Thomas Jefferson Award and the Holm Award.
Pick a sunny August Sunday, any one, at around 6 p.m.
There are only two active Jefferson or Holm Award winners in South Jersey: James McKay, of Estell Manor, who won the Holm Award in 1996 and the Jefferson Award in 2014, and Roop.
"We always like to honor our own. We're proud of Wayne and his contributions to the Coop program," Lower Township Mayor Erik Simonsen said at the ceremony.
Roop has observed the weather on a nearly consistent basis since 1975, the third-longest active observer in New Jersey. After taking his observations around midnight, they get sent to the local National Weather Service, then to the National Centers for Environmental Information, where they become part of the climate record.
Roop did not volunteer himself for these nightly vigils willingly.
"I knew the observer before me. When I got out of the Air Force and went to say hi to him, he said, 'One of these days I'm going to give it up, and I want you to take it over,'" Roop said.
Still, weather observing has been in his family.
"My grandmother used to measure rainfall. I have some diaries from my great-grandmother, Laura Little, from the 1930s. They were in West Cape May," Roop said.
Roop then proceeded to pull out a tiny book. The browned pages show the high and low temperatures for each date during June 1932. An old newspaper clipping headlined "mercury in the eighties" was attached.
On the rare day when he has to miss an observation, he has plenty of help. He has three children from his first marriage and three grandchildren between his first and second marriages.
"There's been a couple of dozen days where I've missed, but it wasn't my fault. Almost every day I'm out. When I can't make it, my first wife did it. A friend of mine has done it, a friend of my kids' has done it," Roop said.
In the past, Roop also submitted weekly observations to area publications, part of the reason he received the award.
"We're looking for people not just recording the weather but being involved in the community as well," said Chris Stachelski, observation program leader for the Eastern Regional Headquarters of the National Weather Service in Bohemia, New York. The ERH oversees the weather forecast offices from Georgia to Maine.
Roop said Hurricane Sandy was the most notable event for which he has taken observations.
"Sandy was the biggie. I never saw it rain that long for that hard since I've been taking observations. It was just over 10 inches," Roop said.
This story was updated to change the year Jim McKay won the Holm award from 2006 to 1996.