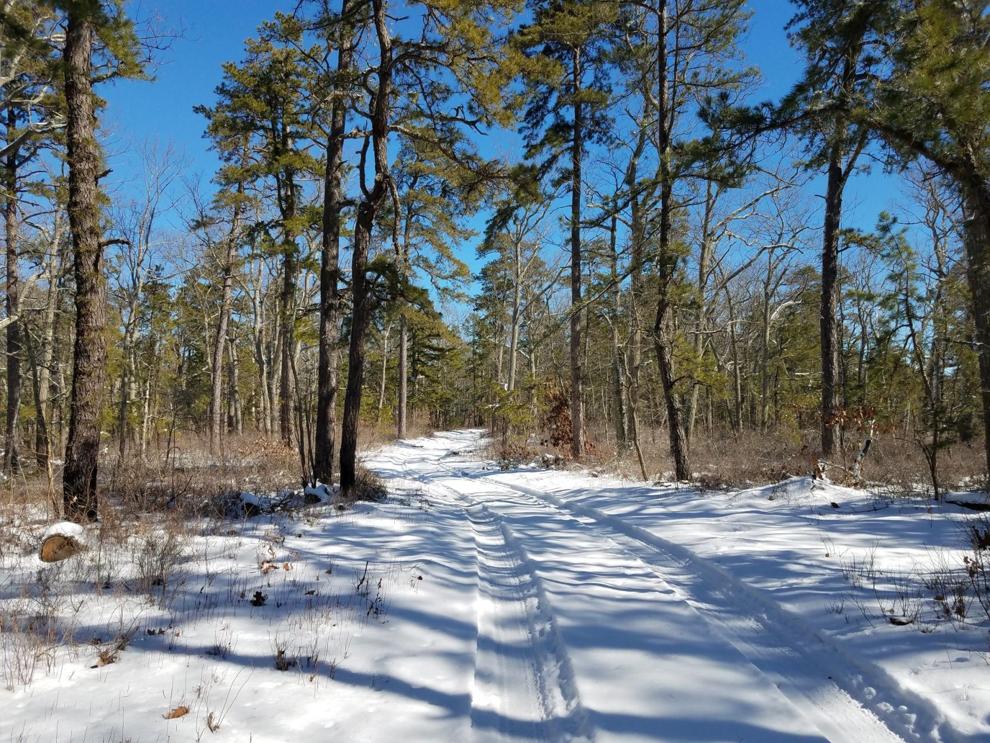 Between 1970 and 2019, South Jersey has seen its largest amount of warming during the winter. That has meant everything from better blueberry growing seasons and less heating demand to a longer mosquito season, insect infestation and continued sea level rise.
According to Climate Central, a nonprofit based in Princeton, temperatures in South Jersey have risen 4 degrees from 1970 to 2019 during climatological winter, which runs from December to February. That's nearly twice as much of an increase in temperature as spring, summer and fall, which all are clumped around a 2.5-degree range.
"In most areas east of the Rockies, winter is the fastest warming of the four seasons. Colder things tend to warm more than things that are already relatively warm ... whether that be a season (winter) or a location (the Arctic)," said Sean Sublette, a meteorologist for Climate Central.
The recent jumps in temperature have meant changes in our natural world. According to Climate Central, about 18 more days per year were prone in 2017 to have mosquitoes in southeastern New Jersey than in 1970 due to warmer weather extending into the fall, and spring fever occurring earlier. In a similar vein, less extreme cold during the winter means the Southern pine beetle, an invasive, damaging forest insect, can flourish, harming the Pine Barrens. According to the New Jersey Department of Environmental Protection, having temperatures below 0 or, ideally, below -10, are needed to safely keep them away. That has become less and less frequent. In Hammonton, a night below 0 degrees could be expected a little more than once a season when records started in 1893. Since 1995, there has been less than a 50% chance of that happening per winter.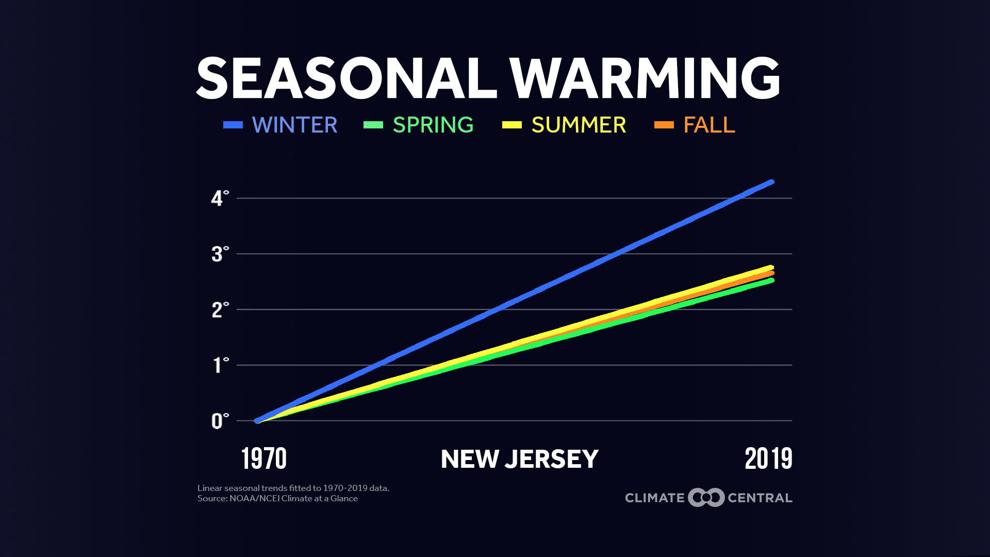 "We're going to have really big problems with the Southern Pine Beetle if this keeps up. It's the most economically damaging forest pest species in the country," said Bernie Isaacson of the NJDEP. "Our forests are perfectly primed to have a big outbreak."
On the other hand, the warmer winters may have had an overall positive impact on the most famous aspect of the Pine Barrens, blueberry farming, according to Gary Pavlis, agriculture and natural resources county agent II at the Rutgers New Jersey Agriculture Experiment Station in Mays Landing. And it's not just blueberries — grape-growing and wineries are helped by the more temperate climate, said Pavlis, who has played a role in the growing industry by giving advice on best practices to farmers who wanted to switch to grape growing.
"The number one thing to consider what you can grow are winter temperatures," Pavlis said.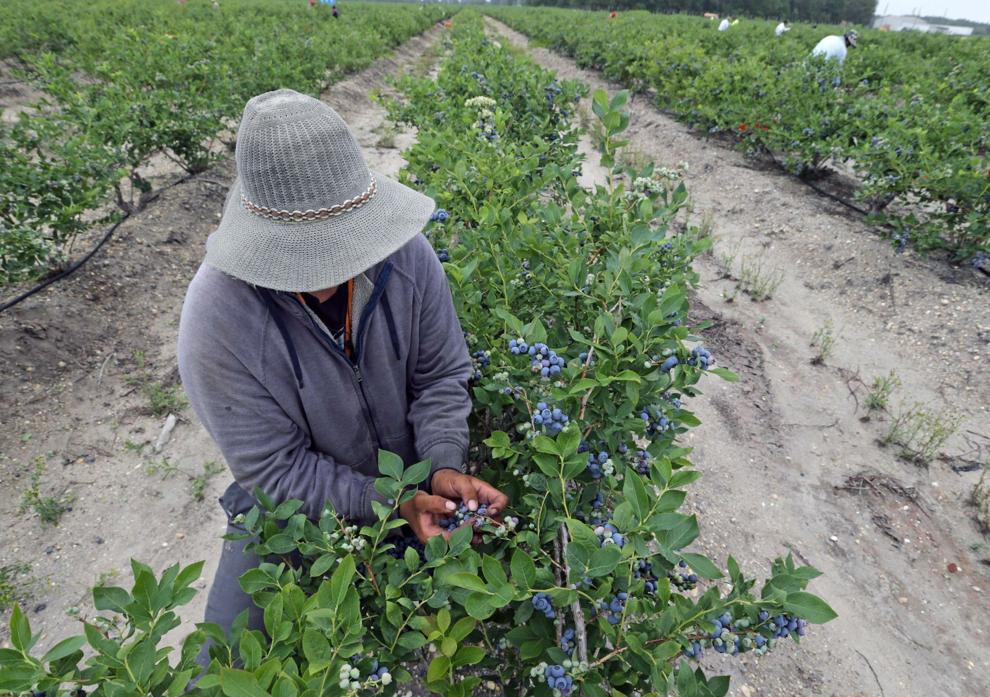 For blueberries, the ability to keep plants healthy through the winter is based on "chilling hours," a formula that takes into account hourly temperatures throughout the year. Temperatures between 36.4 and 48.5 degrees produce the most chilling hours, which are beneficial to growing blueberries. While there are other factors involved, about 1,200 chilling hours are needed to sustain the crop.
"Most of it has been positive. ... Most of the varieties still get their amount of chilling hours. We don't seem to get the winter kill as much. As far as the berries, the season has been getting earlier and earlier," said Adam Paulszak, president of A.G. Ammon Nursey in Chatsworth. Paulszak has been at the family-owned business since 2002.
There is a downside. While warmer winters mean buds break earlier, the potential for frost in April or May has not. In fact, one farmer says it's been getting worse.
"The only difference we've seen is that we've had very late frosts over what we used to have normally. We had a frost on May 21; I've never seen that before. ... If you can get from April to Memorial Day (without a killing frost), you're in good shape," said Don Piper of Piper Farms in Southampton Township, Burlington County.
Piper said he's seen three such occasions in 15 years, accounting for 20% of crop loss. After New Jersey experienced its sixth warmest winter in 2019-20, according to the Office of the New Jersey State Climatologist, the state was below average in April and May. That includes a May 13 that brought sub-freezing temperatures to parts of the Pine Barrens.
"That schedule (for growing blueberries) has been more disruptive in the past couple of years," Piper said. "Every farmer can relate."
More extreme weather has been noted in recent decades. Sublette said there is strong evidence to suggest the jet stream, the river of air about 30,000 feet in the sky, has gotten wavier, moving more north and south. However, the data on the jet stream's waviness is inconclusive.
Ocean temperatures are rising, providing more energy to coastal storms. That can also translate to heavier snow in an individual storm when it is still cold enough, Sublette said.
Between 1990 and 2020, Atlantic City International Airport averaged 17.3 inches of snow, more than the 16.2 inches averaged from 1948 to 1978. While there's still only a 1-in-4 chance of 10 inches or more of snow in a day in a given winter, the frequency has increased slightly in recent decades.
The warmer oceans also have continued the trend of more frequent coastal flooding events. In Atlantic City, sea levels have risen an inch about every six years, according to a 2014 National Oceanic and Atmospheric Administration report. Coastal flooding was six to eight times as frequent per year between 2010 and 2015 compared to the period from 1950 to 1969. While stronger nor'easters bring more significant coastal flooding, the nuisance flooding, minor flood stage, is also more frequent.
"While climate change and sea-level rise are seen as political terms, when people see 2 feet of water on their front yard, they want to know how to get rid of it. Every community knows that they have issues," said Tom Quirk, director of the New Jersey Coastal Coalition, a nonprofit focused on finding solutions to tidal flooding that formed after Superstorm Sandy in 2012.
With many shore homeowners at their primary residence during the winter, well away from the water, educating people on the risks nor'easters bring to coastal flooding is as important as alerting them to pending threats, Quirk said. One way to do that is to provide a clearinghouse of community websites that provide information on storm protection and other coastal issues.
"The smart ones (communities) are working on this daily. They have newsletters and emails," Quirk said.
By 2040, Atlantic City will have a 12% likelihood of a flood more than 4 feet above the current high tide line, or just below the highest tide of Sandy. By 2060, it shoots to 53% and will reach a full 100% in 2080. Last year bore a 4% annual risk. Those risks are based on carbon emissions continuing at a moderate pace.

As far as overall comfort, South Jerseyans may still need to flock to Florida to escape the winter cold for the foreseeable future, but perhaps not for much longer.
"By 2050, I would say (South Jersey's winters will be) more like Ocean City, Maryland, or Nags Head, North Carolina. By 2100 ... more like coastal Georgia, or even Florida. It depends on how much we cut emissions in the next 30 years," Sublette said.
{div class="_rp_g"}{div class="_rp_h ms-font-color-neutralPrimary ms-font-l ms-font-weight-regular"}Contact Joe Martucci: 609-272-7247
Twitter: @ACPressMartucci{/div}{/div}