What does the winter look like in South Jersey? We asked two experts
La Nina, October Siberian Snow Cover an the polar ice caps all will play a huge role in determining what the winter will be like in South Jersey. After a below average snow season and seasonable winter temperatures, Meteorologist Joe Martucci talks to two seasonal forecasters to see what our fate might be.
New episodes of the Something in the Air podcast and video can be found on the first and third Wednesdays of the month on www.pressofac.com or wherever you get your podcasts!
WATCH NOW: The 2021-2022 Winter Weather Outlook
Support South Jersey Local Journalism at The Press of Atlantic City
LISTEN NOW: The 2021-2022 Winter Weather Outlook
Winter forecast a bit more bullish on NJ snow, cold than recent years
After record low snow in winter 2019-20 as well as a mild winter in 2020-21, this upcoming winter has a higher likelihood of at least reaching the typical snow totals and cold South Jersey is accustomed to seeing.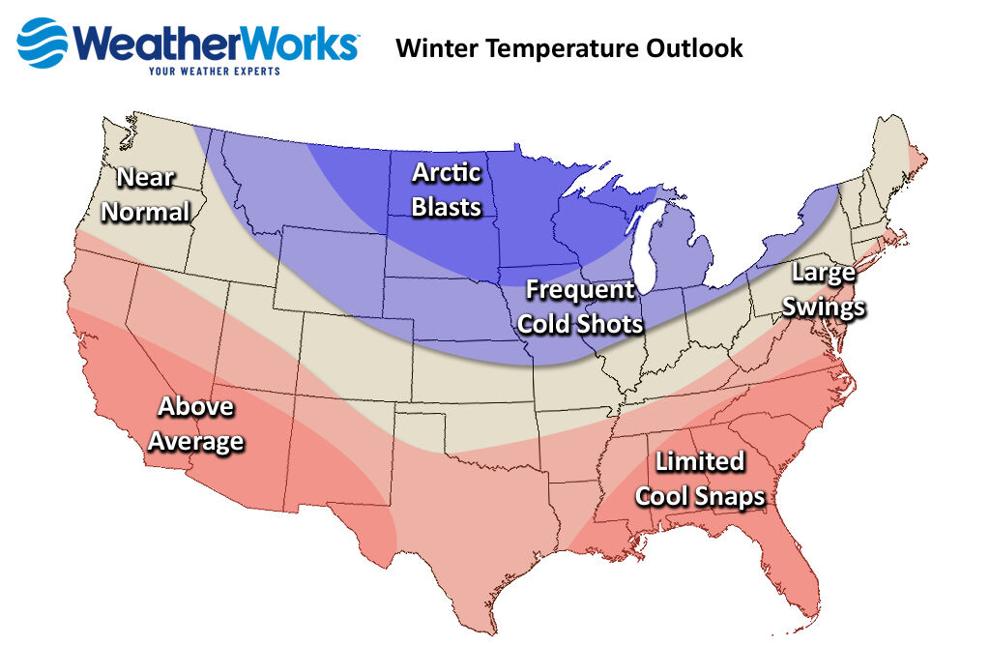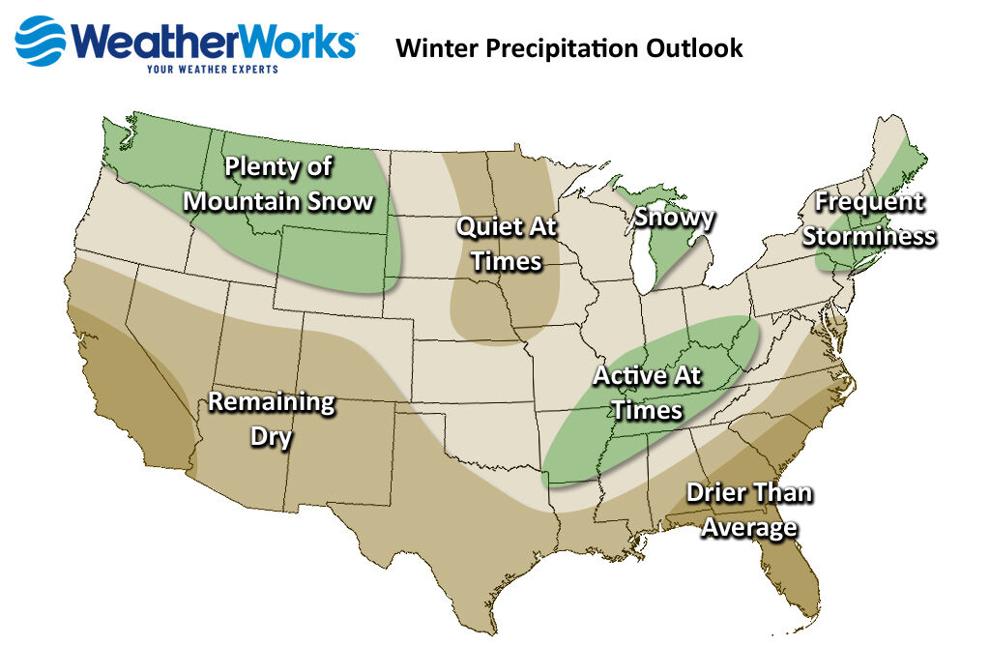 "I am optimistic that this winter won't be a repeat of 2011-12 or 2019-20," said Jim Sullivan, chief meteorologist at WeatherWorks, a meteorological consulting company in Hackettstown, Warren County, citing two mild and snowless winters.
"I'd lean near normal temperatures but with a lot of swings," Sullivan said. "I think when it gets cold, it gets legitimately cold and we'll have a fairly active pattern."
"Early on it (winter) looks great. ... Not so great if you like your winter mild, not wild," Cohen said.
On average, South Jersey averages 17.4 inches of snow at Atlantic City International Airport, 14.8 inches in Lower Township and 11.8 inches in Upper Deerfield Township. Average low temperatures dip below the freezing mark from early December to mid-March on the mainland, on average, while the moderating influence of the ocean means the shore averages lows below 32 degrees only between late December and mid-February.
For the second winter in a row, the globe is in the La Niña phase of the El Niño Southern Oscillation. El Niño is one of the most important climate phenomena on Earth, caused by waters along the Equatorial Pacific Ocean being above (El Niño) or below (La Niña) average temperatures.
The winter of 2020-21 will likely take a page from the warm and nearly snowless playbook of …
"Typically in a La Niña, the cold dumps into the northwestern United States and into the Upper Midwest," said Sullivan, leaving the Mid-Atlantic on the mild side.
La Niña is broken down into three phases: strong, moderate and weak. This winter, a weak La Niña is expected, according to Cohen and Sullivan.
"It's a factor this winter, but it might not dominate the pattern," Sullivan said.
That opens the door to other factors influencing winter. One such factor is blocking of the polar jet stream, the river of air roughly 30,000 feet high that separates cold from seasonable air. When blocking occurs, the jet stream buckles, running more north to south than its preferred west-to-east motion. If the polar jet stream dips southward into the Mid-Atlantic, frigid air from Canada rushes in, and the potential for snow increases as well.
Winter is the fastest warming season between 1970 and 2019, according to ClimateCentral, a Princeton-based nonprofit news organization that reports on climate science.
The National Weather Service has three main tools at their disposal to alert you of weather …
"With climate change, I believe it's really tough to get a period of severe winter weather without the polar vortex," Cohen said.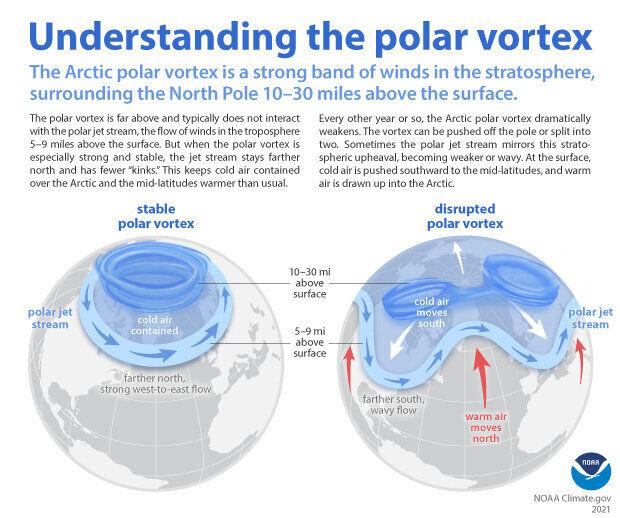 The polar vortex is a strong band of winds in the stratosphere that can surround the North Pole 10 to 30 miles above the surface. When the polar vortex is weak or split, the potential for blocking and buckling of the jet stream greatly increases. If that dip in the jet stream is south of New Jersey, the likelihood for snow and cold increases.
"Signs so far this fall point to maybe some blocking this year," Sullivan said.
Despite those conditions conducive to snow, a few factors could temper this winter's weather.
For example, the extent of the snow cover in the Siberia region of Russia during October is often an indicator of the severity of winter in the Northeast United States, Cohen said. Siberian snow has been on the low end dating to 2009, likely leading to a stronger polar vortex, with less blocking.
Between 1970 and 2019, South Jersey has seen its largest amount of warming during the winter…
Research championed by Cohen suggests that the quicker the advance of Siberian snow cover in October, the more likely it is for snow and cold in the Mid-Atlantic and Northeast. This is because the colder, snowier Siberian surface strengthens high pressure over that region, which weakens the polar vortex and puts the Arctic Oscillation into the negative phase. When the Arctic Oscillation is negative, the blocking is more likely.
Furthermore, sea surface temperatures along the Jersey Shore have been running well above average. As of Oct. 21, water temperatures in Sandy Hook, Atlantic City and Cape May were five to seven degrees above average, more typical for Virginia. If waters stay warmer than usual, that tips the scales for a winter storm to be more wet than white for southeastern New Jersey, as any wind from south to northeast blows in the mild ocean air.
However, snow lovers can rejoice in the low amount of sea ice in the Barents-Kara seas, off the northern coast of Russia.
"I think that is an early sign of possibly more severe winter weather," Cohen said.
One part of producing the winter forecast includes looking at previous years, known as "analog years" in which conditions leading up to winter are similar to what has occurred this year. Sullivan and his team at WeatherWorks look at late summers and falls that have behaved similarly to 2021's to see how those winters fared, in order to predict this winter.
"The analog years were very boom or bust in the Atlantic City area, and the determining factor was if there was block," Sullivan said.
WeatherWorks analyzed 13 years. One was just last winter, which saw a near record snowstorm in the northern half of the state from Jan. 31 to Feb. 3, but barely any to the south. Instead, South Jersey saw days of coastal flooding and rain. Snowfall during the 2020-21 season was generally below average in southeastern New Jersey, ranging from 2.3 inches in Lower Township to 7.3 inches in Egg Harbor Township. A few places, like Folsom (18.7 inches) were above average.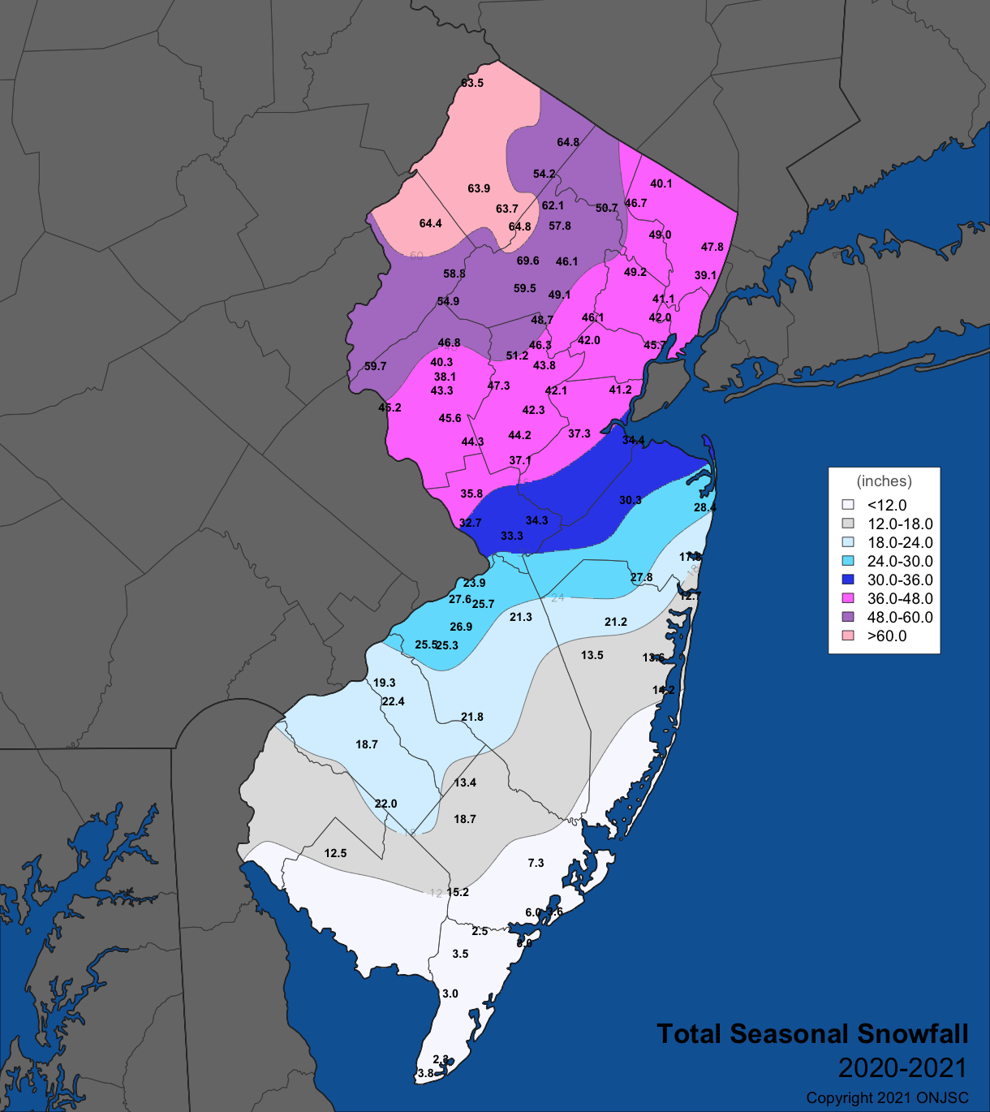 The winter of 2017-18 is another analog year that featured blocking, sending the jet stream south of New Jersey. An early January snowstorm brought 12 to 18 inches to much of the Jersey Shore, with four consecutive nor'easters in March.
Yet another was 2011-12, which saw southeastern New Jersey's last snow Feb. 11 and well below average snowfall. March 2012 was the warmest March since records started in 1985.
"I don't want to say that you'll get a 2017-18 or 2013-14 (cold and snowy) repeat, but I am optimistic that it won't be a 2011-12 or a 2019-20 (warm and not as snowy). I'd lean near normal temperatures but with a lot of swings," Sullivan said.
And if those cold temperature swings coincide with a storm system, South Jersey will have the ingredients for a winter wonderland.