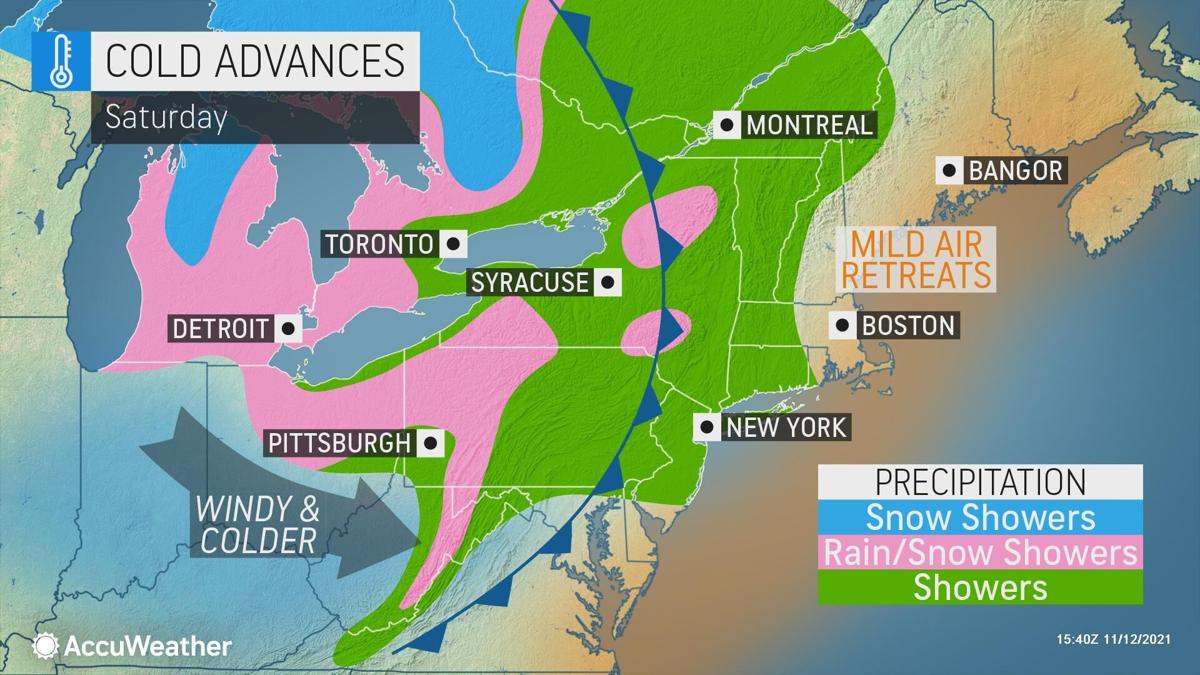 "What goes up, must go down"
That works for gravity, and it will work for the thermometer this weekend. After warm air continues into Saturday morning, temperatures will crash back down to reality for mid-November, and beyond that, as we go deeper into the weekend.
Nov. 19 Update: The mostly cool week did provide a spark with vibrant foliage seen in spots.…
Temperatures Saturday morning will start out in the mid-40s for Richland and the inland spots. Meanwhile, Stone Harbor and the shore will be in the low 50s. We'll have a good amount of sunshine.
As the day wears on, though, clouds will build in. A piece of vorticity, or spin in the atmosphere that creates rising motion, will swing through midday. Between 1 to 6 p.m., a 30- to 90-minute line of rain will move through New Jersey. For our region, it's not a guarantee that we will even see rain, especially if you are in Cape May County (thank you, Cape May Bubble). However, if you do get this brief shot of rain, expect between 0.10 to 0.25 inches, highest north of the White Horse Pike.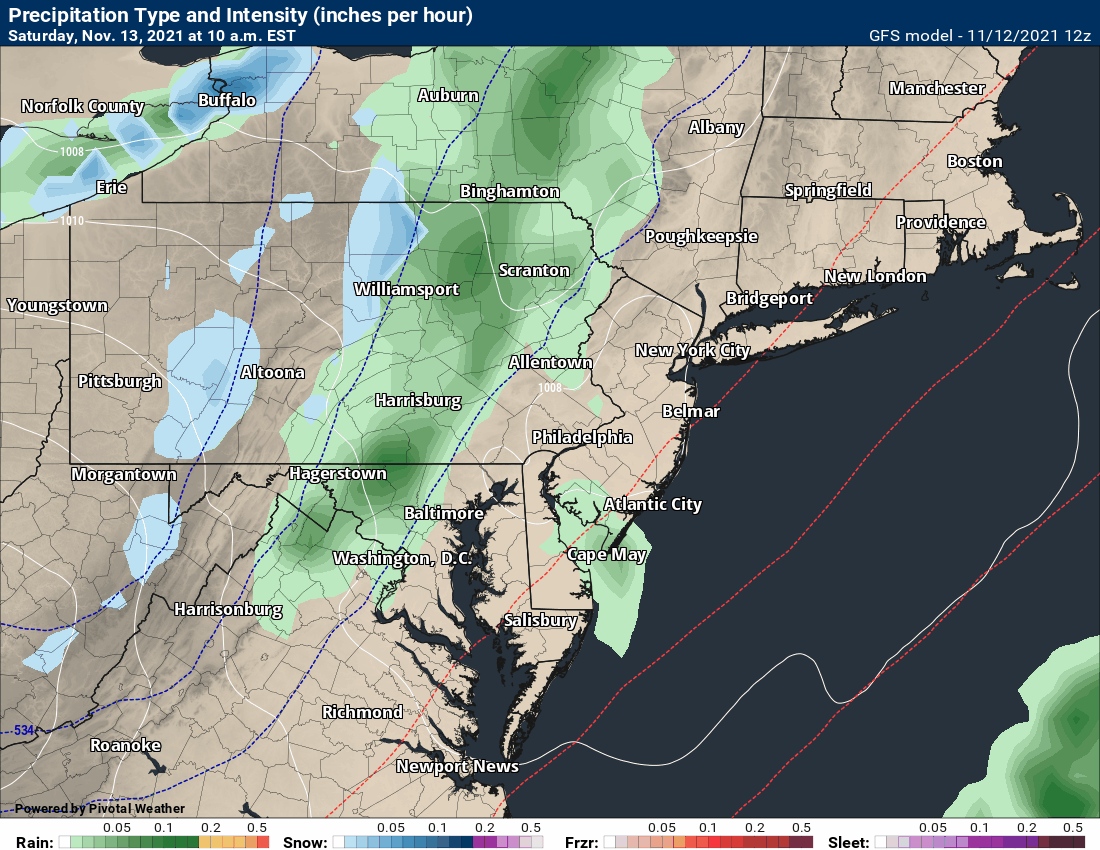 Winds will pick up out of the northwest during this time, sustained at 15 to 20 mph. Gusts in the 30s will be likely, tapping into a vast pool of cool air from the Arctic. You'll likely be sitting at 60 to 65 degrees at 1 p.m., only to be in the upper 40s by 4 p.m. If you're going to be out all day, bring the cold-weather clothes with you.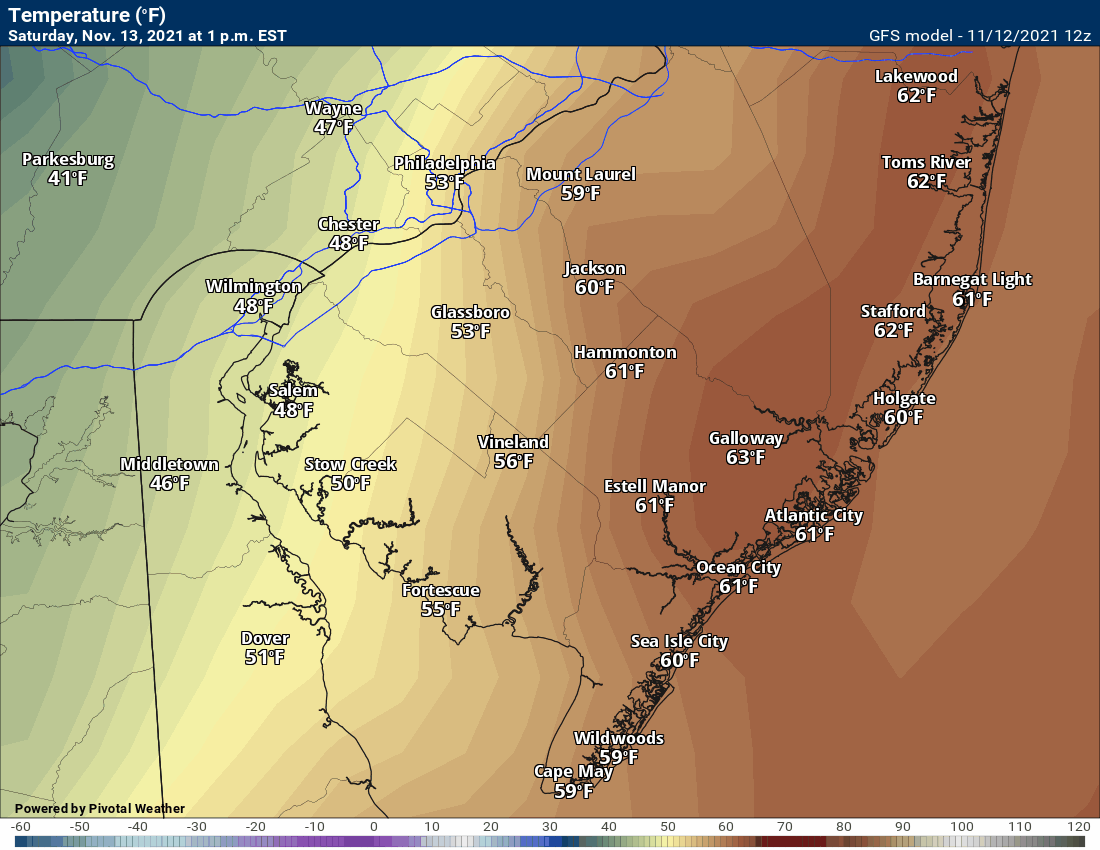 After that line passes, we'll clear out quickly. We'll have a star-filled sky as winds diminish after dark. We'll tumble through the 40s in the evening. Overnight low temperatures will be just above 32 degrees come Sunday morning, with upper 30s even at the shore.
That will provide us with a seasonable and sunny Sunday, with cool high pressure dominating the area for the day. Expect highs in the low 50s, perfect sweater weather, with winds coming out of the west.
Clouds will increase during the evening, though. As they say, there's no rest for the weary, and going through two weather makers between Friday and Sunday is making us weary.
This will be a true Alberta Clipper, widely known for its appearance during the winter months. It'll move swiftly through the early and mid-morning hours, bringing a few heavy showers. Similar to Saturday, the driest areas will be in Cape May County. It'll turn breezy again, too, with stiff northwest winds. Lows will be in the upper 30s inland to the low 40s at the shore.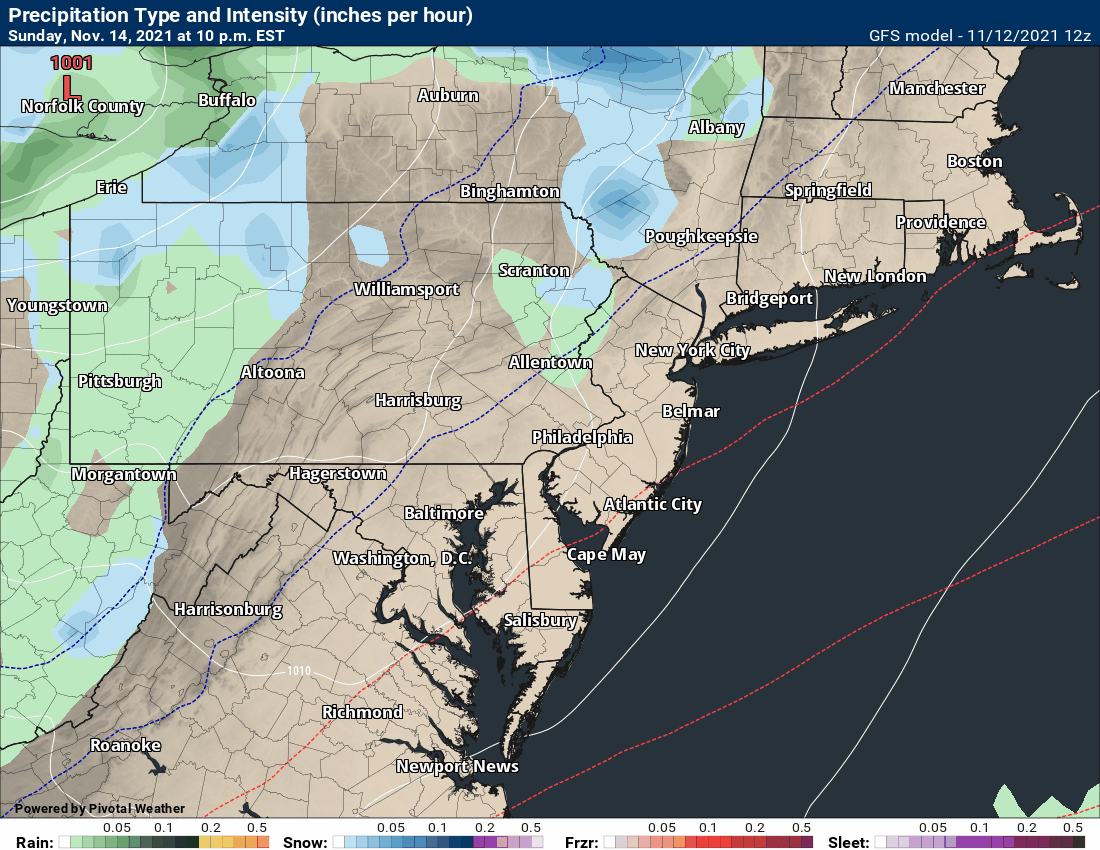 Monday and Tuesday will start out roughly the same. Both will have a good amount of sunshine with below-average temperatures, which are now in the upper 50s. The only difference will be that Tuesday will wind up windy, with 15 to 20 mph sustained winds. Both days will see winds out of the northwest.
Highs will be in the upper 40s to low 50s. That's edging pretty close to winter coat weather if you ask me. Certainly, it will be the chilliest air of the season.
Lastly, just to recap Friday, we wound up with a pretty tame event. The "boom or busy" scenario I laid out in the previous two columns came true with a bust of a wind event, thankfully. No damaging winds were seen. Rainfall was lower than my forecast, though. Generally, between 0.20 to 0.40 inches of rain fell, with the highest in Upper Deerfield, at 0.35 inches.
Contact Joe Martucci:
609-272-7247
Twitter @acpressmartucci