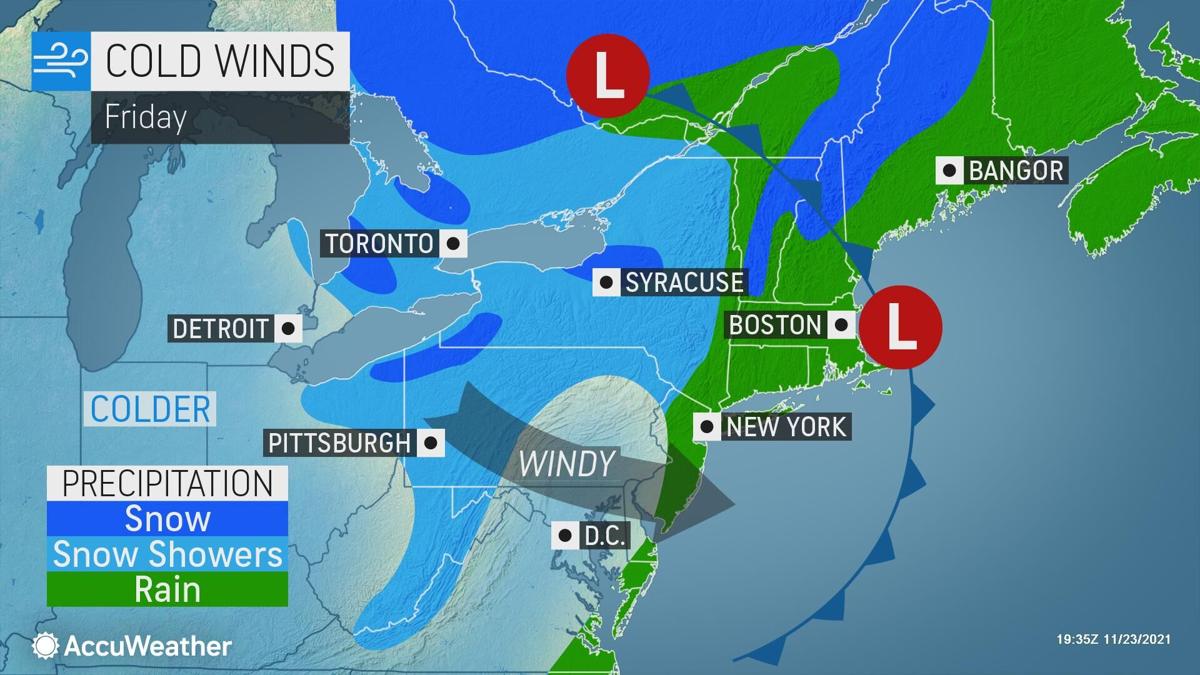 Thanksgiving will be stuffed with mild air, with dry, sunny weather the dessert to go with it. However, as soon as the family and friends leave Thursday night, colder and windier weather will return for the start of the holiday shopping season.
Whether it's a turkey trot, high school football or letting the turkey defrost outside, you'll have a pretty good Thursday morning. With high pressure in the Deep South, we'll have a west to southwest wind around that clockwise spinning high pressure system. Temperatures will start out around 30 degrees inland and 35 degrees at the shore. That is chilly, but we should climb through the 40s by shortly after sunrise with a mostly sunny sky.
Clouds will build in as the day goes on, but we'll still hop up to the mid-50s on the thermometer. That will be the warmest day of the week, despite only being around average. Comfortable sweater weather, if you ask me.
Once the dessert is finished and the house empties Thursday evening, we'll stay mild in the 50s. Clouds will thicken.
Then, between 2 and 4 a.m., rain will fall as a cold front will sweep through the region. If you're heading out early for Black Friday shopping, carry the rain gear, but also carry the cold weather gear. Winds will switch to the northwest and strengthen as the rain will end between 8 and 10 a.m. Temperatures will fall between 40 and 45 degrees by sunrise and then we won't rise much all day long, sitting in the upper 40s for highs.
Winds will be sustained 15 to 25 mph, with gusts up to 40 mph. Air travel delays can't be ruled out, but most will be fine.
Friday night will be a cold, breezy night. We'll slide through the 40s and 30s during the evening, feeling below freezing with the stiff wind. Then, overnight lows will be in the mid-20s inland and around 30 at the shore. Winds will relax, but wind chills will likely hover around 30 Saturday morning.
The weekend will be colder than average and dry. Expect plenty of sunshine, with highs in the mid-40s. No travel delays will be expected if you'll be flying, taking the train or driving (at least due to weather).
A Jersey Shore company is looking to visualize weather data in a way never before used in th…
Finally, Happy Thanksgiving to you! For some, myself included, not seeing the same family and friends was a bit disheartening last year. I hope you're able to bring back the same traditions and tidings as years past this time around. I'll be away for a few days, but will be back with you next Thursday.
Contact Joe Martucci:
609-272-7247
Twitter @acpressmartucci