The balmy breeze will continue to appease beachgoers and summer lovers through Wednesday. Then, a weak coastal storm will pass Thursday and Friday, bringing gloomier, more showery weather. It will then go back to being warm and dry for the weekend.
That grayish-blue look in the sky is back, New Jersey.
The overarching theme to our weather pattern is — warm. The jet stream, the river of air that separates two airmasses, has been staying to our north for a number of days. Looking ahead, it will continue to do so for at least a week, perhaps even as long as the final weekend in September. While a low pressure system will bring cooler and showery weather (see: later this week), there are no signs of it feeling like fall.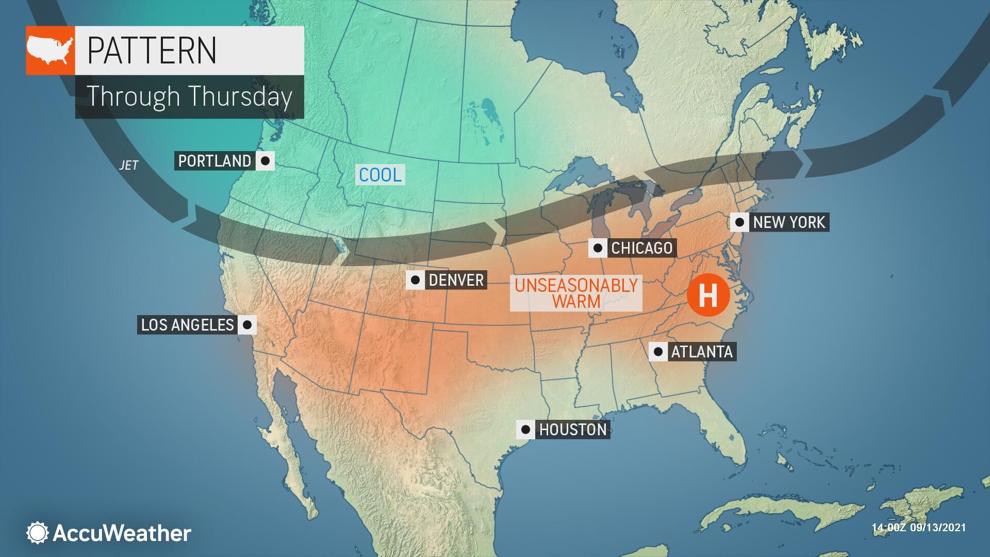 At least I believe we can agree that it'll be a good Tuesday to celebrate locals' summer and be outside. Temperatures will start off in the low 70s. It will be sticky as well, with dew points around the 70-degree mark. Afternoon highs will be in the low to mid-80s on a gentle south-southeast, turning southwest, wind. With the sea warm and the sun plentiful, it will be a wonderful day for boating or the beach. Given most lifeguards are not present, though, stay out of the water unless it's guarded.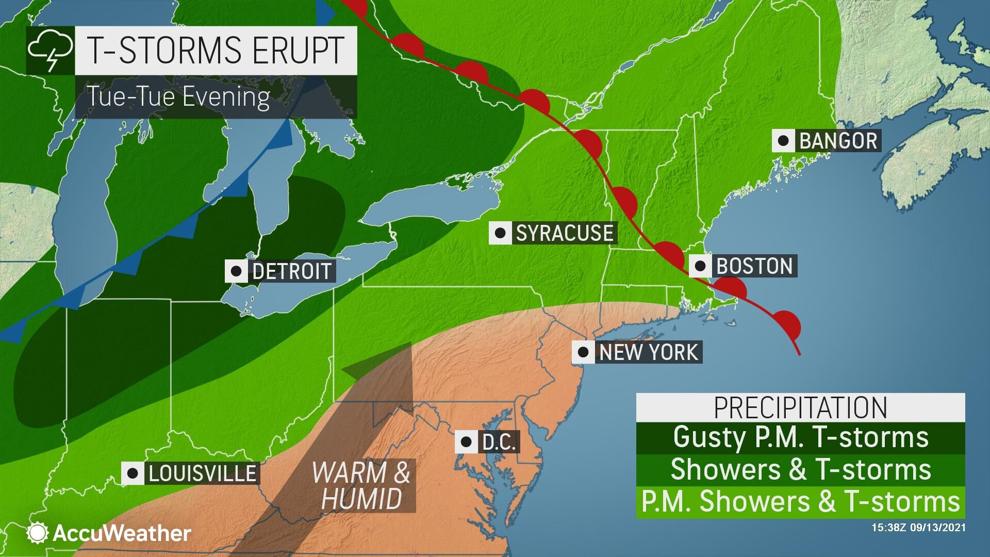 If you've been outside the past couple of days, the heat and humidity didn't feel as uncomfortable. A lot of that has to do with the sun angle. With the sun lower in the sky, it doesn't have the same "bite" to it as the months prior.
Tuesday will be very nice for a cookout or outdoor dining. We'll fall through the 80s and 70s for the evening. You'll want the air conditioner or fans blowing overnight. Lows will be in the low 70s. At this point, that's seven to 12 degrees above average for this time of the year.
A ridge of mid-level high pressure just offshore will squeeze up against a trough of lower pressure to the west. A strong southwest flow will be present, even at the surface, where winds will be sustained at 15 to 20 mph, with gusts to around 30 mph.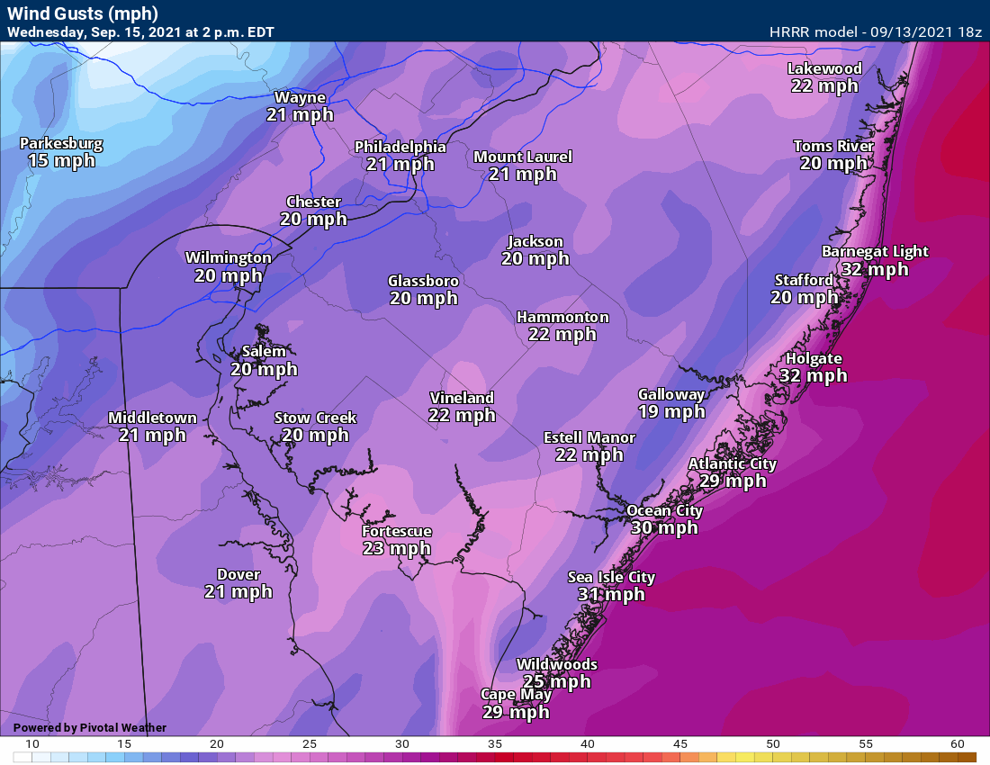 That will make Wednesday the hottest and most humid day of the week. Inland highs will sit just shy of 90, with dew points in the low 70s. That will lead to a peak heat index in the upper 90s for the afternoon. Meanwhile, that southwest wind will pick up a bit of a cooling breeze at the shore, where highs will be in the mid-80s. Sky cover will be sunny to start, but high clouds will fill in as the day goes on.
Eventually, a low-pressure system will move off the South Carolina coast Thursday and drift northward, passing just off our shore Friday. A cold front will funnel in more moisture from the northwest.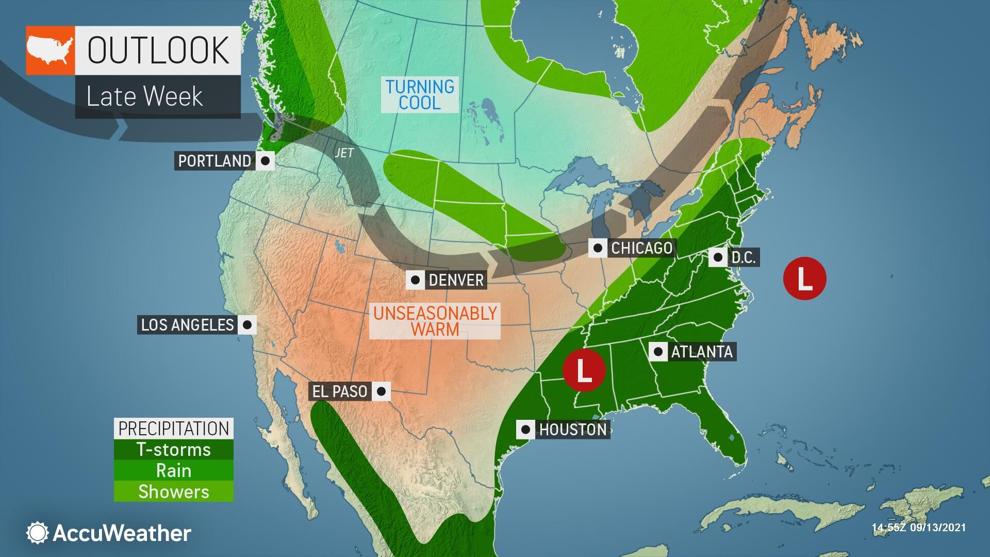 The combination of this will lead to a showery, cooler and cloudier end of the week. Expect scattered showers and drizzle Thursday. Friday should be a bit drier, but it'll be tough to find large chunks of dry time.
You'll have enough time for outdoor exercise. By the same token, if anyone was trying to get roofing or paving done, it will have to wait until the weekend. After-school activities will be OK, though you will have some rain.
Winds should be breezy from the southeast Thursday and then northeast Friday, but I don't see any issues with that.
Minor-stage coastal flooding will be possible with the nighttime high tides Thursday and Friday. However, given the weaker winds and the astronomically lower quarter moon, issues should be limited.
Finally, I usually like to give notice when I'm away for more than a couple of days. However, I wound up getting sick Tuesday night and needed to rest and recuperate through last week and into the weekend. It was my first time being sick like that during my time at The Press. Hopefully, it will be the last.
Hurricane Sam almost exhausts hurricane name list, so what comes next?
Comparing Colorado State University's forecast to the average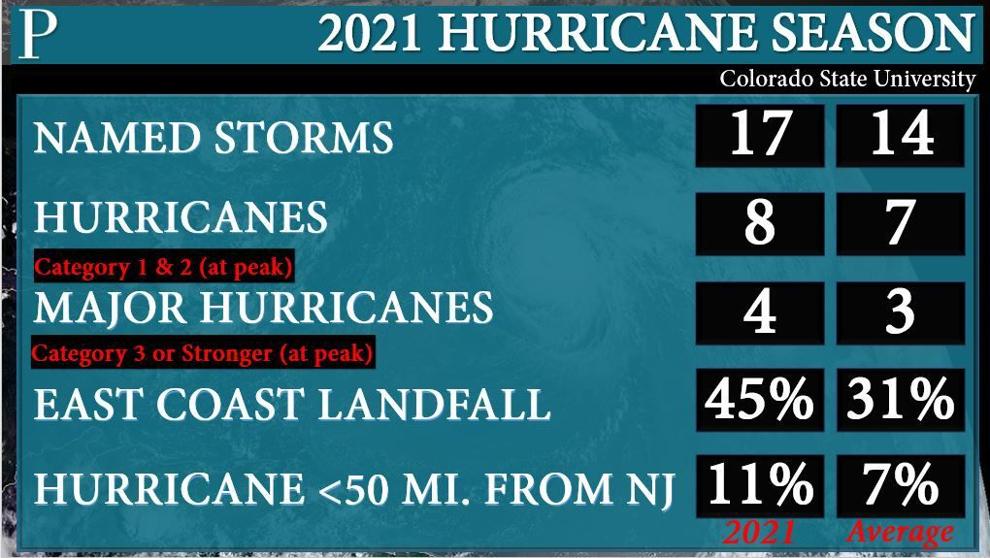 In their June 3 update, Colorado State University maintains that the Atlantic tropical season will be more active than usual. 18 named storms (an increase from 17 in the initial, April, forecast), with eight hurricanes and four major hurricanes will be likely. 
Here are storm names for the 2021 Atlantic Hurricane Season
Ana - Used
For the seventh year in a row, a named storm formed in the Atlantic before the official start to the hurricane season June 1.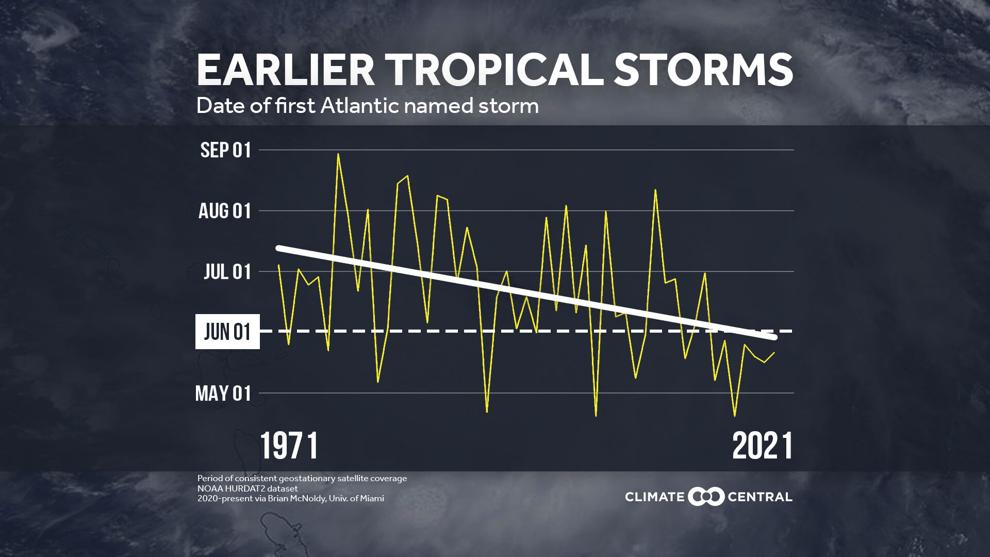 According to Climate Central, a non-profit agency in Princeton, New Jersey, warmer ocean waters driven by climate central may have an influence on the earlier development of tropical cyclones, but there is no direct link. 
Bill - Used
Tropical Depression Two formed on June 14. Later that day it strengthened into Tropical Storm Bill.
Claudette - Used
Claudette became a tropical storm on June 18, after a stretch of day of monitoring by the National Weather Service. It ashore Louisiana the night of June 18-19. 
Danny - Used
Tropical Storm Danny formed the afternoon of June 28, near the South Carolina coast. 
Elsa - Used
For many, Elsa is a name you think of when it's frozen out. However, this time she took a trip to the tropics, where she formed on July 1.
The Press of Atlantic City team and myself will be providing live updates on Elsa. We have f…
Fred - Used
Tropical Storm Fred developing on the evening of Aug. 9 just east of the Lesser Antilles. 
On Aug. 13, Fred turned into just a remnant low pressure system. However, it will strengthened into a tropical storm again on Aug. 15, making landfall in Florida on Aug. 16. 
The remnants of Fred passed just to the northwest of New Jersey on Aug. 18. 
Grace - Used
Tropical Storm Grace developed over the Central Atlantic Ocean on Friday, Aug. 13. 
Henri - Used
Henri formed as a tropical depression on Aug. 15. 
Ida - Used
Julian - Used
Kate - Used
Kate developed in the Central Atlantic Ocean on Aug. 28 
Larry - Used
Larry developed off the West Coast of Africa on Aug. 31. 
Mindy - Used
Nicholas - Done
Nicholas developed in the western Gulf of Mexico on September 12. 
Odette - Used
Tropical Storm Odette formed east of Virginia and south of Rhode Island on Sept. 17. 
Peter - Used
Tropical Storm Peter developed in the Central Atlantic Ocean on Sept. 19. 
Rose - Used
Tropical Storm Rose developed on Sept. 19 in the Eastern Atlantic Ocean. According to Brian McNoldy, Senior Research Associate at the University of Miami, this is the third earliest "R" storm since records started in 1851. Only 2020 and 2005 had an "R" storm earlier. 
#Rose is now the season's 17th named storm. Only 2005 and 2020 reached "R" by this date since 1851. Also, the name Rose has been in circulation since its introduction in 1979 but has never actually been used! 🌹 pic.twitter.com/VgOwL4Gyjw

— Brian McNoldy (@BMcNoldy) September 19, 2021
Sam - In progress
Sam developed in the Eastern Atlantic Ocean on Sept. 22 as a tropical depression, turning into a tropical storm on Sept. 23
Teresa
Victor
Wanda
Then what?
In early 2021, the World Meteorological Organization (WMO) decided to end the use of Greek names, after the original Atlantic hurricane list was exhausted. Instead, a supplemental list of tropical cyclone names will be used, going in Latin or Roman alphabetical order (which the English, French and Spanish languages uses).
During the 2020 season, nine tropical systems were named in Greek alphabetical order. They included: Alpha, Beta, Gamma, Delta, Epsilon, Zeta, Eta, Theta and Iota.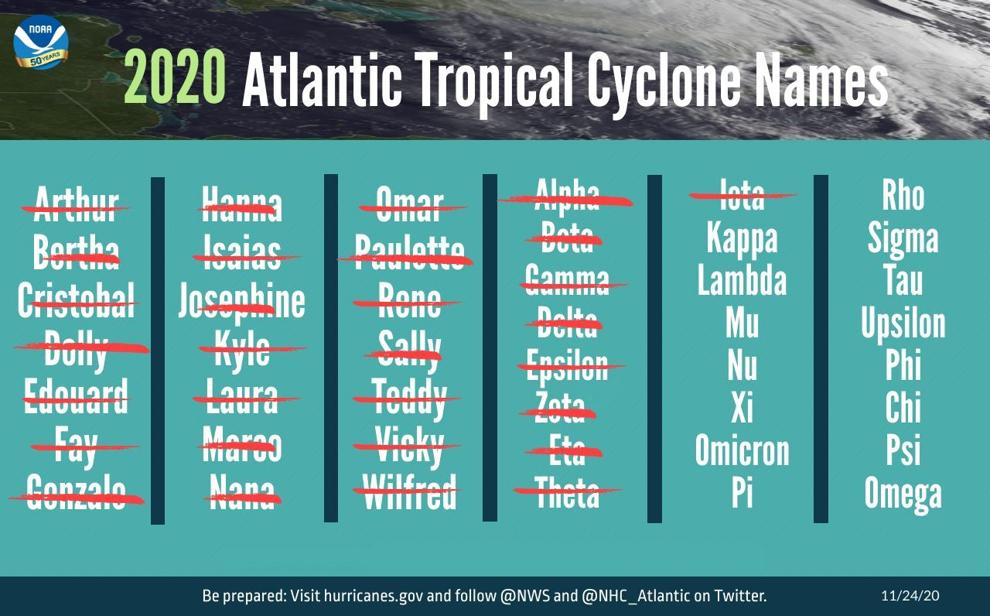 The nine was a part of a record breaking storm system, that saw 30 named storms, besting the previous record of 28 in 2005, the only other time the Greek Alphabet was used. Numerous issues with using the previous format arose. In some countries, the names of the storms sounded too similar to each other, making it easy to misinterpret storm messaging.
Furthermore, the WMO had to grapple with how to retire storm names in the Greek alphabet, which was never done before. The rules stated that a storm using the Greek alphabet could be retired if it was significant enough. However, the storm would be reused if it came up again, adding to the confusion. 
Starting in 2021, if one of the supplement storms names is retired, it will be replaced with a storm name of the same letter. 
Something in the Air: The 2021 hurricane forecast, from the woman who helped make it
Contact Joe Martucci:
609-272-7247
Twitter @acpressmartucci