Wednesday will likely be the hottest and most humid day of the week as a strong southwesterly flow moves through South Jersey. A cold front will then bring a few showers and storms Wednesday night into Thursday, loosely pulling in moisture from what could be Tropical Storm Odette passing offshore.
A long cold front will be positioned from northern Quebec to Western New York to Missouri. With its parent source of energy a low-pressure system in northern Quebec, as this moves east, it will carry a fairly weak area of showers and storms.
With a ridge of high pressure offshore, we'll get into a southwesterly wind for the day. I took down the wind forecast from 15 to 20 mph to 10 to 15 mph. Still, it won't be a calm day out there as these winds pick up even more anomalously warm and humid air.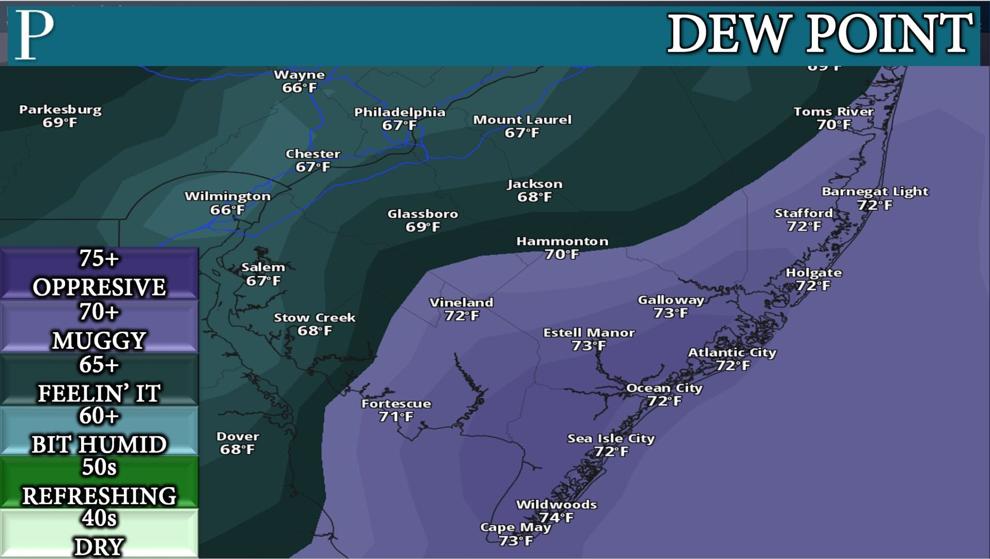 Temperatures will start out in the upper 60s inland with low 70s at the beaches. Afternoon highs will be in the upper 80s west of the Garden State Parkway, with low 80s to the east of there. Dew points in the low 70s will be likely everywhere, bringing a bad hair day to the area. The peak heat index will be in the upper 90s for an hour or so away from the shore. Just stay hydrated when you're out.
Heat waves, at least those in New Jersey, result when there is a three-day or greater streak…
Summer is the time for the most amount of outdoor fun! However, that fun can come at the pri…
We should have a mostly sunny day, with early fog and late cloud cover. Clouds will thicken as we go into the evening and the cold front approaches. It'll be a dry evening, with temperatures falling into the 80s and 70s.
Then, from midnight to 2 a.m. showers and storms will develop and push into the region. The rain will be scattered, so some of you could be dry all night long. Very locally, rain will be heavy, bringing areas of road flooding. However, all in all, problems will be limited. Overnight lows will sit around 70 degrees and will be sticky at that.
The cold front will stall across the area Thursday. Meanwhile, a coastal low will get its act together off South Carolina and move north over the open Atlantic. The combination of the two will bring a southeasterly wind, keeping temperatures in check. Expect highs at or just below 80. It will still be humid, though.
In terms of rain, a shower or storm will be possible at any point. If you need more than a three-hour chunk of dry time, I'd move your outdoor plans. If you can handle some rain, or just need an hour or two, it will be OK. I expect about 40% to be wet in any one place. Rainfall totals Thursday will generally be 0.10 to 0.25 inches, but any thunderstorm can bring a heavy downpour.
The cold front will wash itself out overhead Thursday night. Expect spotty showers all night long. Lows will be in the upper 60s to around 70.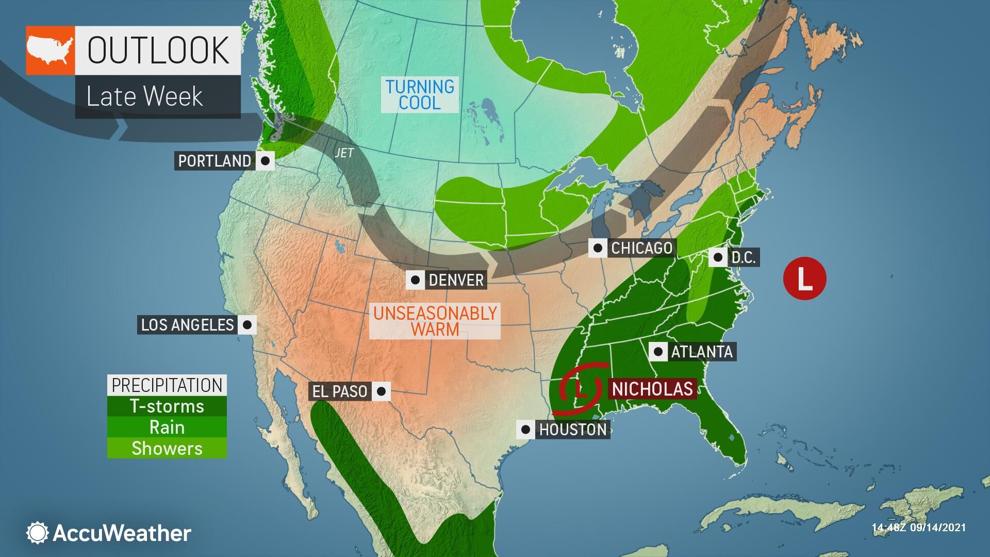 On Friday, that coastal low will cross our latitude as it slowly moves in the Atlantic Ocean. This could be Tropical Storm Paulette. Regardless of whether it is named, I don't expect any direct impacts from it. Rather, expect seas to be rough out by the canyons. The rip current risk will increase as well. A round of minor stage coastal flooding will be possible with the p.m. high tide.
This will also help feed moisture into what will be a gloomy, gray Friday. A few showers will be present. However, expect no more than 25% of your day to be wet. Highs will be in the mid-70s on a northeast wind.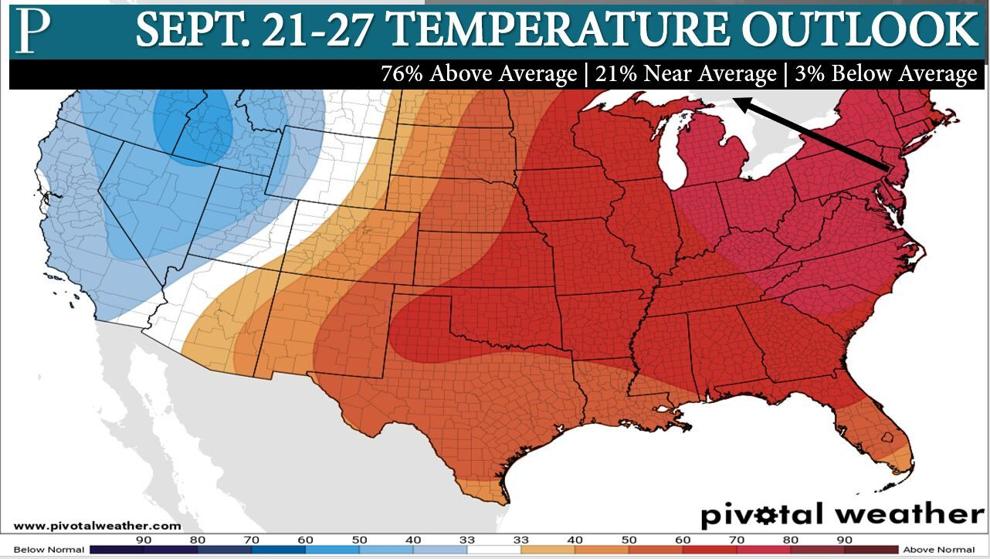 Finally, if you like your September summery, you're going to like the extended forecast. The Climate Prediction Center, a government forecasting agency, has given the region a 76% likelihood of the average temperature next week being above normal. That'll mean another week with 80s for highs, even at the shore, with balmy overnight lows in the 60s and 70s. Don't put away the beach gear, or air conditioner, just yet.
TS Rose the third earliest "R" storm on record, here are all storm names in 2021
Comparing Colorado State University's forecast to the average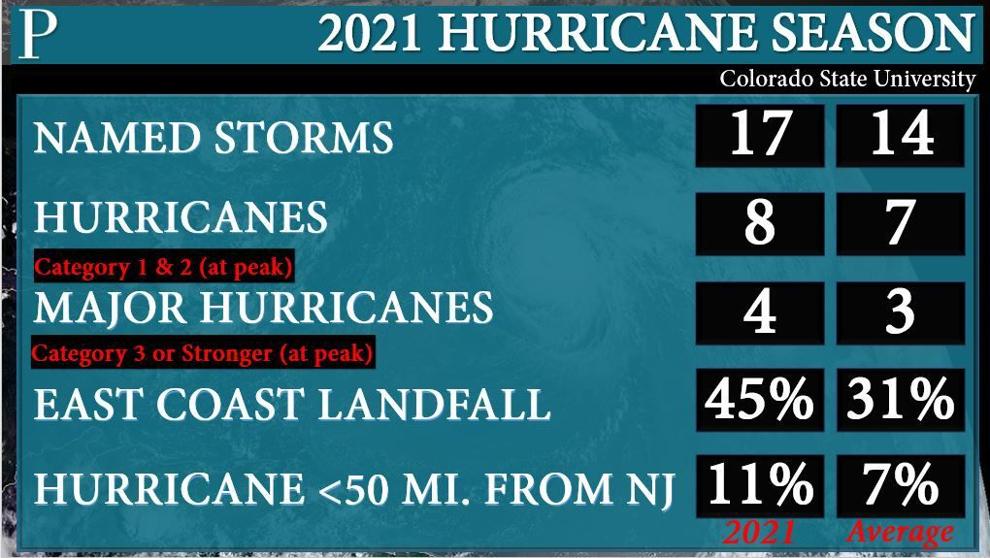 In their June 3 update, Colorado State University maintains that the Atlantic tropical season will be more active than usual. 18 named storms (an increase from 17 in the initial, April, forecast), with eight hurricanes and four major hurricanes will be likely. 
Here are storm names for the 2021 Atlantic Hurricane Season
Ana - Used
For the seventh year in a row, a named storm formed in the Atlantic before the official start to the hurricane season June 1.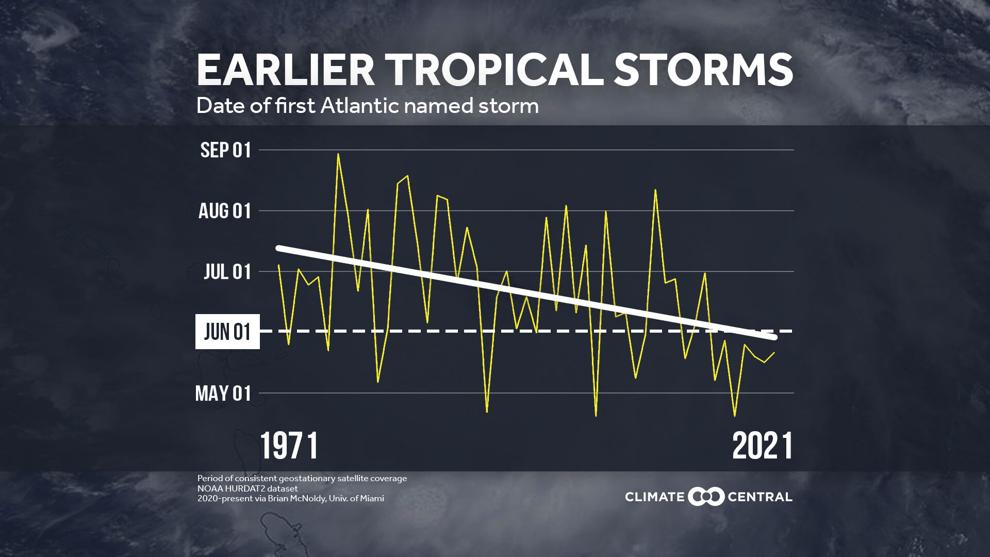 According to Climate Central, a non-profit agency in Princeton, New Jersey, warmer ocean waters driven by climate central may have an influence on the earlier development of tropical cyclones, but there is no direct link. 
Bill - Used
Tropical Depression Two formed on June 14. Later that day it strengthened into Tropical Storm Bill.
Claudette - Used
Claudette became a tropical storm on June 18, after a stretch of day of monitoring by the National Weather Service. It ashore Louisiana the night of June 18-19. 
Danny - Used
Tropical Storm Danny formed the afternoon of June 28, near the South Carolina coast. 
Elsa - Used
For many, Elsa is a name you think of when it's frozen out. However, this time she took a trip to the tropics, where she formed on July 1.
The Press of Atlantic City team and myself will be providing live updates on Elsa. We have f…
Fred - Used
Tropical Storm Fred developing on the evening of Aug. 9 just east of the Lesser Antilles. 
On Aug. 13, Fred turned into just a remnant low pressure system. However, it will strengthened into a tropical storm again on Aug. 15, making landfall in Florida on Aug. 16. 
The remnants of Fred passed just to the northwest of New Jersey on Aug. 18. 
Grace - Used
Tropical Storm Grace developed over the Central Atlantic Ocean on Friday, Aug. 13. 
Henri - Used
Henri formed as a tropical depression on Aug. 15. 
Ida - Used
Julian - Used
Kate - Used
Kate developed in the Central Atlantic Ocean on Aug. 28 
Larry - Used
Larry developed off the West Coast of Africa on Aug. 31. 
Mindy - Used
Nicholas - Done
Nicholas developed in the western Gulf of Mexico on September 12. 
Odette - Used
Tropical Storm Odette formed east of Virginia and south of Rhode Island on Sept. 17. 
Peter - In progress
Tropical Storm Peter developed in the Central Atlantic Ocean on Sept. 19. 
Rose - In progress
Tropical Storm Rose developed on Sept. 19 in the Eastern Atlantic Ocean. According to Brian McNoldy, Senior Research Associate at the University of Miami, this is the third earliest "R" storm since records started in 1851. Only 2020 and 2005 had an "R" storm earlier. 
#Rose is now the season's 17th named storm. Only 2005 and 2020 reached "R" by this date since 1851. Also, the name Rose has been in circulation since its introduction in 1979 but has never actually been used! 🌹 pic.twitter.com/VgOwL4Gyjw

— Brian McNoldy (@BMcNoldy) September 19, 2021
Sam
Teresa
Victor
Wanda
Then what?
In early 2021, the World Meteorological Organization (WMO) decided to end the use of Greek names, after the original Atlantic hurricane list was exhausted. Instead, a supplemental list of tropical cyclone names will be used, going in Latin or Roman alphabetical order (which the English, French and Spanish languages uses).
During the 2020 season, nine tropical systems were named in Greek alphabetical order. They included: Alpha, Beta, Gamma, Delta, Epsilon, Zeta, Eta, Theta and Iota.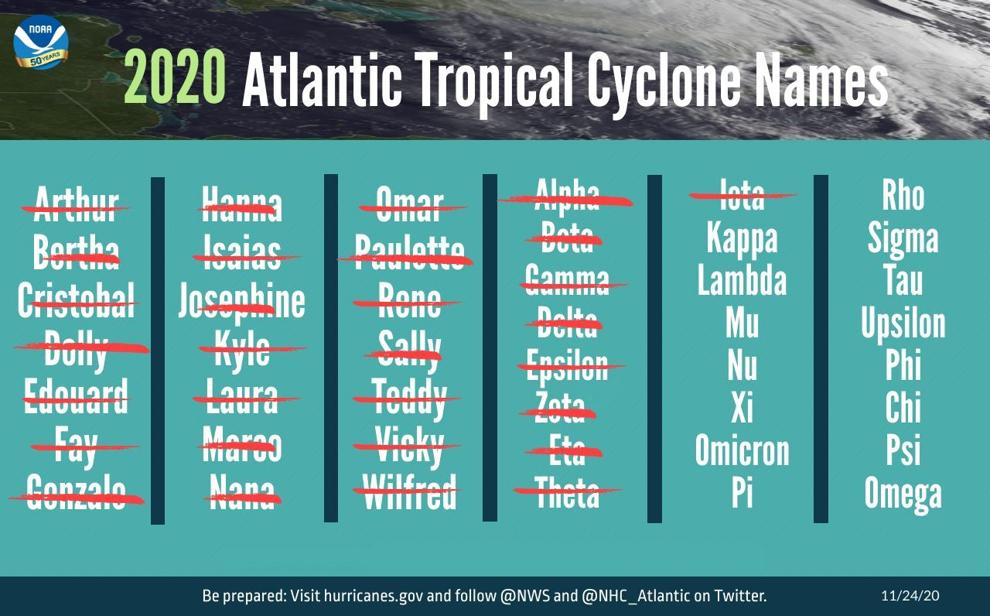 The nine was a part of a record breaking storm system, that saw 30 named storms, besting the previous record of 28 in 2005, the only other time the Greek Alphabet was used. Numerous issues with using the previous format arose. In some countries, the names of the storms sounded too similar to each other, making it easy to misinterpret storm messaging.
Furthermore, the WMO had to grapple with how to retire storm names in the Greek alphabet, which was never done before. The rules stated that a storm using the Greek alphabet could be retired if it was significant enough. However, the storm would be reused if it came up again, adding to the confusion. 
Starting in 2021, if one of the supplement storms names is retired, it will be replaced with a storm name of the same letter. 
Something in the Air: The 2021 hurricane forecast, from the woman who helped make it
Contact Joe Martucci:
609-272-7247
Twitter @acpressmartucci