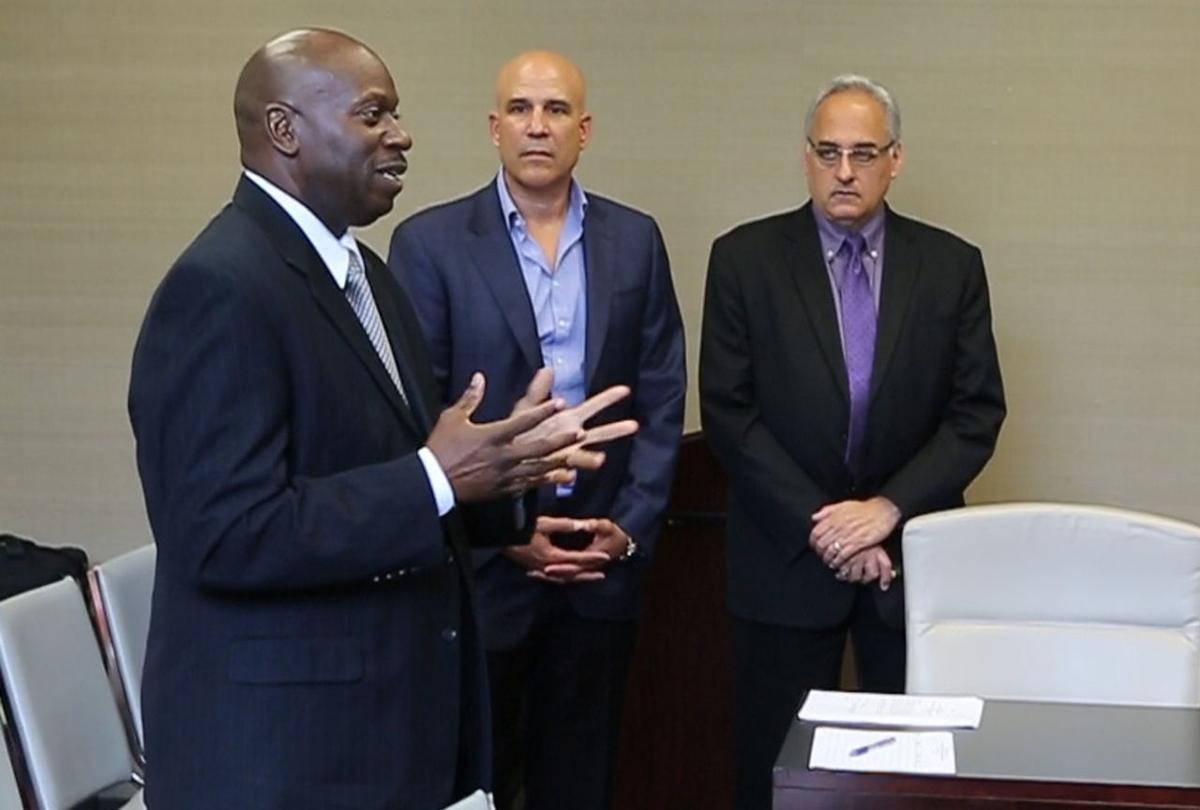 ATLANTIC CITY — A Black Lives Matter protest that may "shut the city down" is planned for 1 p.m. Saturday at the city's Public Safety building, said Steve Young, a city activist and organizer of the event.
Young, who is also a member of the city's Planning Board and Citizens Advisory Board, spoke on WPG Talk Radio 95.5's "Hurley in the Morning" show Monday and said the protest is to "bring light to the oppression and the racism" in the city and around the country.
"They don't hear us," Young said. "We are going to speak up and stand up for our rights. It's now or never. No justice, no peace."
Atlantic City Police Department spokesman Sgt. Kevin Fair said the "department respects the rights of the people to peacefully protest," and has provided officers for prior demonstrations to assist with traffic concerns and public safety. But, Fair said, "criminal activity will not be tolerated, and those that engage in committing unlawful conduct will be arrested."
Young declined to say on the radio whether the protest will stay peaceful or not.
"Are you going to block the expressway and keep cars from coming in?" radio host Harry Hurley asked.
"We don't say what we're doing till that day," Young responded.
Mayor Marty Small Sr. said he has been in contact with Young and is discouraging the protest from proceeding as planned.
"My job as mayor is to protect the health, safety and welfare of all people in Atlantic City," Small said. "I'm doing everything I can to prevent the protest. And understand that people have a right to protest, but the other things will not be tolerated."
Hurley argued that shutting down the city wouldn't just hurt the casinos, it would hurt small businesses, especially on a busy holiday weekend.
"I don't think this is in the best interest of you or the city," Hurley said. "I don't think this is in anyone's best interest, the Black residents in the city or the people wanting to come here and vacation."
Young said the protest is necessary. "It's a crime for people to be hung in the streets and shot with their hands up."
Hurley argued that shutting down a city is a crime as well, and suggested to Young that he have a discussion about racism instead of protesting.
"Shutting the city down hurts people," he said. "If you shut down the city, it's criminal. It's not a peaceful protest."
Kaleem Shabazz, president of the Atlantic City NAACP and 3rd Ward Councilman, said he is "all for people expressing themselves and freedom of speech and assembly," but emphasized that property destruction and violence undermine the legitimacy of the message.
Young was involved in the May 31 protest over the death of George Floyd that started out constructively but became destructive. Audio of Young encouraging participants to do "some window shopping" preceded looting and property damage at Tanger Outlets The Walk. Shabazz said Young is "partially responsible" for what happened May 31 and must do more to prevent a similar outcome.
Shabazz said he would ask Young to do three things: one, coordinate with the police department to plan a protest route that would cause minimal disruption; two, deploy parade marshals to ensure those who participate do so peacefully; and three, actively discourage criminal behavior.
"There should be no ambiguity in his message if his message is change and justice, which I support," Shabazz said. "I don't agree with just shutting something down because you have the ability to."
While Young said the protest is 110% happening, he wants to have a discussion with lawmakers in Trenton, and in particular, Gov. Phil Murphy.