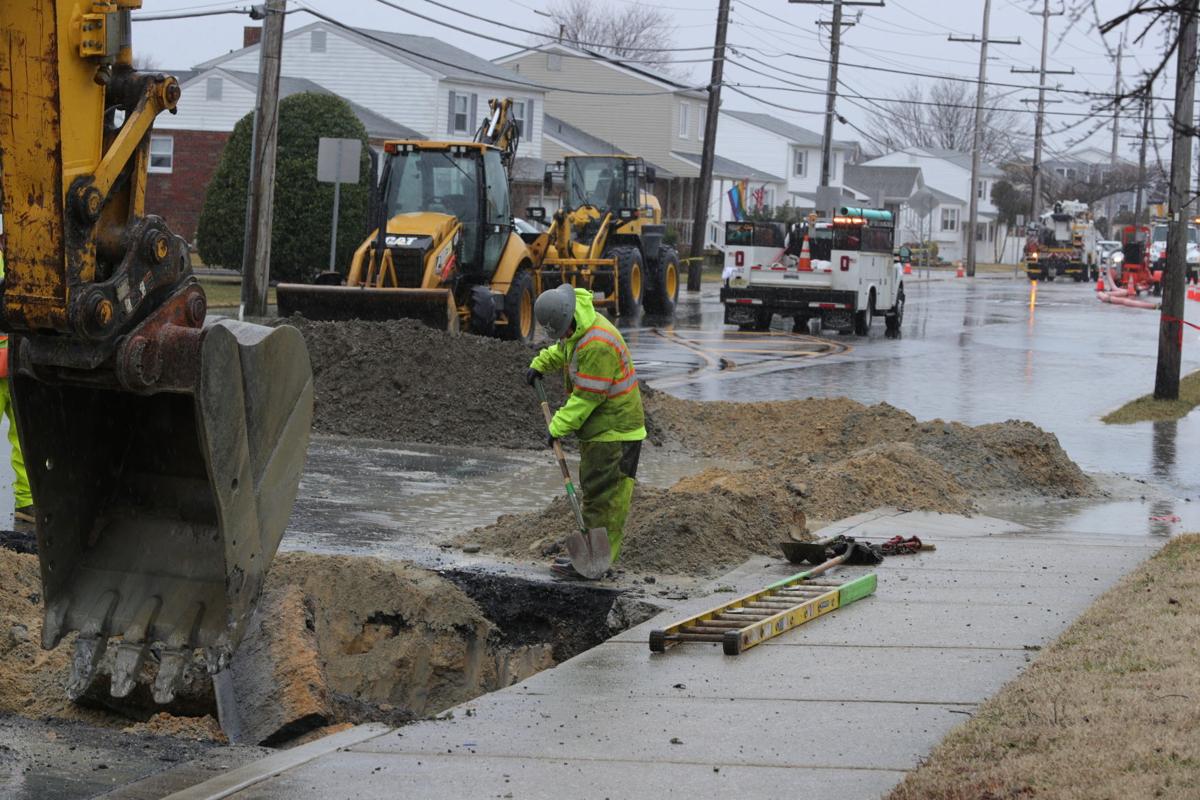 VENTNOR — A sewer line leak that temporarily closed the Dorset Avenue bridge and a section of Wellington Avenue and has led to detours in Ventnor Heights could take up to a month to repair, officials said Tuesday.
Progress on repairs to the sewer main break, which was reported Sunday, continue, Atlantic County Utilities Authority spokesperson Amy Menzel said.
"Pumps will be put into place to alleviate flooding around the damaged sewer line. Detours are in place to enable access to the Ventnor shopping plaza and Atlantic City. Vehicle, bicycle and pedestrian traffic is prohibited in this area of Wellington Avenue, and people are asked to avoid walking, biking and driving through flooded areas," Menzel said in a statement.
There is no immediate health risk, and it doesn't affect the safety of the drinking water, Menzel said.
The ACUA's emergency contractor, Lafayette Utilities, has been making progress on excavation for the bypass line, Menzel said. The second location for the bypass connection has been determined, and excavation is underway.
VENTNOR — Detours will continue in the Heights section of the city as repairs to a sewer lin…
Bypass piping is on site and is being fused together, and preparations are being made to attach the fused pipe to the bypass line when the specialized tapping equipment is delivered, Menzel said.
The tapping saddles are anticipated to be installed and the fused pipe connected Thursday, which would enable the activation of the bypass by Friday night, Menzel said.
To relieve the flooding on Wellington Avenue and nearby side streets, Lafayette has ordered two large pumps and related piping to drain and move wastewater off the streets, Menzel said.
Police Chief Doug Biagi made the decision Monday to inconvenience some in detouring streets rather than have vehicles go down roads that were flooded with raw sewage.
"Because of where the leak occurred, I was limited on my detour options, but stand by my decision," Biagi said on social media. "We will get through this, just as we do every other natural and personal disaster that comes Ventnor's way. Please be patient and compassionate."
VENTNOR — The city on Wednesday was awarded a $300,000 grant from the state for improvements…
The six-block section of Wellington between Dorset and Victoria avenues was closed Sunday to vehicle and pedestrian traffic after the ACUA learned of the leak.
The leak is somewhere along the 12-inch sewer main, and there is a collapse in the roadway. Police suspect recent pile-driving activity related to home raising in the area may have contributed to the damage, Biagi said previously.
The road surface will have to be torn up to find and repair the leak, Biagi said.
Raw sewage spewing into the streets around the city near Atlantic City is a huge health risk, said Jeff Tittel, director of the New Jersey Sierra Club.
"It is flooding the streets just a few blocks from the bay. This is because of the DEP's (Department of Environmental Protection) failure to invest and upgrade aging infrastructure and to protect our coasts from pollution. The aging infrastructure in Atlantic County plus storm surges and sea-level rise make everything worse," Tittel said in a statement.
Inflatable water park
The proposed inflatable water park would be situated in the bay off of Amherst Avenue on a private water lot purchased by the water park owner, according to city's zoning officer, Roger McLarnon.
The operators have obtained approval from the New Jersey Department of Environmental Protection and the United States Army Corps of Engineers, but have yet to submit an application to the city's planning board, McLarnon said. Although the water park would be situated on private property, landward access will be used to get to the park.
"Once they use bulkhead to cross into the water it has to go to the planning board," he said. "They want to get up and running by the summer so I imagine an application would be submitted soon."
The water park operators could not be reached for comment.
"There seems to be a lot of excitement for it," McLarnon said. "We're always looking for different ways for families to stay in Margate, and visitors. Plus it's something to do for the kids. We want the waterfront activity to generate activity down there."
Margate promenade
An elevated walkway is also coming to Amherst Avenue as part of a bulkhead project the city is working on. Phase one of the project includes replacing about 1,250 feet of bulkhead along the bay, which will be completed by May.
The second phase, which will begin in the fall, includes the construction of an eight to 10 foot wide elevated walkway the will extend about four blocks long.
"We want Amherst Ave. to be pedestrian friendly," McLarnon said. "Ultimately we would like to carry it down to the Washington Avenue pier."
The promenade will also have benches, trash receptacles and Americans with Disabilities Act (ADA) access. Altogether the project will cost 1.6 million and is funded by appropriated funds from the city's capital plan.
And while an elevated walkway is coming to the bay, some residents are pushing for a boardwalk on the beach.
"Margate is all in favor of a boardwalk, it's just a matter of where they are," said Glenn Klotz, director the Margate Boardwalk Committee. "We're a boardwalk town. We're on a boardwalk island."
The five-person committee rolled out a petition in hopes to get 275 signatures from residents in favor of a boardwalk. He then plans to take the petition to commissioners and then, hopefully, get a referendum on the November general election ballot.
"We have a lot of people in Margate that use the Atlantic City and Ventnor boardwalks," he said. "If they're going to use it in Ventnor, let's have it in Margate."
He said a boardwalk would increase security in the city because it would provide lighting and allow police to better patrol the area. A boardwalk would also make it easier for emergency vehicles to access the beach if needed, he added.
But the city has no plans for constructing a beach boardwalk.
"We're focusing on the bay," McLarnon said. "The boardwalk on the beach was never part of the master plan. We have a lot of other needs to spend $30 million on than a boardwalk right now."
Upgrades to the Ventnor pier
New bathrooms, a concession stand and a pier master's office are coming to the Ventnor pier and plan to be completed by Memorial Day.
The current bathroom had a single toilet and urinal and had a 20-minute wait to use it in the summer, according to Ventnor Commissioner Lance Landgraf.
"It's basically a shed that's been converted to bathrooms," he said.
The city has about $1 million from an older grant to use for the pier improvements. Landgraf would not specify how much would be used for the pier.
The city plans to lease out the concession stand to a vendor. No ice cream will be sold at the stand, because it's sold on the beach, but commissioners are considering allowing ice cream to be sold at the stand at night.
Ventnor pocket park
The city is also purchasing a parcel of land to convert it into a pocket park. The property, at 6510 Ventnor Ave., was a three-story building that was severely damaged from a fire over July 4 weekend.
Landgraf said the owner's fire insurance only covered demolition and not enough to rebuild. He said the city was then approached by a drug and alcohol rehabilitation facility, "but we didn't want a rehabilitation facility in our downtown. There's one down the street," he said.
The city is purchasing the lot for $85,000 and will eventually put in benches, lighting and shrubbery.
"A restaurant will not be able to use it for table service," he said. "But if someone wants to grab a slice of pizza or a sandwich, they can certainly go there and have their lunch.
"We'll create a pocket park until a better use comes up," he added. "We're open to suggestions for businesses."
To design the park, Landgraf reached out to the Atlantic County Institute of Technology for student input. Students who are learning drafting and design will visit the site and then submit designs for the park. He plans to have a designed park completed by fall. Until then, the city will put benches in for summer 2020.
"It's just a little respite," he said. "We're excited to create a green space."
Contact Vincent Jackson: 609-272-7202
Twitter@ACPressJackson