11:10 a.m. - We are back with updates on Monday morning. The heavy rain, damaging winds and hail are gone. However, strong winds and coastal flooding remain.
A wind advisory is in effect for all of South Jersey and the Jersey Shore through 1 a.m. Tuesday. Wind gusts topped out at 59 mph in Beach Haven overnight. Wind gusts should be in the 40s much of the day, though sustained winds will be much lower. The risk for additional power outages and wind damage is there, so just stay cautious. Tuckerton still has road closures on Route 9 due to wind damage from earlier Monday. 
Furthermore, the coastal flooding played out almost exactly as forecasted. For South Jersey, minor flood stage was seen with the morning high tide. That's nuisance flooding. Winds were offshore during high tide leading to the lower tides.
The difference between the northern Jersey Shore went the southern Jersey Shore this morning is minor (nuisance) or moderate (problems) coastal flooding.

Coastal flooding is playing out *exactly* as forecasted. Where the winds turned offshore last have the highest tides#NJWx pic.twitter.com/dhB11uhDsn

— Joe Martucci (@ACPressMartucci) January 17, 2022
However, a jog up the shore was a different story. Tide gauges in Mantoloking and Toms River hit moderate flood stage. Here, winds were parallel to the coast, not offshore. So, the water that piled in from the strong easterly winds overnight did not fully drain out, causing the issues.
2:30 a.m. - At this point, we're living through a rare January night in the region. 
Since 1986, there have been only 39 January severe thunderstorm warnings in NJ, according to the Iowa Environmental Mesonet. Three were Monday. In Ocean County, today had two of the eight total warnings in the past 36 years.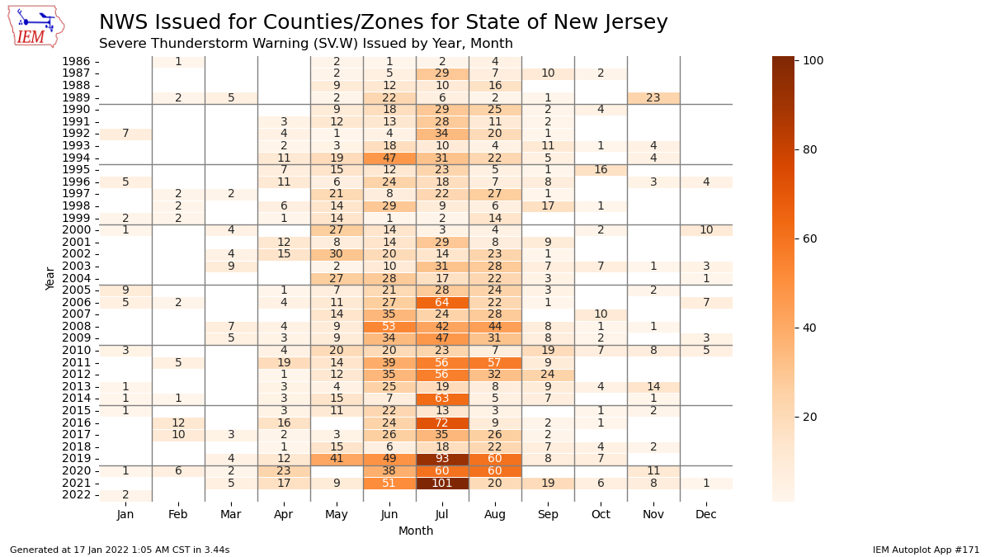 Wind gusts reached 59 mph in Beach Haven and 50 mph in Harvey Cedars. Tropical Storm force sustained winds, over 39 mph, were seen in Atlantic City. In Tuckerton, wires went down in Route 9 near Green Street, with all lanes closed. Power outages have been relatively limited in the Atlantic City Electric coverage area, only added up to roughly 1,500 customers at most. 
Hail is also falling from the sky. Usually reserved for the Spring or Summer, these balls of ice were reported in Lanoka Harbor (nickel sized). Given that most people are asleep and it's dark, it's likely that hail fell anywhere north of Forked River in the county.
Rotation has also been seen on radar. The National Weather Service wrote that tornadoes were "possible" in its severe thunderstorm warnings. However, no tornadoes have been confirmed.
1:55 a.m. - The severe thunderstorm warning has been dropped for those south of Forked River. However, it has been expanded up to the Raritan Bay and in effect through 2:30 a.m. 
Looking back at radar, there may have been rotation with a cell near Little Egg Harbor around 1:20 a.m. The National Weather Service will likely come out with more thoughts on it soon.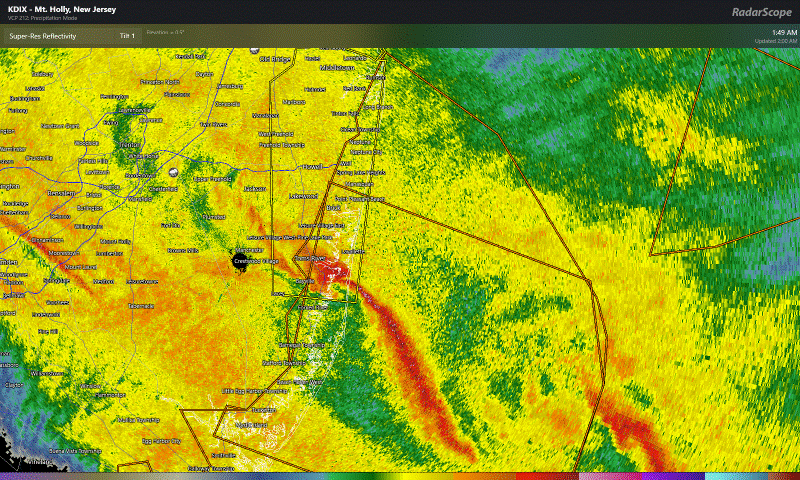 Otherwise, the rain is over south of Route 40. Winds are weakening as the center of the low-pressure system moves through the Delmarva Peninsula and into South Jersey. Similar to the eye of a hurricane, another kind of low pressure system, winds are weaker near the center of it. 
Expect a cold southwest wind as early as 2:30 a.m. along the Delaware Bayshore. In Ocean County, it'll take until 4 a.m. or so. Southwest winds can be cold winds in very strong low-pressure systems. You can think of the low pressure as being so intense that it can wrap around air from the far northern part of the storm and bring it all the way to the south side. 
1:30 a.m. - We are live to talk about the severe thunderstorm warning issued for Ocean County.
1:05 a.m. - A severe thunderstorm warning is in effect for most of Ocean County, except for towns like Jackson and Plumstead, through 2 a.m. 
There has been lightning with this storms, which has been forecasted as a key component to whether or not the area would see 70 mph gusts and winds mixed down from aloft, which are faster moving. 
This band of heavy rain is coming with thunderstorms, which would unlock us to the 70 mph winds just 2,500 ft high. I'm charging my phone in case the power goes out. Do the small as well! We gusted to 50 mph in Harvey Cedars and Sea Girt. pic.twitter.com/rF5HUeiecA

— Joe Martucci (@ACPressMartucci) January 17, 2022
Charge your devices in case of the power goes out and be on alert for falling tree limbs and power lines. 
12:45 a.m. - Winds are cranking.
Tropical storm force winds reported in Atlantic City (43 mph) and Little Egg Harbor (40 mph).

By rule, emergency personnel are not supposed to go out on calls at this point. #NJwx

— Joe Martucci (@ACPressMartucci) January 17, 2022
The tropical storm force sustained wind probability did come true and will continue to do so through about 1:30 a.m. (Cape May County) to 3 a.m. (Ocean County).
The heavy winds are driven by a line of convective, air driven by the circulation of cold and warm temperatures, showers and thunderstorms. Lightning has been reported offshore with this.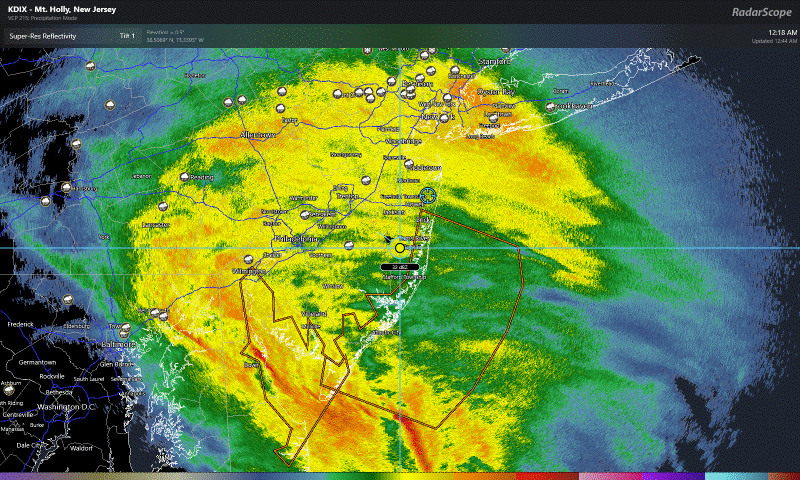 If a thunderstorm comes onshore, wind gusts of 70 mph will be likely. That would threat to cause wind damage and power outages. 
These strong winds are coming from the east, which is piling water up in the bays and shoreline. Fortunately, it's low tide, so we can handle two or three feet of storm surge. However, if high tide was now, we'd be talking about moderate stage coastal flooding. We had that kind of flooding during the Jan. 3 nor'easter.