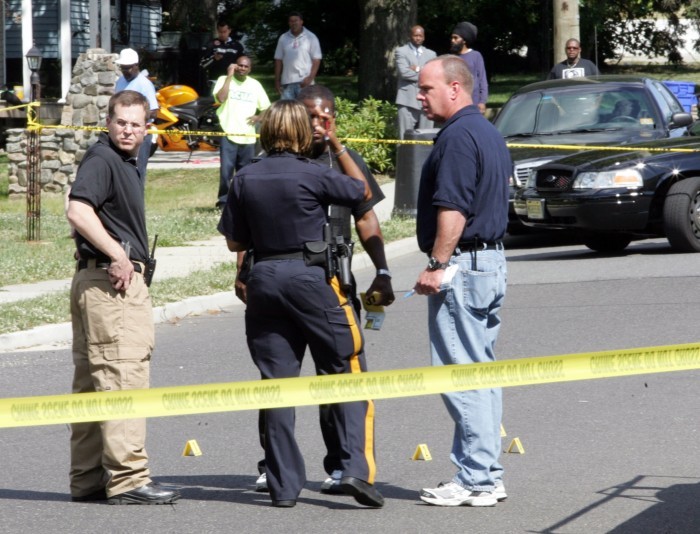 PLEASANTVILLE — Police Chief Duane Comeaux grew up in this city of fewer than 19,000.
In 54 years, he's seen the peace broken before. His own home was shot up in 2006.
But it's never been like this: Near-weekly shooting incidents. Daytime gun battles. Bystanders caught in the crossfire.
The 52-officer department has answered more than 30 calls involving gunfire this year. At least 14 people have been wounded. That doesn't include four others who may have been shot in the city, but showed up at hospitals elsewhere.
Comeaux is struggling to understand the unprecedented violence that has hit his hometown.
"We've had violence in the past, but not to this level," Comeaux said, shaking his head. "Not as consistent as what we've had in the past several months."
As his officers try to juggle their daily duties with the extra work brought on by the violence, law-enforcement agencies from outside the city have joined to help.
"There have been several operations," Comeaux said, without clarification. "A weeklong operation was recently completed, but I haven't met with that agency yet."
He would not name any of the agencies involved, but confirmed they are from the local, county, state and federal levels.
"Some good things are happening," Mayor Jesse Tweedle said. "I just can't comment on them yet."
Tweedle spent several days this past week in meetings, including one with Atlantic County Prosecutor Ted Housel, who is representing the only agency all sides acknowledge is lending a hand.
"We are engaged in activities we're not going to describe," Housel confirmed in a telephone interview. "It will become obvious at some point in time. We are devoting assets."
Manpower and technical help has been given, he said.
"Every shooting is a potential homicide or infliction of severe bodily injury," Housel said. "That is a great concern, and we're giving whatever we can to assist."
Meanwhile, people are trying to understand why the violence is happening.
"A lot of people think it's all directly drug-related," Comeaux said. "In some cases, it has nothing to do with drugs. We know that for a fact."
Others speak of gangs. Groups in the north end against the south end. Those in Atlantic City fighting those from Pleasantville.
"I'm leaning away from that," the chief said.
But he's not ruling anything out.
Residents have come out to several peace vigils. But, the frustrated investigators say, enough people still aren't going where it counts — to police.
"In a lot of these incidents, they know who the perpetrators are, but they're not coming forward," Capt. Rocky Melendez said.
"We just can't go that extra step," Comeaux said.
Not without people coming forward. Even victims have been difficult to get in touch with.
"We're in an epidemic," said Amaris Davis, who led a prayer at a recent vigil. "The community has to understand that by not coming forward and helping police, you're really hurting yourself."
Davis grew up in Pleasantville. Although she now lives in Galloway Township, she worries about her old hometown, and her parents who still live here.
"A lot of great people came from Pleasantville," she said. "It's disheartening. We need change. We're desperate for change."
Jerome Davis Jr., 27, would like to see more things for young people. For teens and even men his age.
"Things would be better if we had more activities," he said. "Daily basketball or football. Outlets for guys. I find different ways to stay out of trouble."
But not everyone does. He knows many former friends who get in trouble.
Amaris Davis saw the problems when she taught at the middle school about five years ago.
"It was violent," she said. "Out of control."
Parents need to take their responsibility, she said. Instead, they are leaving it to the teachers.
"That's not where discipline and motivation comes from," she said. "It's the home. No one can save your children but you."
"I see the frustration of parents in fear," said Vernon Walker, who has organized an antiviolence rally. "But I also see the frustration of the youth. Their parents are actually failing them."
He said the black community has not left its children a legacy.
"I'm speaking now in terms of business," he said. "In terms of preparing opportunities for our children. The African-American community still lacks in that area."
Some of the bad, Walker said, proves that the youth have the brains to do good.
"Kids selling drugs," he said. "They're natural accountants. They could be businessmen but they're using their talents in a negative manner."
Police are hoping the negativity will stop and the communication will start.
"We want people to talk," Melendez said. "To take a stand. To say, 'We're going to take our community back.' We want them to know, if they stand up, we will stand strong with them."